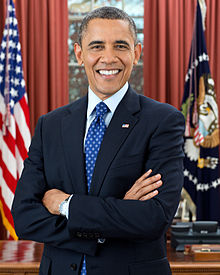 Barack Obama (Official Whitehouse Photograph)
US President Barack Obama dismissed Israeli Prime Minister Netanyahu's warnings about Iran and negotiations with Iran are continuing:
March 4, 2015

MONTREUX, SWITZERLAND—

U.S. Secretary of State John Kerry and Iranian Foreign Minister Mohammad Javad Zarif  have launched a third day of nuclear talks, on the heels of a Tuesday speech by Israeli Prime Minister Benjamin Netanyahu who spelled out before the U.S. Congress why he believed an Iran nuclear deal would be dangerous for the world.

President Barack Obama criticized the prime minister's speech saying, "there was nothing new" and Netanyahu "didn't offer any viable alternatives" as he criticized a potential nuclear deal.  http://www.voanews.com/content/kerry-zarif-launch-third-day-of-talks/2667070.html

March 4, 2015

US President Barack Obama has reacted scathingly to a speech by the Israeli prime minister that castigated his policy towards Iran.

In a speech to the US Congress, Benjamin Netanyahu warned that a deal under discussion on Iran's nuclear programme could "pave Iran's path to the bomb" rather than block it.

But Mr Obama said Mr Netanyahu had offered no viable alternative.  http://www.bbc.com/news/world-middle-east-31722493
As far as whether or not any viable alternatives were offered by Benjamin Netanyahu, a reader sent the following news item:
Although a first response to his speech from an unnamed White House official said that Netanyahu had offered "no concrete alternative" to the deal taking shape, and that his speech was "all rhetoric and no action," and despite Obama's subsequent elaborate defense of the US approach, the prime minister did offer an alternative.

He urged the P5+1 to recalibrate, to reconsider, and then to push for a better deal. And "if Iran threatens to walk away from the table — and this often happens in a Persian bazaar — call their bluff," he advised, the wise, wary Middle Easterner lecturing Obama and the other Western naifs. "They'll be back, because they need the deal a lot more than you do."

http://www.timesofisrael.com/netanyahus-devastating-irrevocable-indictment-of-obama/
Another news source reported a bit more on that:
March 4, 2015

Obama told reporters that there was a lots of context in Netanyahu's speech on which they agree, including "that Iran has been a dangerous regime and continues to engage in activities that are contrary to the interest of the United States, to Israel, and to the region."

On the "core issue" of preventing Iran from getting a nuclear weapon, the president said, "the prime minister didn't offer any viable alternatives."

"Now, the deal that we are trying to negotiate that is not yet completed would cut off the different pathways for Iran to advance its nuclear capabilities. It would roll back some elements of its program. It would ensure that it did not have what we call a breakout capacity that was shorter than a year's time. And it would subject Iran to the most vigorous inspections and verifications regimes that have ever been put in place," Obama said.

"The alternative that the prime minister offers is no deal, in which case Iran will immediately begin once again pursuing its nuclear program, accelerate its nuclear program, without us having any insight into what they're doing. And without constraint."

Actually, Netanyahu called for a better deal: "My friends, for over a year, we've been told that no deal is better than a bad deal. Well, this is a bad deal. It's a very bad deal. We're better off without it," the prime minister said. "Now we're being told that the only alternative to this bad deal is war. That's just not true. The alternative to this bad deal is a much better deal. A better deal that doesn't leave Iran with a vast nuclear infrastructure and such a short break-out time. A better deal that keeps the restrictions on Iran's nuclear program in place until Iran's aggression ends. A better deal that won't give Iran an easy path to the bomb. A better deal that Israel and its neighbors may not like, but with which we could live, literally."

Obama acknowledged "it may be that Iran cannot say yes to a good deal," as negotiations continue with the Islamic State.

"If we're successful in negotiating, then, in fact, this will be the best deal possible to prevent Iran from obtaining a nuclear weapon. Nothing else comes close. Sanctions won't do it. Even military action would not be as successful as the deal that we have put forward," he maintained.

"And I think it is very important not to be distracted by the nature of the Iranian regimes' ambitions when it comes to territory or terrorism." http://pjmedia.com/tatler/2015/03/03/obama-reads-transcript-of-netanyahu-speech-declares-nothing-comes-close-to-p51-deal/#ixzz3TQVEG1wP
Basically, Barack Obama is saying that Iran wants to get nuclear weapons and destroy, but that should be overlooked as getting it to make even a bad deal will help delay it from getting nuclear weapons.
Iran has repeatedly declared its intentions to destroy the USA and Israel.  And while it will not succeed in those intentions, Iran has the capability of causing significant harm to both nations.  While that would not turn out well for Iran, those who do not believe that Iran would not attempt to do such things simply is being naive.
Iran wants to rule the world and wants nuclear weapons.  Even US President Barack Obama does not seem to have a lot of confidence in the deal his administration is working on, so it seems that it would have been best to not be quite do dismissive of Benjamin Netanyahu's warnings (for some details on those, please see etanyahu: Deal will 'guarantee' that Iran gets nuclear weapons).
Several items of possibly related interest may include:
Iran in Prophecy Is Iran in Bible prophecy? If so, what does the Bible teach? What names, other than Persia, may be used to describe Iran? There is also a YouTube video titled Iran in Prophecy. Here is a related video Iran In Prophecy.
The Arab and Islamic World In the Bible, History, and Prophecy The Bible discusses the origins of the Arab world and discusses the Middle East in prophecy. What is ahead for the Middle East and those who follow Islam? What about the Imam Mahdi? What lies ahead for Turkey, Iran, and the other non-Arabic Muslims? An item of possibly related interest in the Spanish language would be: Líderes iraníes condenan la hipocresía de Occidente y declaran que ahora es tiempo para prepararse para el Armagedón, la guerra, y el Imán Mahdi.
Is the Future King of the South Rising Up? Some no longer believe there needs to be a future King of the South. Might Egypt, Islam, Iran, Arabs, or Ethiopia be involved? Might this King be called the Mahdi or Caliph? What does the Bible say? A YouTube video of related interest may be: The Future King of the South is Rising.
The Prophesied 'Islamic' Confederation Where is an Islamic caliphate prophesied? Will one happen? Should you be concerned about it? A related video is Will an Arabic Calphiphate Destroy the West?
Obama Administration Pushing for an Islamic Empire? Because of the rise of groups such as the Islamic State, the Obama Administration and others are pushing for a coalition of Arab nations along with Turkey. Does this resemble the final King of the South of Bible prophecy? Is there an Islamic antichrist? Does the Bible teach that terrorism and the sword will affect the USA and some of its allies? What does the Bible teach in Ezekiel about a confederation involving Egypt? Will an Arabic confederation end in destruction for those who strongly support it? Are the 10 nations in the Arab coalition the ten kings of Revelation 17:12-13? Are the 10 nations including the USA and Turkey the ten nations of Revelation 17:12-13? Who is? Was the pushing of the Obama Administration to do this predicted by in 2009 in a writing by Dr. Thiel? What does the Bible show?
How Will Middle East Peace be Brought About? Can humans bring peace to the Middle East? Here is a link to a related video: Middle East Peace? When?
The 'Peace Deal' of Daniel 9:27 This prophecy could give up to 3 1/2 years advance notice of the coming Great Tribulation. Will most ignore or misunderstand its fulfillment? Here is a link to a related sermon video Daniel 9:27 and the Start of the Great Tribulation.
Jerusalem: Past, Present, and Future What does the Bible say about Jerusalem and its future? Is Jerusalem going to be divided and eliminated? Is Jesus returning to the area of Jerusalem? There is also a related YouTube video you can watch titled Jerusalem To be divided and eliminated.
Anglo – America in Prophecy & the Lost Tribes of Israel Are the Americans, Canadians, English, Scottish, Welsh, Australians, Anglo-Saxon (non-Dutch) Southern Africans, and New Zealanders descendants of Joseph? Where are the lost ten-tribes of Israel? Who are the lost tribes of Israel? What will happen to Jerusalem and the Jews in Israel? Will God punish the U.S.A., Canada, United Kingdom, and other Anglo-Saxon nations? Why might God allow them to be punished first? Here is a link to the Spanish version of this article: Anglo-América & las Tribus Perdidas de Israel. Information is also in the YouTube sermons titled Where are the Ten Lost Tribes? Why does it matter? and British are the Covenant People. A short YouTube of prophetic interest may be Barack Obama and the State of the Apocalypse.
When Will the Great Tribulation Begin? 2015, 2016, or 2017? Can the Great Tribulation begin today? What happens before the Great Tribulation in the "beginning of sorrows"? What happens in the Great Tribulation and the Day of the Lord? Is this the time of the Gentiles? When is the earliest that the Great Tribulation can begin? What is the Day of the Lord? Who are the 144,000? Here is a version of the article in the Spanish language: ¿Puede comenzar la Gran Tribulación en 2014 o 2015? ¿Es el Tiempo de los Gentiles? You can also see the English language sermon video: The Great Tribulation from the Mount of Olives.
Barack Obama, Prophecy, and the Destruction of the United States-Second Edition for Second Obama Term This is a 160 page book for people truly interested in prophecies related to Barack Obama and the United States, including learning about many that have already been fulfilled (which the book documents in detail) and those that will be fulfilled in the future. It also has a chapter about a Republican choice. This book is available to order at www.barackobamaprophecy.com. The physical book can also be purchased at Amazon from the following link: Barack Obama, Prophecy, and the Destruction of the United States: Is Barack Obama Fulfilling Biblical, Islamic Catholic, Kenyan, and other America-Related Prophecies? What About Republican Leaders? Second Edition for Second Obama Term.
Barack Obama, Prophecy, and the Destruction of the United States-Second Term-Amazon Kindle edition. This electronic version is available for only US$2.99. And you do not need an actual Kindle device to read it. Why? Amazon will allow you to download it to almost any device: Please click HERE to download one of Amazon s Free Reader Apps. After you go to for your free Kindle reader and then go to Barack Obama, Prophecy, and the Destruction of the United States-Second Term-Amazon Kindle edition.