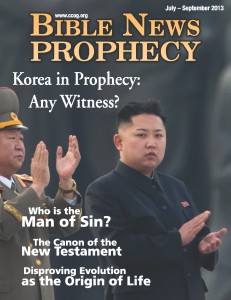 North and South Korea have had some military exchanges and now the head of North Korea has made a war-related declaration:
August 21, 2015

SEOUL—North Korean leader Kim Jong Un has placed his military on high alert and declared a "quasi-state of war" in frontline areas Friday after North and South Korea exchanged artillery fire near the border. Seoul also has raised its military readiness to its highest level, suggesting imminent threat.

Following an emergency meeting of the North's central military commission, Kim said frontline units would "enter a wartime state" starting at 5 p.m. local time Friday, according to the Korean Central News Agency.

Pyongyang has made similar declarations in the past, including during periods of heightened tension in 2010 and 2013. The two countries are technically already in a state of war because the truce that ended their 1950s conflict did not become a peace treaty.

No empty words

In Beijing Friday, North Korea's ambassador to China called a late-afternoon news conference at which he repeated the warning about Saturday's deadline. He said North Korea is a country of action, not words.

When asked about Beijing's opinion of the escalated tensions, Ambassador Ji Jae Ryong said that was irrelevant.

"If the enemy ignores our warning, it is inevitable that there will be action," Ji said. "Our army does not use empty words."

Thursday's violence began when North Korea fired shells at South Korean military positions along the western border. The South responded by launching dozens of 155-millimeter artillery rounds at the North.

Neither side reported damage or casualties from the shells, most of which appeared to fall along the 4-kilometer-wide demilitarized zone, or DMZ, separating the two Koreas.

North-South relations have been particularly strained after Seoul accused Pyongyang of planting landmines that exploded this month near the border, wounding two South Korean soldiers. Seoul responded by resuming anti-North propaganda broadcasts via loudspeakers near the border.

The North's ambassador to China talked about Pyongyang's displeasure with the loudspeaker broadcasts, calling them a form of warfare. He also critized South Korea's launch of five shells Thursday, saying such "reckless military action is driving us toward a war crisis."

South Korea's aim is "to seize our government and our lifestyle," Ji said.

The exchange of fire was the first between the two Koreas since last October, when North Korean soldiers approached the military border and did not retreat after the South fired warning shots, the South Korean Defense Ministry said at the time. The North's soldiers fired back in an exchange of gunfire that lasted about 10 minutes, with no casualties.

North Warns of More Strikes

The North warned Thursday it would take further military action if the South did not stop the broadcasts within 48 hours. South Korean officials insisted the broadcasts would continue. http://www.voanews.com/content/north-korea-declares-quasi-state-of-war-with-south/2926631.html

August 21, 2015

The nuclear-armed North has condemned South Korean propaganda being blasted from the speakers as equivalent to a declaration of war.

It was this that triggered Thursday's exchange of fire across the demilitarized zone, or DMZ, and Kim's latest ultimatum — stop the broadcasts by 5 p.m. Saturday (4:30 a.m. ET) or face military action.

He has placed his army on what the North calls a "quasi state of war."

What makes this incident more worrying is that this time the North followed through with a threat, which usually doesn't happen. And the South hit back robustly, something that is also rare.

There don't seem to have been any casualties or damage on either side, suggesting that for all the sound and fury the targets were most likely rocks or hills designed to cause the least amount damage.  http://www.nbcnews.com/news/north-korea/north-korea-puts-army-quasi-state-war-sets-loudspeaker-deadline-n413636
What will happen with North and South Korea?
Because of biblical prophecies involving "the kings from the east" cooperating at the end (cf. Revelation 16:12; Daniel 11:44), we in the Continuing Church of God have taught for years that somehow North and South Korea would likely be unified (or at least work more closely together) prior to the return of Jesus Christ (see also the July-September 2013 edition of Bible News Prophecy magazine).
The literal translation of Revelation 16:12 is "the kings of the sunrise" and thus this would seem to have to include Korea–which among the most eastern of the nations.
But it could take a battle or more for that to happen. One that may not turn out well for the North Korean leadership.  It should be noted that the USA has a treaty arrangement with South Korea, and in the event of a real war, the USA has obligations to assist and defend South Korea, and North Korea realizes this–that might be why its Kim Jong Un decided to call this a 'quasi state of war,' as opposed to an actual one.
Caution is advised for any who think that since the USA can defeat North Korea militarily that North Korea would not try to set off a nuclear device (either through a launch or throw some other means) or be involved in terrorism that could hurt South Korea or or Japan or even the USA. Jesus spoke of a time of troubles prior to the Great Tribulation (Matthew 13:7-8) and North Korea may well fit in with those.
Since the Koreans are Asians and occupy the "land of the sunrise" (Revelation 16:2), for years I have written that I expect that they will reunify. The reunification of North and South Korea is consistent with biblical prophecy.
But North Korea may take unusual actions before then, and it may regret doing so. Whether this reunification will be because of a war involving the USA, South Korea, or something else (such as waiting until Revelation 9:16; & 16:2), is not clear. But the situation in Korea will change.
As Jesus said, "And what I say to you, I say to all: Watch!" (Mark 13:37).
Some items of possibly related interest may include:
What is the Gospel? True religion should be based upon the true gospel. What are some of the different gospels and where did they come from? Do you believe the true or a false gospel? Who is preaching the gospel? Here is a version in Korean 복음이란 무엇인가?
Korea in Prophecy, Any Witness? Where did the Korean people come from? Does God have a plan for the Koreans? Is Korea mentioned in any prophecies? Will Koreans be among the first in the Kingdom of God? Here is a machine-translated link to that article in Korean: 한국의 언어로 : 한국 예언, 모든 증인에?; here is a link to that article in Mandarin Chinese: 在预言中的韩国:有任何证人吗?
Japan, Its Biblical Past and Future, Part 1: Any Witness? Where did the Japanese people come from? Have they had any witness?
Japan, Its Biblical Past and Future, Part 2: Prophecy Japan in prophecy. What is prophesied for Japan? Will God save the Japanese?
Asia in Prophecy What is Ahead for Asia? Who are the "Kings of the East"? What will happen to nearly all the Chinese, Russians, Indians, and others of Asia? China in prophecy, where? Who has the 200,000,000 man army related to Armageddon? A YouTube video of interest may be Is China THE Threat to the United States of America?
The Eurasian Union, the Kings of the East, and Bible Prophecy Is there a Eurasian union that will be formed? Is one being formed right now? Are any leaders working on that in the 21st century? Does the Bible teach that there will be a Eurasian union? If some type of Eurasian union is formed, who might it benefit and who will it destroy? A related video would be Is The Eurasian Union Rising?