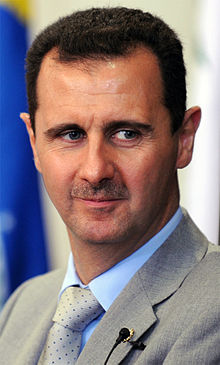 Bashar Hafez al-Assad
Syria's President Assad began his third term today:
July 16, 2014

Syria's Assad says foreign states will pay for supporting 'terrorism'

(Reuters) – President Bashar al-Assad, who was sworn in for a new term on Wednesday, said Western and Arab states that have supported "terrorism" will pay a "high price" and that he would fight insurgents until security was restored to the whole country.

"Soon we will see that the Arab, regional and Western states that supported terrorism will pay a high price," he told his supporters at the presidential palace.  http://www.reuters.com/article/2014/07/16/us-syria-crisis-assad-speech-idUSKBN0FL0ZP20140716

July 16, 2014

Syrian President Bashar al-Assad has been sworn in for a new seven-year term, a month after winning a landslide election held only in government-controlled areas.

He took the oath of office Wednesday during a ceremony at the presidential palace in Damascus attended by members of the country's parliament.

He gave an address warning that Western and Arab nations that supported what he called "terrorists" would pay a high price.

The Syrian government routinely refers to rebels opposed to Assad as terrorists.  Western and Arab nations have given money and equipment to help opposition fighters during Syria's nearly three and a half year civil war…

More than 170,000 people have been killed and 2.9 million Syrians have fled to neighboring countries since the Syrian conflict began as peaceful protests in March 2011.  The fighting has forced another 6.5 million people from their homes within Syria.  http://www.voanews.com/content/syrias-assad-sworn-in-for-new-seven-year-term/1958492.html
Syria's President Assad is correctly hinting that terrorism will affect various regions.  He may also be hinting that his government will contribute to the price the West and Arab states will pay for opposing him.
The USA has supported the opposition to Bashar al-Assad, and a breakaway group from the Assad opposition has made major gains in Iraq.  That group, formerly known as ISIS, the Islamic State of Iraq and Syria, is considered to be a terrorist group that many believe will attack the West once it gets an opportunity.  It is already terrorizing parts of Iraq.  It has renamed itself the Islamic State.  Western analysts have stated that it will cause terrorism outside of Iraq if it can hold on to power in the regions it is now dominating.
The Bible itself warns of terrorism:
14 'But if you do not obey Me, and do not observe all these commandments, 15 and if you despise My statutes, or if your soul abhors My judgments, so that you do not perform all My commandments, but break My covenant, 16 I also will do this to you: I will even appoint terror over you, wasting disease and fever which shall consume the eyes and cause sorrow of heart. And you shall sow your seed in vain, for your enemies shall eat it. 17 I will set My face against you, and you shall be defeated by your enemies. Those who hate you shall reign over you, and you shall flee when no one pursues you. (Leviticus 26:14-17)

25 The sword shall destroy outside; There shall be terror within (Deuteronomy 32:25)

12 "Cry and wail, son of man; For it will be against My people, Against all the princes of Israel. Terrors including the sword will be against My people; Therefore strike your thigh. (Ezekiel 21:12)

12 Behold, these are the ungodly,Who are always at ease; They increase in riches…19 Oh, how they are brought to desolation, as in a moment! They are utterly consumed with terrors. (Psalms 73:12,19)

25 Because you disdained all my counsel, And would have none of my rebuke, 26 I also will laugh at your calamity; I will mock when your terror comes, 27 When your terror comes like a storm, And your destruction comes like a whirlwind, When distress and anguish come upon you. (Proverbs 1:25-27)

5 Also they are afraid of height, And of terrors in the way (Ecclesiastes 12:5).
The USA, UK, and other places will be hit by more terrorism.  It will be worse than 9/11 some time in the future.
That being said, the Bible also warns about destruction coming to Syria's capital Damascus.
Actually, both biblical and Islamic prophecy foretell of the destruction of at least parts of Syria. Here is some of what Bible prophecies teach:
7 thus says the Lord God: "It shall not stand, Nor shall it come to pass. 8 For the head of Syria is Damascus (Isaiah 7:7-8).

3 Thus says the Lord: "For three transgressions of Damascus, and for four, I will not turn away its punishment, Because they have threshed Gilead with implements of iron. (Amos 1:3)

1 The burden against Damascus. "Behold, Damascus will cease from being a city, And it will be a ruinous heap. (Isaiah 17:1)

23 Against Damascus. "Hamath and Arpad are shamed, For they have heard bad news. They are fainthearted; There is trouble on the sea; It cannot be quiet. 24 Damascus has grown feeble; She turns to flee, And fear has seized her. Anguish and sorrows have taken her like a woman in labor. 25 Why is the city of praise not deserted, the city of My joy? 26 Therefore her young men shall fall in her streets, And all the men of war shall be cut off in that day," says the Lord of hosts. 27 "I will kindle a fire in the wall of Damascus, And it shall consume the palaces of Ben-Hadad." (Jeremiah 49:23-27)
Damascus has been claimed to be the "oldest continuously inhabited city" in the world.  And while some have questioned that, the reality is that Damascus has not been destroyed to the point of becoming the "ruinous heap" since God inspired Isaiah to record that.
This destruction could come as the result of the current civil war.  And if the Assad regime broadly uses chemical weapons and/or becomes engaged in a conflict with Israel, that could also fulfill the above.
Furthermore, because the Bible suggests that Syria will be involved in a confederation of North African and Middle Eastern nations (Ezekiel 30:1-9; Psalm 83:4-8) who will support a leader that the Bible refers to as the final King of the South (Daniel 11:40-43), this likely means that the Assad regime will have to at least change, if not completely fall, and that whatever regime replaces it, it will most likely agree to be in this prophesied confederation.  A confederation that is also prophesied to fail (which is something that all in the Middle East and North Africa will be better off realizing).  Various Islamic groups have long pushed for the type of confederation that the Bible warns will involve many Arabic nations and end in the destruction of this confederation (Daniel 11:40-43; Ezekiel 30:1-9).
The situation for Arab world will have ups and downs.  The Bible tells of a time of a peace deal that will affect the region, but that deal will not last (Daniel 9:27) and more war will later come (Daniel 11:40-43; Ezekiel 30:2-8).
While few wish to believe it, it will take the return of Jesus Christ and the establishment of the Kingdom of God to truly solve the conflicts in the Middle East and elsewhere.  The third term of Bashar Hafez al-Assad will not result in real peace.  Those in Syria are in my prayers.
Some items of possibly related interest may include:
Damascus and Syria in Prophecy Will Bashar Assad hold power as he has it? Does the Bible show that Damascus, the capital of Syria, will be destroyed? What will happen to Syria? Will the Syrians support the final King of the South that the Bible tells will rise up? Which scriptures discuss the rise and fall of an Arabic confederation? Does Islamic prophecy predict the destruction of Syria. This is a YouTube video.
The 'Peace Deal' of Daniel 9:27 This prophecy could give up to 3 1/2 years advance notice of the coming Great Tribulation. Will most ignore or misunderstand its fulfillment? Here is a link to a related sermon video Daniel 9:27 and the Start of the Great Tribulation.
The Prophesied 'Islamic' Confederation Where is an Islamic caliphate prophesied? Will one happen? Should you be concerned about it? Here is a link to a related video video: Will an Arabic Calphiphate Destroy the West?
Iraq, the King of the South, Armageddon, and Prophecy What will happen to Iraq? Is it the prophesied Mystery Babylon? What is Armageddon and how does that have to do with Iraq? Here is a related video Iraq, Armageddon, & Prophecy.
Iran in Prophecy Is Iran in Bible prophecy? If so, what does the Bible teach? What names, other than Persia, may be used to describe Iran? There is also a YouTube video titled Iran in Prophecy. Here is a related video Iran In Prophecy.
Is the Future King of the South Rising Up? Some no longer believe there needs to be a future King of the South. Might Egypt, Islam, Iran, Arabs, or Ethiopia be involved? Might this King be called the Mahdi or Caliph? What does the Bible say? A YouTube video of related interest may be: The Future King of the South is Rising. The Muslim Brotherhood and the Rise of the King of the South The Bible tells of the formation of a power of nations that are in the Middle East and North Africa that are part of the final "King of the South" (Daniel 11:40-43) The Muslim Brotherhood wishes to have an Islamic empire with basically the same nations. This YouTube video explains what to expect from such a confederation.
The Arab and Islamic World In the Bible, History, and Prophecy The Bible discusses the origins of the Arab world and discusses the Middle East in prophecy. What is ahead for the Middle East and those who follow Islam? What about the Imam Mahdi? What lies ahead for Turkey, Iran, and the other non-Arabic Muslims? An item of possibly related interest in the Spanish language would be: Líderes iraníes condenan la hipocresía de Occidente y declaran que ahora es tiempo para prepararse para el Armagedón, la guerra, y el Imán Mahdi.between these groups will put them in position to be part of the final end time Babylon that the Bible warns against as well as require improper compromise.
When Will the Great Tribulation Begin? 2014, 2015, or 2016? Can the Great Tribulation begin today? What happens before the Great Tribulation in the "beginning of sorrows"? What happens in the Great Tribulation and the Day of the Lord? Is this the time of the Gentiles? When is the earliest that the Great Tribulation can begin? What is the Day of the Lord? Who are the 144,000? Here is a version of the article in the Spanish language: ¿Puede comenzar la Gran Tribulación en 2013 o 2014? ¿Es el Tiempo de los Gentiles? You can also see the English language sermon video: The Great Tribulation from the Mount of Olives.
Blood Moons and Prophecy There are four 'blood moons' expected in 2014 and 2015. Do they signal the Day of the Lord or the return of Jesus Christ? A related YouTube video is also available: Blood Moons, Prophecy, 2014, and 2015.
The Gospel of the Kingdom of God was the Emphasis of Jesus and the Early Church Did you know that? Do you even know what the gospel of the kingdom is all about? You can also see a YouTube video sermon The Gospel of the Kingdom.
Just What Do You Mean the Kingdom of God? A booklet that was written by Herbert Armstrong answers questions about the Kingdom.
Must the Ten Kings of Revelation 17:12 Rule over Ten Currently Existing Nations? Some claim that these passages refer to a gathering of 10 currently existing nations together, while one group teaches that this is referring to 11 nations getting together. Is that what Revelation 17:12-13 refers to? The ramifications of misunderstanding this are enormous.
World War III: Steps in Progress Are there surprising actions going on now that are leading to WWIII? Might a nuclear attack be expected? Does the Bible promise protection to all or only some Christians? How can you be part of those that will be protected? A related video would be Is World War III About to Begin? Can You Escape?
Wars, rumors of wars, and the Apocalypse Jesus foretold a time before the end where there would be wars and rumors of wars. The Apocalypse (the Book of Revelation) warns of the red horseman of war. Now, even secular writers, like Larry Edelson, are worried that wars and rumors of war are the most menacing problem that now haunts the earth? Are they right? What is the solution? This is a sermonette-length video.
Europa, the Beast, and Revelation Where did Europe get its name? What might Europe have to do with the Book of Revelation? What about "the Beast"? Is an emerging European power "the daughter of Babylon"? What is ahead for Europe? Here is a link to a video titled: Can You Prove that the Beast to Come is European?
Who is the King of the North? Is there one? Do biblical and Roman Catholic prophecies for the Great Monarch point to the same leader? Should he be followed? Who will be the King of the North discussed in Daniel 11? Is a nuclear attack prophesied to happen to the English-speaking peoples of the United States, Great Britain, Canada, Australia, and New Zealand? When do the 1335 days, 1290 days, and 1260 days (the time, times, and half a time) of Daniel 12 begin? When does the Bible show that economic collapse will affect the United States? In the Spanish language check out ¿Quién es el Rey del Norte? Here is a link to a video titled: The Future King of the North.
Jerusalem: Past, Present, and Future What does the Bible say about Jerusalem and its future? Is Jerusalem going to be divided and eliminated? Is Jesus returning to the area of Jerusalem? There is also a related YouTube video you can watch titled Jerusalem To be divided and eliminated.
Anglo – America in Prophecy & the Lost Tribes of Israel Are the Americans, Canadians, English, Scottish, Welsh, Australians, Anglo-Saxon (non-Dutch) Southern Africans, and New Zealanders descendants of Joseph? Where are the lost ten-tribes of Israel? Who are the lost tribes of Israel? What will happen to Jerusalem and the Jews in Israel? Will God punish the U.S.A., Canada, United Kingdom, and other Anglo-Saxon nations? Why might God allow them to be punished first? Here is a link to the Spanish version of this article: Anglo-América & las Tribus Perdidas de Israel. Information is also in the YouTube sermons titled Where are the Ten Lost Tribes? Why does it matter? and British are the Covenant People. A short YouTube of prophetic interest may be Barack Obama and the State of the Apocalypse.
Barack Obama, Prophecy, and the Destruction of the United States-Second Edition for Second Obama Term This is a 160 page book for people truly interested in prophecies related to Barack Obama and the United States, including learning about many that have already been fulfilled (which the book documents in detail) and those that will be fulfilled in the future. It also has a chapter about a Republican choice. This book is available to order at www.barackobamaprophecy.com. The physical book can also be purchased at Amazon from the following link: Barack Obama, Prophecy, and the Destruction of the United States: Is Barack Obama Fulfilling Biblical, Islamic Catholic, Kenyan, and other America-Related Prophecies? What About Republican Leaders? Second Edition for Second Obama Term.
Barack Obama, Prophecy, and the Destruction of the United States-Second Term-Amazon Kindle edition. This electronic version is available for only US$2.99. And you do not need an actual Kindle device to read it. Why? Amazon will allow you to download it to almost any device: Please click HERE to download one of Amazon s Free Reader Apps. After you go to for your free Kindle reader and then go to Barack Obama, Prophecy, and the Destruction of the United States-Second Term-Amazon Kindle edition.