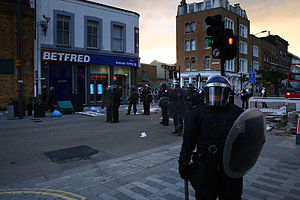 London Riots, 2011

London was hit with terrorism today:
March 22, 2017

Four people, including a London police officer who was stabbed and the alleged assailant, were killed in terror attack that saw more than 20 people injured outside the Parliament building on Wednesday in an act described as "sick and depraved" by British Prime Minister Theresa May.

Acting Deputy Commisssioner and Head of Counter Terrorism Mark Rowley told reporters they believe there was only one attacker. Among the injured were three police officers. http://www.foxnews.com/world/2017/03/22/shots-fired-outside-uk-parliament-reports-say.html

March 22, 2017

LONDON — London was thrown into chaos and confusion on Wednesday, with Britain's Parliament placed on lockdown and the prime minister evacuated, as security officers investigated "a terrorist incident" that left one woman dead and several other people injured.

Throughout a confusing afternoon, ambulances, emergency vehicles and heavily armed security officers thronged the area outside Parliament, as one of the busiest sections of London was cordoned off and evacuated. Prime Minister Theresa May was rushed into a vehicle and spirited back to her office, where her aides reported that she was safe.

Meanwhile, the police were still trying to make sense of an afternoon attack that apparently occurred in two stages. The driver of a large vehicle mowed down pedestrians on Westminster Bridge, which leads to Parliament, killing one woman and injuring at least 10 other people. Around the same time, a man stabbed a police officer outside the gates of Parliament and was then shot by police officers. It was not immediately clear if the motorist and the knife attacker were the same man.

The attack came on the anniversary of suicide bombings in Brussels that killed 32 people, along with three bombers. The violence raised fears that London, which has been largely spared as a target of recent terrorist attacks, has now joined cities like Paris, Brussels and Berlin as targets of mass violence.

"A full counterterrorism investigation is underway," Cmdr. B. J. Harrington of the Metropolitan Police said at a brief news conference, at which he pleaded with members of the public to stay away from a broad section of central London, to report any suspicious activity and to share any images or video of the violence. https://www.nytimes.com/2017/03/22/world/europe/uk-westminster-parliament-shooting.html
March 22, 2017

Officials in London, responding to the deaths and "catastrophic injuries," as one doctor on scene put it, have to their credit quickly termed the attack a terror strike.

But of what kind?

Christian-based?

Hindu-tied?

Or just the generic kind — the kind Barack Obama and his ilk would have believed that's done by crazed criminals, angry at their joblessness and frustrated by climate change?

Hmm, it's a puzzler, all right.

Photographs of the suspect — or one of the suspects — captured by the Daily Star and posted to its news website, show a dark-skinned man tied to a stretcher being loaded into an ambulance. Various media report he was shot by police as he approached an officer, eight-inch knife in hand.

Witnesses at the scene, meanwhile, described the suspected attacker as a middle-aged black man, or Asian. But Asian is a term that's been oft-used by liberal leaning entities in Europe to describe those of Middle Eastern or African ethnicities — of Muslim faith.

… — outrage that comes from realization that once again, what we have here is another case of Islamic-fueled terror.

Outrage that comes from the growing sensation: it is the religion, stupid. http://www.washingtontimes.com/news/2017/mar/22/london-terror-and-islam-elephant-room/
March 22, 2017

The attacker, who drove a vehicle across Westminster Bridge, killing at least two people, before stabbing a police officer to death outside the Houses of Parliament earlier today, has been named by top journalists as Abu Izzadeen.
Abu Izzadeen, whose birth name was Trevor Brooks, was reportedly shot by police after the attack and later died of his injuries. He is a well known high-profile British Islamic extremist.
Abu spent time in jail back in 2008 for inciting attacks against the UK and the U.S. and for raising funds for terrorism groups such as al-Muhajiroun. http://www.unilad.co.uk/news/london-terror-attacker-named-as-infamous-british-hate-preacher/
More terrorism is expected to hit the UK.
UPDATE 3/23/17: A different name was released by the police:
March 23, 2017

The attacker behind the terrorist rampage at the gates of the Houses of Parliament has been named by police as Khalid Masood, 52, who was born in Kent and had previously been convicted of violent offences.

The assailant, who was shot dead on Wednesday as he attacked police officers in the shadow of Big Ben, had been known to MI5 but was considered to be a peripheral figure and had fallen from the intelligence picture. https://www.theguardian.com/uk-news/2017/mar/23/westminster-attack-police-arrest-seven-people-in-raids-at-six-addresses
Here is something I posted here back in 2013:
Because of Psalm 83:3-8 and Leviticus 26:16, I have long felt that there would be much more massive terrorism from those in the Muslim dominated lands.  Hence, I expect more actual terrorism in the Anglo-dominated lands of the UK, Canada, and USA.  We will likely also see some in Australia and New Zealand.

Terroristic troubles seem to be have something prophesied to affect the descendants of Israel in modern times if they did not obey God:

14 'But if you do not obey Me, and do not observe all these commandments, 15 and if you despise My statutes, or if your soul abhors My judgments, so that you do not perform all My commandments, but break My covenant, 16 I also will do this to you: I will even appoint terror over you, wasting disease and fever which shall consume the eyes and cause sorrow of heart. And you shall sow your seed in vain, for your enemies shall eat it. 17 I will set My face against you, and you shall be defeated by your enemies. Those who hate you shall reign over you, and you shall flee when no one pursues you.

18 'And after all this, if you do not obey Me, then I will punish you seven times more for your sins.
19 I will break the pride of your power; I will make your heavens like iron and your earth like bronze.
20 And your strength shall be spent in vain; for your land shall not yield its produce, nor shall the trees of the land yield their fruit. (Leviticus 26:14-20)

Jesus foretold troubles as part of the beginning of sorrows:

8 For nation will rise against nation, and kingdom against kingdom. And there will be earthquakes in various places, and there will be famines and troubles. These are the beginnings of sorrows. (Mark 13:8)

3 When He opened the second seal, I heard the second living creature saying, "Come and see." 4 Another horse, fiery red, went out. And it was granted to the one who sat on it to take peace from the earth, and that people should kill one another; and there was given to him a great sword. (Revelation 6:3-4)

Terrorism and attempts at it certainly qualify as troubles.

But an even worse hour of trial is coming later (Revelation 3:10; Jeremiah 30:7).
Notice some more biblical prophecies:
25 There shall be terror within (Deuteronomy 32:25)

1 But know this, that in the last days perilous times will come: 2 For men will be lovers of themselves, lovers of money, boasters, proud, blasphemers, disobedient to parents, unthankful, unholy, 3 unloving, unforgiving, slanderers, without self-control, brutal, despisers of good, 4 traitors, headstrong, haughty, lovers of pleasure rather than lovers of God, 5 having a form of godliness but denying its power. And from such people turn away! 6 For of this sort are those who creep into households and make captives of gullible women loaded down with sins, led away by various lusts, 7 always learning and never able to come to the knowledge of the truth. (2 Timothy 3:1-7)

23 'Make a chain,
For the land is filled with crimes of blood,
And the city is full of violence.
24 Therefore I will bring the worst of the Gentiles,
And they will possess their houses;
I will cause the pomp of the strong to cease,
And their holy places shall be defiled. (Ezekiel 7:23-24)

13 … evil men and impostors will grow worse and worse, deceiving and being deceived. (2 Timothy 3:13)
Sadly, we keep seeing this happen. And we see more and more terrorist incidents.
While there can be a time for protests (cf. Ecclesiastes 3:1-8), the results of increased protests will not be good.
Jesus taught:
25 Every kingdom divided against itself is brought to desolation, and every city or house divided against itself will not stand. (Matthew 12:25)
We are seeing more divide in the USA and parts of it certainly appear to be intentional. Much of it is ideological. The USA is becoming less and less united and more polarized.
The mainstream media seems to be supportive of this and various groups realize this. Hence, the increase in training protesters.
This will not end well for the USA (cf. Habakkuk 2:6-8; Daniel 11:39).
The Kingdom of God is the Solution. Watch, repent, and pray (cf. Luke 21:36).
Some items of related interest may include:
Why Terrorism? Is Terrorism Prophesied? What does the Bible teach? Which nations may be affected? Here is a link to a related sermon: Terrorism, Christianity, and Islam.
Differences Between Islam and the Continuing Church of God What are some of the main differences? Are there any similarities? A video of related interest is titled: Islam: Any Christian Concerns or Similarities?
When Will the Great Tribulation Begin? 2017, 2018, or 2019? Can the Great Tribulation begin today? What happens before the Great Tribulation in the "beginning of sorrows"? What happens in the Great Tribulation and the Day of the Lord? Is this the time of the Gentiles? When is the earliest that the Great Tribulation can begin? What is the Day of the Lord? Who are the 144,000? Here is a version of the article in the Spanish language: ¿Puede comenzar la Gran Tribulación en 2016 o 2017? ¿Es el Tiempo de los Gentiles? You can also see the English language sermon videos: The Great Tribulation from the Mount of Olives and Can the Great Tribulation begin before 2020? A shorter video is: Will the Great Tribulation Start in 2017?
Anglo – America in Prophecy & the Lost Tribes of Israel Are the Americans, Canadians, English, Scottish, Welsh, Australians, Anglo-Saxon (non-Dutch) Southern Africans, and New Zealanders descendants of Joseph? Where are the lost ten-tribes of Israel? Who are the lost tribes of Israel? What will happen to Jerusalem and the Jews in Israel? Will God punish the U.S.A., Canada, United Kingdom, and other Anglo-Saxon nations? Why might God allow them to be punished first? Here is a link to the Spanish version of this article: Anglo-América & las Tribus Perdidas de Israel. Information is also in the YouTube sermons titled Where are the Ten Lost Tribes? Why does it matter? and British are the Covenant People. A short YouTube of prophetic interest may be: Are Chinese threats against Australia for real?
Will the Anglo-Saxon Nations be Divided and Have People Taken as Slaves? Will the lands of the United States, United Kingdom, Canada, Australia, and New Zealand be divided? What about Jerusalem? What does Bible prophecy teach? Are there non-biblical prophecies that support this idea? Who will divide those lands? Who will end up with the lands and the people? Here is a link to a video titled Will the USA and other Anglo-nations be Divided and Their People Made Slaves? Here is a related item in the Spanish language ¿Serán divididas las naciones anglosajonas?
British are the Covenant People What do 'British' and 'Britain' mean in Hebrew? Are the descendants of the Anglo-Saxons people of the covenant? Does the British royal family connect to the throne of David? What does the Bible teach? What does history show us? Is there any DNA evidence related to British-Israelism? When did Christianity make it to the British Isles? Could Jeremiah have made it to the British Isles? What type of Christians made it to the British Isles? Did the last King of England believe in British Israelism?
Donald Trump in Prophecy Prophecy, Donald Trump? Are there prophecies that Donald Trump may fulfill? Are there any prophecies that he has already helped fulfill? Could a Donald Trump presidency be apocalyptic? A related video is titled: Donald: 'Trump of God' or Apocalyptic?
Donald Trump and America's Apocalypse This 188 page book is for people truly interested in prophecies related to Donald Trump and the United States, including learning about several that have already been fulfilled and those that will be fulfilled in the future. The physical book can be purchased at Amazon for $12.99 from the following link: Donald Trump and America's Apocalypse.
Donald Trump and America's Apocalypse-Kindle Edition This electronic version of the 188 page print edition is available for only US$3.99. And you do not need an actual Kindle device to read it. Why? Amazon will allow you to download it to almost any device: Please click HERE to download one of Amazon s Free Reader Apps. After you go to for your free Kindle reader and then go to Donald Trump and America's Apocalypse-Kindle Edition.
God's Grace is For All Is being Jewish a hindrance to salvation? What about not being a descendant of Israel? What does the Bible really teach? Here is a link to a related sermon titled Race and Grace; Do you view race as God does?
Are You Being Called by God? Norman Shoaf wrote various points to consider.
Is God Calling You? Alfred E Carrozzo wrote this.
What Did Christ Mean – Many Are Called, But Few Are Chosen? This article was by Raymond McNair.
Christian Repentance Do you know what repentance is? Is it really necessary for salvation? A related sermon is also available titled: Real Christian Repentance.
Persecutions by Church and State This article documents some that have occurred against those associated with the COGs and some prophesied to occur. Will those with the cross be the persecutors or the persecuted–this article has the shocking answer. There is also a YouTube video sermon you can watch: The Coming Persecution of the Church.
Prayer: What Does the Bible Teach? This free booklet contains 28 biblically-based tips on improving the effectiveness of your prayers. This is a pdf. A related two part sermon is available: What Does the Bible Teach About Prayer? and What does the Bible Teach About Prayer (& Healing)?
The 'Peace Deal' of Daniel 9:27 This prophecy could give up to 3 1/2 years advance notice of the coming Great Tribulation. Will most ignore or misunderstand its fulfillment? Here is a link to a related sermon video Daniel 9:27 and the Start of the Great Tribulation.
The Gospel of the Kingdom of God was the Emphasis of Jesus and the Early Church Did you know that? Do you even know what the gospel of the kingdom is all about? You can also see a YouTube video sermons Why Teach the Kingdom of God, The Gospel of the Kingdom, and The Kingdom of God is the Solution.