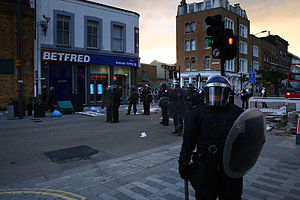 London Riots, 2011

The USA is not the only Anglo-nation with terrorist concerns:
 5 July 2012
 LONDON — British police officials said on Thursday that six people had been arrested in connection with a suspected terrorist conspiracy in London. North of the capital, officers closed off a main north-south highway after reports that a passenger was behaving suspiciously…

Police officials said on Thursday that the six people arrested — five men and a woman — were aged between 18 and 30 and some of them were British citizens. Three suspects were seized at undisclosed locations in west London and three in east London, where the Olympic stadium and village are. The officials said an officer used a stun gun against one of the male suspects, but he did not require hospital treatment.

They said the arrests were related to a potential terrorism plot that was not thought to be imminent. The suspects were arrested "on suspicion of the commission, preparation or instigation of acts of terrorism."  http://www.nytimes.com/2012/07/06/world/europe/british-police-arrest-6-in-suspected-terror-plot.html
There is a major concern that the 2012 Olympics in London will be affected by terrorism, and this may happen.  Currently, the official view is that the terrorist suspects arrested in the United Kingdom are not directly involved with potential Olympic terrorism, but it may be a bit early to know that for sure.
Terroristic troubles seem to be have something prophesied to affect the descendants of Israel in modern times if they did not obey God:
4 'But if you do not obey Me, and do not observe all these commandments,  15 and if you despise My statutes, or if your soul abhors My judgments, so that you do not perform all My commandments, but break My covenant,
16 I also will do this to you:  I will even appoint terror over you, wasting disease and fever which shall consume the eyes and cause sorrow of heart.  And you shall sow your seed in vain, for your enemies shall eat it.
17 I will set My face against you, and you shall be defeated by your enemies.  Those who hate you shall reign over you, and you shall flee when no one pursues you.

18 'And after all this, if you do not obey Me, then I will punish you seven times more for your sins.
19 I will break the pride of your power;  I will make your heavens like iron and your earth like bronze.
20 And your strength shall be spent in vain; for your land shall not yield its produce, nor shall the trees of the land yield their fruit.  (Leviticus 26:14-20)
Jesus foretold troubles as part of the beginning of sorrows:
8 For nation will rise against nation, and kingdom against kingdom. And there will be earthquakes in various places, and there will be famines and troubles. These are the beginnings of sorrows. (Mark 13:8)

3 When He opened the second seal, I heard the second living creature saying, "Come and see." 4 Another horse, fiery red, went out. And it was granted to the one who sat on it to take peace from the earth, and that people should kill one another; and there was given to him a great sword. (Revelation 6:3-4)
But an even worse hour of trial is coming later (Revelation 3:10; Jeremiah 30:7).
As Jesus said:
37 And what I say to you, I say to all: Watch! (Mark 13:36-37)
Some articles of possibly related interest may include:
Can the Great Tribulation Begin in 2012 or 2013? Can the Great Tribulation begin today? What is the "beginning of sorrows"? When is the earliest that the Great Tribulation can begin? What is the Day of the Lord?
Were the Pharisees Condemned for Keeping the Law or Reasoning Around it? Many believe that the Pharisees were condemned for keeping the law, but what does your Bible say? If they were not condemned for that, what were they condemned for?
The Ten Commandments Reflect Love, Breaking them is Evil Some feel that the ten commandments are a burden. Is that what Jesus, Paul, Peter, James, and John taught?
Was the Commandment to Love the Only Command? Some have stated that John's writings teach this, but is that what the Bible really says?
The Ten Commandments and the Early Church Did Jesus and the Early Church keep the ten commandments? What order were they in? Here are quotes from the Bible and early writings.
Anglo – America in Prophecy & the Lost Tribes of Israel Are the Americans, Canadians, British, Scottish, Welsh, Australians, Anglo-Southern Africans, and New Zealanders descendants of Joseph? Where are the lost ten-tribes of Israel? Who are the lost tribes of Israel? What will happen to the Jews in Israel? Will God punish the U.S.A., Canada, United Kingdom, and other Anglo nations? Why might God allow them to be punished first?
Will the Anglo-Nations be Divided and Have People Taken as Slaves? Will the lands of the United States, United Kingdom, Canada, Australia, and New Zealand be divided? What does Bible prophecy teach? Are there non-biblical prophecies that support this idea? Who will divide those lands? Who will end up with the lands and the people?
Is Tony Blair Apocalyptic? The former Prime Minister of the United Kingdom converted to Catholicism shortly after leaving his office and has been active in European affairs. What role might he play?