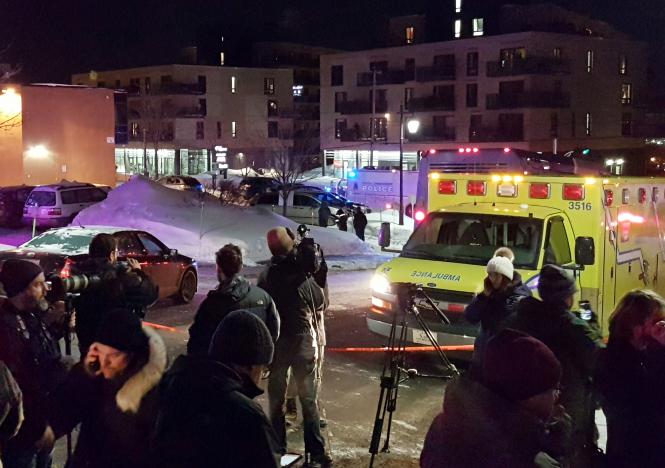 Justin Trudeau and Quebec terror scene
(photo from reutersmedia.net)

If Canada Prime Minister's call over the weekend to take in more Islamic migrants was intended to reduce Islamic tensions in his nation, that does not appear to have worked:
January 30, 2017

MONTREAL — Canada's prime minister said early Monday that a shooting at a Quebec City mosque during evening prayers that killed six people and injured eight was an act of terrorism.

"We condemn this terrorist attack on Muslims in a center of worship and refuge," Justin Trudeau said in a statement. "It is heart-wrenching to see such senseless violence. Diversity is our strength, and religious tolerance is a value that we, as Canadians, hold dear."

The incident took place Sunday night. More than 50 people were in the mosque at the time of the assault. Police said two suspects were arrested and they don't believe there are further suspected perpetrators at large. http://www.usatoday.com/story/news/world/2017/01/30/quebec-canada-mosque-attack-terrorism/97233660/

January 30, 2017

One of two gunmen who shouted 'Allahu akbar!' as they opened fire at a mosque in Quebec City was of Moroccan origin, a witness and local media reported Monday, revealing the first details about the attackers in the massacre that killed six men.

The terror suspects were identified as Mohamed Khadir and Alexandre Bissonnette, the Canadian TV network TVA Nouvelles reported. They were arrested soon after the shooting at the Quebec Islamic Cultural Centre Sunday night and were expected to appear in court later Monday, police told reporters.

One of the gunmen actually turned himself in, calling 911 less than 20 minutes later and giving officers his location in d'Orleans so they could arrest him, police said. The attack unfolded in the men's section of the mosque.

Prime Minister Justin Trudeau condemned the attack, calling it a "terrorist attack on Muslims."
The attackers were students at Université Laval, a school in Quebec, a source close to the investigation told Radio Canada, saying one was Moroccan. Police said the suspects were not on their radar. …
"It was with tremendous shock, sadness and anger that I heard of this evening's tragic and fatal shooting at the Centre culturel islamique de Quebec located in the Ste-Foy neighborhood of the city of Quebec," Trudeau said in a statement. http://www.foxnews.com/world/2017/01/30/at-least-five-killed-in-shooting-at-quebec-city-mosque.html
Some version of 'Allahu akbar' is often used by Islamic terrorists.
Note: A later report said that the Moroccan was not involved. So it may be that this was someone pretending to be an Islamic terrorist. Here is an updated reported:
January 30, 2017

QUEBEC — Alexandre Bissonnette, the alleged gunman who killed six and wounded eight at a Quebec City mosque on Sunday, was charged with six counts of first degree murder and five counts of attempted murder at the Quebec City Courthouse late on Monday afternoon, handcuffed and wearing a white jumpsuit but leaving a country wondering why.

The shooting on Sunday, the first time someone had been killed in a mosque in Canada and, at least recently, a rare event outside the Muslim world, shocked a nation that has prided itself on openness and has been lauded for its welcoming acceptance of Syrian refugees. The shooting, however, underscored a growing anti-Muslim sentiment that has been particular virulent in some parts of this French-speaking corner of the country. …

The authorities initially said that there were two suspects, but Quebec's provincial police agency said on Monday that only one man was a suspect and that another man — arrested at the mosque on Sunday evening and identified as Mohamed Belkhadir — was only a witness. Mr. Belkhadir was released on Monday, as the authorities searched a house in the Cap-Rouge section of Quebec, where Mr. Bissonnette lived.

"For the moment, nothing indicates to us that there was anybody else involved," said Chief Inspector André Goulet of Quebec's provincial police agency.

Speaking after the news conference, which was also attended by several politicians, leaders of the mosque said that the suspect was not known to them. https://www.nytimes.com/2017/01/30/world/canada/quebec-mosque-shooting.html?_r=0
There will be more terrorism to hit Canada, Europe, and the United States. Terrorism, by or against Muslims, is wrong.
Terrorism is prophesied:
14 'But if you do not obey Me, and do not observe all these commandments, 15 and if you despise My statutes, or if your soul abhors My judgments, so that you do not perform all My commandments, but break My covenant, 16 I also will do this to you: I will even appoint terror over you, wasting disease and fever which shall consume the eyes and cause sorrow of heart. And you shall sow your seed in vain, for your enemies shall eat it. 17 I will set My face against you, and you shall be defeated by your enemies. Those who hate you shall reign over you, and you shall flee when no one pursues you. (Leviticus 26:14-17)

25 The sword shall destroy outside; There shall be terror within (Deuteronomy 32:25)

12 "Cry and wail, son of man; For it will be against My people, Against all the princes of Israel. Terrors including the sword will be against My people; Therefore strike your thigh. (Ezekiel 21:12)

12 Behold, these are the ungodly,Who are always at ease; They increase in riches…19 Oh, how they are brought to desolation, as in a moment! They are utterly consumed with terrors. (Psalms 73:12,19)

25 Because you disdained all my counsel, And would have none of my rebuke, 26 I also will laugh at your calamity; I will mock when your terror comes, 27 When your terror comes like a storm, And your destruction comes like a whirlwind, When distress and anguish come upon you. (Proverbs 1:25-27)

5 Also they are afraid of height, And of terrors in the way (Ecclesiastes 12:5).
While not all terrorists are, or will be, Islamic, many have been and will be. Information on the identities of some of them can be found in yesterday's post Trump rattles international community regarding migrants, Trudeau offers Canada.
Speaking of yesterday's post, I believe that Donald Trump's policies will be blamed for certain terrorist acts that will hit the USA.  While the mainstream media did not blame Barack Obama's policies for the Islamic terror acts and violent protests in the USA, expect the mainstream media to have a different standard regarding Donald Trump.
That being said, terrorism is wrong, and my prayers go out to the families of those affected by the terrorism in Quebec.
Some items of possibly related interest may include the following:
Why Terrorism? Is Terrorism Prophesied? What does the Bible teach? Which nations may be affected? Here is a link to a related sermon: Terrorism, Christianity, and Islam.
Iraq, the King of the South, Armageddon, and Prophecy What will happen to Iraq? Is it the prophesied Mystery Babylon? What is Armageddon and how does that have to do with Iraq? Here is a related video Iraq, Armageddon, & Prophecy.
Iran in Prophecy Is Iran in Bible prophecy? If so, what does the Bible teach? What names, other than Persia, may be used to describe Iran? There is also a related YouTube video titled Iran In Prophecy.
Is the Future King of the South Rising Up? Some no longer believe there needs to be a future King of the South. Might Egypt, Islam, Iran, Arabs, or Ethiopia be involved? Might this King be called the Mahdi or Caliph? What does the Bible say? A YouTube video of related interest may be: The Future King of the South is Rising.
The 'Peace Deal' of Daniel 9:27 This prophecy could give up to 3 1/2 years advance notice of the coming Great Tribulation. Will most ignore or misunderstand its fulfillment? Here is a link to a related sermon video Daniel 9:27 and the Start of the Great Tribulation.
How Will Middle East Peace be Brought About? Can humans bring peace to the Middle East? Here is a link to a related video: Middle East Peace? When?
The Prophesied 'Islamic' Confederation Where is an Islamic caliphate prophesied? Will one happen? Should you be concerned about it? A related video is Will an Arabic Calphiphate Destroy the West?
The Gospel of the Kingdom of God This free online pdf booklet has answers many questions people have about the Gospel of the Kingdom of God and explains why it is the solution to the issues the world is facing. Here are links to three related sermons: The World's False Gospel, The Gospel of the Kingdom: From the New and Old Testaments, and The Kingdom of God is the Solution.
USA in Prophecy: The Strongest Fortresses Can you point to scriptures, like Daniel 11:39, that point to the USA in the 21st century? This article does. A related sermon is titled: Do these 7 prophesies point to the end of the USA?
Canada in Prophecy: What Does Bible Prophecy, Catholic Prophecy, and other Predictions Suggest About the Future of Canada? There are prophecies that suggest involvement with Canada. And many are not positive about its future.
Who is the King of the West? Why is there no Final End-Time King of the West in Bible Prophecy? Is the United States the King of the West? Here is a version in the Spanish language: ¿Quién es el Rey del Occidente? ¿Por qué no hay un Rey del Occidente en la profecía del tiempo del fin?
Who is the King of the North? Is there one? Do biblical and Roman Catholic prophecies for the Great Monarch point to the same leader? Should he be followed? Who will be the King of the North discussed in Daniel 11? Is a nuclear attack prophesied to happen to the English-speaking peoples of the United States, Great Britain, Canada, Australia, and New Zealand? When do the 1335 days, 1290 days, and 1260 days (the time, times, and half a time) of Daniel 12 begin? When does the Bible show that economic collapse will affect the United States? In the Spanish language check out ¿Quién es el Rey del Norte? Here is a link to a video titled: The Future King of the North.
Does God Have a 6,000 Year Plan? What Year Does the 6,000 Years End? Was a 6000 year time allowed for humans to rule followed by a literal thousand year reign of Christ on Earth taught by the early Christians? Does God have 7,000 year plan? What year may the six thousand years of human rule end? When will Jesus return? 2026 or 20xx? There is also a video titled The 6000 Year Plan: Is the end of humanity's reign almost up? Here is a link to the article in Spanish: ¿Tiene Dios un plan de 6,000 años?
When Will the Great Tribulation Begin? 2017, 2018, or 2019? Can the Great Tribulation begin today? What happens before the Great Tribulation in the "beginning of sorrows"? What happens in the Great Tribulation and the Day of the Lord? Is this the time of the Gentiles? When is the earliest that the Great Tribulation can begin? What is the Day of the Lord? Who are the 144,000? Here is a version of the article in the Spanish language: ¿Puede comenzar la Gran Tribulación en 2016 o 2017? ¿Es el Tiempo de los Gentiles? You can also see the English language sermon videos: The Great Tribulation from the Mount of Olives and Can the Great Tribulation begin before 2020? A shorter video is: Will the Great Tribulation Start in 2017?
World War III: Steps in Progress Are there surprising actions going on now that are leading to WWIII? Might a nuclear attack be expected? Does the Bible promise protection to all or only some Christians? How can you be part of those that will be protected? A related video would be Is World War III About to Begin? Can You Escape?
Differences Between Islam and the Continuing Church of God What are some of the main differences? Are there any similarities? A video of related interest is titled: Islam: Any Christian Concerns or Similarities?
Donald Trump in Prophecy Prophecy, Donald Trump? Are there prophecies that Donald Trump may fulfill? Are there any prophecies that he has already helped fulfill? Could a Donald Trump presidency be apocalyptic? A related video is titled: Donald: 'Trump of God' or Apocalyptic?
Donald Trump and America's Apocalypse This 188 page book is for people truly interested in prophecies related to Donald Trump and the United States, including learning about several that have already been fulfilled and those that will be fulfilled in the future. The physical book can be purchased at Amazon for $12.99 from the following link: Donald Trump and America's Apocalypse.
Donald Trump and America's Apocalypse-Kindle Edition This electronic version of the 188 page print edition is available for only US$3.99. And you do not need an actual Kindle device to read it. Why? Amazon will allow you to download it to almost any device: Please click HERE to download one of Amazon s Free Reader Apps. After you go to for your free Kindle reader and then go to Donald Trump and America's Apocalypse-Kindle Edition.