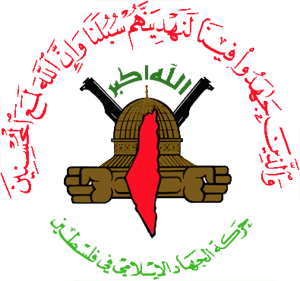 Islamic Jihad Movement emblem

BBC reported the following:
23 March 2017

A man has been arrested in the north Belgian port city of Antwerp on suspicion of driving at a crowd.

The vehicle, with French number plates, was driven "at high speed" on De Meir, Antwerp's main shopping street. There were no reports of injuries.

The suspect, a man of north African origin, was taken away, Antwerp police chief Serge Muyters said.

Belgium's Prime Minister Charles Michel praised the city's authorities for doing an "outstanding job". …

Mr Muyters said the car was spotted at around 11:00 local time (10:00 GMT).

"The vehicle was driving at high speed on De Meir. Our army colleagues spotted it and tried to bring the vehicle to a halt," he said.

"But the driver broke free and drove through the red light towards the port quays."

He said the police were contacted and immediately sent a rapid response team, intercepting the vehicle and driver. http://www.bbc.com/news/world-europe-39369202
A "man of north African origin" certainly points to this being another Muslim attack (North Africa is predominantly Muslim). It was good that he was stopped.
Voice of America reported that the so-called Islamic State has claimed responsibility for yesterday's terrorist incident in London:
IS Claims Responsibility for Britain Parliament Attack

March 23, 2017

LONDON —Islamic State has claimed responsibility for Wednesday's attack near the British Parliament in London, which killed three people and ended when an officer shot dead the attacker.

A statement posted on IS's news agency said the attacker was a "soldier of Islamic State."

Prime Minister Theresa May, in comments to Parliament about the attack, said the man responsible was born in Britain and was once investigated by the country's MI-5 intelligence agency "in relation to concerns about violent extremism." But she said he was not part of what she called the "current intelligence picture," and that there was no prior intelligence on this plot or his motives.

She reiterated that the working assumption of investigators is that he was "inspired by Islamist ideology."

British police have arrested eight people in connection with the attack. …

May's comments both Wednesday and her remarks to Parliament on Thursday have struck a defiant tone. As Parliament reopened for its normal meetings Thursday, May told lawmakers that what happened Wednesday "was an attack on free people everywhere."

"Yesterday an act of terrorism tried to silence our democracy, but today we meet as normal, as generations have done before us and as future generations will continue to do, to deliver a simple message: We are not afraid and our resolve will never waver in the face of terrorism," she said.

May thanked Britain's friends and allies around the world "who have made it clear that they stand with us at this time." She said the victims include nationals of France, Romania, South Korea, Germany, Poland, Ireland, China, Italy, Greece and the United States.

Thursday's Parliament session began with a minute of silence to remember those killed in the attack. http://www.voanews.com/a/britain-parliament-attack-thurs-/3778463.html
The man who attacked yesterday was an Islamic terrorist (see Muslim terrorist hits London: More terrorism is expected). The Islamic State has a history of claiming dead terrorists as their own.
The USA and Australia intend to defeat the Islamic State:
23 March 2017

Washington: US Secretary of State Rex Tillerson signalled a more complex military and humanitarian effort in Iraq and Syria as he warned on Wednesday that countries in the global coalition against Islamic State would have to make greater contributions as more territory is cleared of militants. …

At a conference, at which Foreign Affairs Minister Julie Bishop represented Australia …

"We have to defeat ISIS [Islamic State] and maintain the peace – there are numerous options on the table," she said.

Revised Pentagon planning since Donald Trump became President calls for a significant rise in American military trainers and advisers in Syria – and for them to operate more closely to the front lines than under the Obama administration.

"I recognise there are many pressing challenges in the Middle East, but defeating ISIS is the United States' number one goal in the region," Tillerson said. … "Degradation of ISIS is not the end goal," he said. "We must defeat ISIS." http://www.smh.com.au/world/rex-tillerson-urges-other-countries-to-cough-up-more-for-war-on-isis-20170322-gv4dnm.html
Will the 'Islamic State' under its 'Caliph' Abu Bakr al-Baghdadi be defeated?
Yes.
I have written that since the Islamic State made major 'progress' years ago. And now with the Trump Administration, expect to see actions to push against it accelerated. I do expect that there will be apparent success in dealing with the current 'Islamic State' group, yet biblical prophecies and world events are still aligning towards a time when we will see even more serious terrorism than before (see also Why Terrorism? Is Terrorism Prophesied?).
Donald Trump's officially posted positions (on his website page on Foreign Policy and Defeating ISIS) state he plans to:
Work with our Arab allies and friends in the Middle East in the fight against ISIS.
Pursue aggressive joint and coalition military operations to crush and destroy ISIS, international cooperation to cutoff their funding, expand intelligence sharing, and cyberwarfare to disrupt and disable their propaganda and recruiting.
Defeat the ideology of radical Islamic terrorism just as we won the Cold War.
Presuming Donald Trump helps to get the organization destroyed, its terrorist ways will still, sadly, still be used.
Abu Bakr al-Baghdadi's goal is to takeover the world and put it under his brand of Islam. This includes eliminating Muslims and non-Muslims that do not agree with his agenda.
Despite the fact that Abu Bakr al-Baghdadi will NOT become the final King of the South of biblical prophecy (Daniel 11:40), does not mean that all of his supporters will be killed.
The goal of the Islamic State to have a massive caliphate of Islamic nations will come to pass. That is also the goal of the Muslim Brotherhood, al-Qaeda, and various other groups. The goal of Islamic jihad, to unite to make Islam a more unified power, will come to pass.
It will happen because at least one version of that goal is foretold in biblical prophecies such as Daniel 11:40-43 and Ezekiel 30:2-8. But it will NOT end well according to those same passages of scripture.
However, it should also be mentioned that the Bible tells of a time when some type of peace deal will be in place (cf. Daniel 9:27); The 'Peace Deal' of Daniel 9:27, which will likely get most of the world to believe that the major terrorist threats are gone–but that deal will be only temporary.
The idea of unity among those in certain lands dominated by Islam is also consistent with the following prophecies:
8 The Lord sent a word against Jacob, And it has fallen on Israel. 9 All the people will know — Ephraim and the inhabitant of Samaria — … 11 Therefore the Lord shall set up The adversaries of Rezin against him, And spur his enemies on, 12 The Syrians before and the Philistines behind; And they shall devour Israel with an open mouth. (Isaiah 9:8-9, 11-12)

3 They have taken crafty counsel against Your people,
And consulted together against Your sheltered ones.
4 They have said, "Come, and let us cut them off from being a nation,
That the name of Israel may be remembered no more."

5 For they have consulted together with one consent;
They form a confederacy against You:
6 The tents of Edom and the Ishmaelites;
Moab and the Hagrites;
7 Gebal, Ammon, and Amalek;
Philistia with the inhabitants of Tyre;
8 Assyria also has joined with them;
They have helped the children of Lot. (Psalms 83:3-8)
Nearly all the above peoples who are listed as enemies are in lands dominated by Islam (for details of which term means which nation, check out the article Is the Future King of the South Rising Up?)–including some lands that the Islamic State is still controlling. A coalition will develop.
While the Islamic State will be defeated, another power in the Muslim-dominated regions of the Middle East and North Africa will rise up. And its results will be worse than what we have seen from the so-called Islamic State.
Some items of possibly related interest may include:
Why Terrorism? Is Terrorism Prophesied? What does the Bible teach? Which nations may be affected? Here is a link to a related sermon: Terrorism, Christianity, and Islam.
Anglo – America in Prophecy & the Lost Tribes of Israel Are the Americans, Canadians, English, Scottish, Welsh, Australians, Anglo-Saxon (non-Dutch) Southern Africans, and New Zealanders descendants of Joseph? Where are the lost ten-tribes of Israel? Who are the lost tribes of Israel? What will happen to Jerusalem and the Jews in Israel? Will God punish the U.S.A., Canada, United Kingdom, and other Anglo-Saxon nations? Why might God allow them to be punished first? Here is a link to the Spanish version of this article: Anglo-América & las Tribus Perdidas de Israel. Information is also in the YouTube sermons titled Where are the Ten Lost Tribes? Why does it matter? and British are the Covenant People. A short YouTube of prophetic interest may be: Are Chinese threats against Australia for real?
Will the Anglo-Saxon Nations be Divided and Have People Taken as Slaves? Will the lands of the United States, United Kingdom, Canada, Australia, and New Zealand be divided? What about Jerusalem? What does Bible prophecy teach? Are there non-biblical prophecies that support this idea? Who will divide those lands? Who will end up with the lands and the people? Here is a link to a video titled Will the USA and other Anglo-nations be Divided and Their People Made Slaves? Here is a related item in the Spanish language ¿Serán divididas las naciones anglosajonas?
British are the Covenant People What do 'British' and 'Britain' mean in Hebrew? Are the descendants of the Anglo-Saxons people of the covenant? Does the British royal family connect to the throne of David? What does the Bible teach? What does history show us? Is there any DNA evidence related to British-Israelism? When did Christianity make it to the British Isles? Could Jeremiah have made it to the British Isles? What type of Christians made it to the British Isles? Did the last King of England believe in British Israelism?
Ten clues tying Belgium and Luxembourg with the tribe of Asher Who did some in Belgium and Luxembourg descend from?
Iraq, the King of the South, Armageddon, and Prophecy What will happen to Iraq? Is it the prophesied Mystery Babylon? What is Armageddon and how does that have to do with Iraq? Here is a related video Iraq, Armageddon, & Prophecy.
Is the Future King of the South Rising Up? Some no longer believe there needs to be a future King of the South. Might Egypt, Islam, Iran, Arabs, or Ethiopia be involved? Might this King be called the Mahdi or Caliph? What does the Bible say? A YouTube video of related interest may be: The Future King of the South is Rising.
The Muslim Brotherhood and the Rise of the King of the South The Bible tells of the formation of a power of nations that are in the Middle East and North Africa that are part of the final "King of the South" (Daniel 11:40-43) The Muslim Brotherhood wishes to have an Islamic empire with basically the same nations. This YouTube video explains what to expect from such a confederation.
The 'Peace Deal' of Daniel 9:27 This prophecy could give up to 3 1/2 years advance notice of the coming Great Tribulation. Will most ignore or misunderstand its fulfillment? Here is a link to a related sermon video Daniel 9:27 and the Start of the Great Tribulation.
How Will Middle East Peace be Brought About? Can humans bring peace to the Middle East? Here is a link to a related video: Middle East Peace? When?
The Prophesied 'Islamic' Confederation Where is an Islamic caliphate prophesied? Will one happen? Should you be concerned about it? A related video is Will an Arabic Calphiphate Destroy the West?
The Gospel of the Kingdom of God This free online pdf booklet has answers many questions people have about the Gospel of the Kingdom of God and explains why it is the solution to the issues the world is facing. Here are links to three related sermons: The World's False Gospel, The Gospel of the Kingdom: From the New and Old Testaments, and The Kingdom of God is the Solution.
USA in Prophecy: The Strongest Fortresses Can you point to scriptures, like Daniel 11:39, that point to the USA in the 21st century? This article does. A related sermon is titled: Do these 7 prophesies point to the end of the USA?
Who is the King of the West? Why is there no Final End-Time King of the West in Bible Prophecy? Is the United States the King of the West? Here is a version in the Spanish language: ¿Quién es el Rey del Occidente? ¿Por qué no hay un Rey del Occidente en la profecía del tiempo del fin?
Does God Have a 6,000 Year Plan? What Year Does the 6,000 Years End? Was a 6000 year time allowed for humans to rule followed by a literal thousand year reign of Christ on Earth taught by the early Christians? Does God have 7,000 year plan? What year may the six thousand years of human rule end? When will Jesus return? 2023 or 20xx? There is also a video titled The 6000 Year Plan: Is the end of humanity's reign almost up? Here is a link to the article in Spanish: ¿Tiene Dios un plan de 6,000 años?
When Will the Great Tribulation Begin? 2017, 2018, or 2019? Can the Great Tribulation begin today? What happens before the Great Tribulation in the "beginning of sorrows"? What happens in the Great Tribulation and the Day of the Lord? Is this the time of the Gentiles? When is the earliest that the Great Tribulation can begin? What is the Day of the Lord? Who are the 144,000? Here is a version of the article in the Spanish language: ¿Puede comenzar la Gran Tribulación en 2016 o 2017? ¿Es el Tiempo de los Gentiles? You can also see the English language sermon videos: The Great Tribulation from the Mount of Olives and Can the Great Tribulation begin before 2020? A shorter video is: Will the Great Tribulation Start in 2017?
World War III: Steps in Progress Are there surprising actions going on now that are leading to WWIII? Might a nuclear attack be expected? Does the Bible promise protection to all or only some Christians? How can you be part of those that will be protected? A related video would be Is World War III About to Begin? Can You Escape?
Differences Between Islam and the Continuing Church of God What are some of the main differences? Are there any similarities? A video of related interest is titled: Islam: Any Christian Concerns or Similarities?
Donald Trump in Prophecy Prophecy, Donald Trump? Are there prophecies that Donald Trump may fulfill? Are there any prophecies that he has already helped fulfill? Could a Donald Trump presidency be apocalyptic? A related video is titled: Donald: 'Trump of God' or Apocalyptic?
Donald Trump and America's Apocalypse This 188 page book is for people truly interested in prophecies related to Donald Trump and the United States, including learning about several that have already been fulfilled and those that will be fulfilled in the future. The physical book can be purchased at Amazon for $12.99 from the following link: Donald Trump and America's Apocalypse.
Donald Trump and America's Apocalypse-Kindle Edition This electronic version of the 188 page print edition is available for only US$3.99. And you do not need an actual Kindle device to read it. Why? Amazon will allow you to download it to almost any device: Please click HERE to download one of Amazon s Free Reader Apps. After you go to for your free Kindle reader and then go to Donald Trump and America's Apocalypse-Kindle Edition.