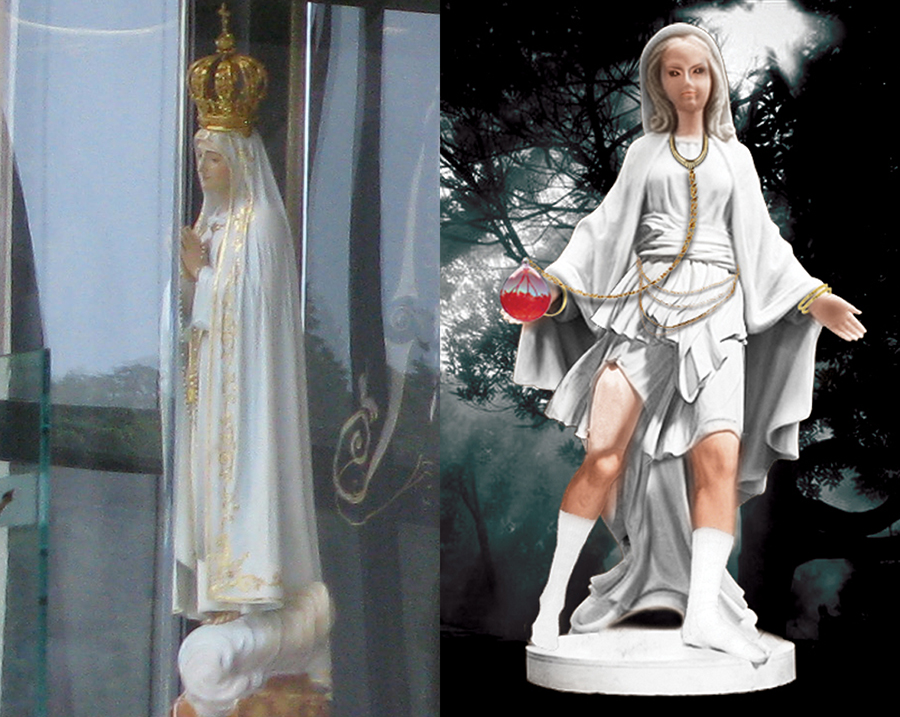 Statue at Fatima Chapel and Image of That the Children Saw
Pope Francis continues to raise eyebrows with his statements as the Guardian reports:
Pope Francis has set out his desire to find a "new balance" in the Catholic church, calling for greater involvement of women in key decisions and a less condemnatory approach towards gay people, divorcees and women who have had an abortion.  http://www.theguardian.com/world/2013/sep/19/pope-francis-vision-new-catholic-church
A concern that I have is that this Marian Pope Francis has decided to consecrate the world to the so-called 'immaculate heart of Mary' next month:
Pope Francis will consecrate the world to the Immaculate Heart of Mary this Oct. 13 as part of the Marian Day celebration that will involve the statue of Our Lady of the Rosary of Fatima.

.

"The Holy Father strongly desires that the Marian Day may have present, as a special sign, one of the most significant Marian icons for Christians throughout the world and, for that reason, we thought of the beloved original Statue of Our Lady of Fatima," wrote Cardinal Rino Fisichella.

.

Cardinal Fisichella, who serves as president of the pontifical council for the Promotion of the New Evangelization, made his remarks in a letter to Bishop Antonio Marto of Leiria-Fatima.

.
A similar type of consecration was performed by the late John Paul II.
However, there are several points to mention here.  The first is that since Pope Francis has taken more early 'Marian' steps than any other Bishop of Rome that I am aware of, this again shows that he is taking another.  His version of 'Mary' is a very high priority for him.
The second is to see that this consecration is to take place on October 13.  That is the day that Fatimists (those who essentially believe that the messages given in Fatima in 1917 show God's alternative plan to save humankind as the biblical one allegedly was/is not working) and certain others say the 'miracle of the sun' occurred (see also 95th Anniversary of 'The miracle of the sun'?).  This was supposedly a demonstration that the 'Lady of Fatima' had power in 1917 and should be listened to.  And 96 years later, it appears that to at least some degree, the Bishop of Rome is doing so.
The third is to note that Pope Francis will do this in front of a statue from Fatima, Portugal.  My wife and I have seen this particular statue and it is shown above at the beginning of this post.  While millions have bowed down before and/or prayed to this statue, I will mention again to all who will hear that the statue IS NOT DRESSED like what the three children at Fatima (Lucia, Francisco, and Jacinta) claimed the 'Lady of Fatima' looked like in 1917.  What they described was a young female with a short skirt as shown at the beginning of this post.  There is no possible way that Mary, the mother of Jesus, appeared in Fatima, Portugal before Lucia, Francisco, and Jacinta in 1917.
The fourth has to do with what Fatimists hope Pope Francis will do.  The #105 edition of the Fatima Crusader put out by The Fatima Center has the following from its leader Priest Nicholas Gruner (bolding in source):
I was encouraged that in the former Archdiocese of our new Pope there exists a sanctuary and two parishes dedicated to Our Lady of Fatima. Devotion to the Immaculate Heart of Mary is especially practised on the first Saturday of every month. So the words and requests of Our Lady of Fatima would not be foreign to him.

The other thing I had in my background was a prophecy from Antonio Ruffini, who has a prophetic gift. He told me in January, 1990 that this Pope – he didn't name him – but he just said "the successor of the successor of John Paul II would be the one to do the consecration." If Ruffini is not mistaken, then it's a good sign. We may finally have a Pope who is going to do the consecration of Russia. Prudently though, we have to wait and see whether or not Ruffini completely understood whatever message he got on that.
What this means is that a Catholic "prophet" told Priest Gruner that it would be possibly Pope 112 on the Malachy prophecy list that would bring devotion to Mary to the world, peace, and prosperity. Here is some of what Priest Gruner believes will happen if that 'consecration' is done:
How do we avert the wars and financial turmoil that are plunging the nations into chaos?
Our Lady of Fatima promised that if the Pope and bishops of the Catholic Church, in unison, consecrate Russia to Her Immaculate Heart, a period of world peace would follow, ushered in by the conversion of Russia. That consecration has yet to be performed, but Pope Francis has asked that his papacy be consecrated to Our Lady of Fatima, so the prospects for the consecration are now favorable.
The Fatima Center believes that Fatima 'Mary' is the answer to humanity, not really Jesus.  Others also seem to share this improper view:
Mary Alone Can Give Us Life?

Pope Francis asked the Virgin Mary to "grant us the health that She alone can give us, to be always signs and instruments of life." His message was given when he officially took possession of the Papal Basilica of St. Mary Major in Rome, which is the oldest Marian Shrine in the West. He said, "Mary is mother, and a mother concerns herself above all with the health of her children, she knows how to care for it with great and tender love…our Lady protects our health."
Anyway, the Fatimists have claimed that since John Paul II's consecration was to the whole world and not specific to Russia that he did not do what the 'Lady of Fatima' wanted.  They feel that if Pope Francis does consecrate Russia to the 'immaculate heart' essentially a new age of peace and prosperity will come to the world.  They are not looking for the Kingdom of God, but believe that 'Mary' will bring in a time for the Great Monarch (who is likely the one warned about as the final King of the North in Daniel 11) and Angelic Pastor who does miracles (who is likely the one warned about as the two-horned Beast of Revelation 13) will to reign.
Previous pontiffs have been less intrigued with Fatima (though John Paul II's interest increased after an assassination attempt)–yet the Fatimists believe this is the ONLY SOLUTION to the problems now:
Our Lady of Fatima said some extraordinary things…we can certainly say that not enough people (including the Popes, Cardinals, bishops, and priests) have given Her Message as much serious consideration and response as it demands and deserves. (Gruner N, Priest.  Why Fatima: The Path to Peace! Is Critically Important. Fatima Crusader, 106, Summer, 2013, p. 2)

Our Lady of Fatima
Our Only Solution

Only Our Lady of the Rosary of Fatima can help us, as She Herself told us. We must do precisely what She requests…How is it that most previous Popes and many bishops today have failed to understand this? Do they understand that there is no other solution to our problems?…

It is too early to say if Pope Francis will follow the imprudent example of his six predecessors who thought that they knew better than the Virgin Most Prudent. But nevertheless, it is certain that he could use all the help we can give him to fulfill Our Lady's request.   (Gruner N, Priest.  Why Fatima: The Path to Peace! Is Critically Important. Fatima Crusader, 106, Summer, 2013, pp. 45-46)

The history of the past half-century is a tragic catalogue of nearly 1000 bloody armed conflicts…the obvious lessons of recent history underscore the Blessed Virgin's words: Only She can help us…

Our ONE and ONLY hope is the Consecration of Russia to the Immaculate Heart of Mary…

We have an obligation, therefore, to believe and obey Her Message – to heed Our Lady's request for the Consecration of Russia by the Pope in union with all the bishops of the world. "Without that Consecration, Russia cannot be converted, nor can the world have peace." (Hanisch J.  Has World War III Begun?  Fatima Crusader, 106, Summer, 2013, pp. 55, 56, 62)
What will Pope Francis do?
Pope Francis (Pope Francis Could this Marian Focused Pontiff be Fulfilling Prophecy?) takes devotion to "Mary" quite seriously. He is promoting 'Marianism' to a major degree–and more than others–and that will not end well.
Sadly, it is expected that the use of 'Mary' will be an ecumenical tool that will not be good. Neither for the Vatican (Revelation 17:15-17) nor for the rest of the world (Revelation 18).
For more information, please check out the following:
Fatima Shock! What the Vatican Does Not Want You to Know About Fatima, Dogmas of Mary, and Future Apparitions. Whether or not you believe anything happened at Fatima, if you live long enough, you will be affected by its ramifications (cf. Isaiah 47; Revelation 17). Fatima Shock! provides concerned Christians with enough Catholic-documented facts to effectively counter every false Marian argument.
Fatima Shock! YouTube Dr. Thiel highlights a few points of why no one would support Fatima, etc. as discussed in the documented book Fatima Shock!
Mary, the Mother of Jesus and the Apparitions Do you know much about Mary? Are the apparitions real? What might they mean for the rise of the ecumenical religion of Antichrist? Are Protestants moving towards Mary? How do the Orthodox view Mary? How might Mary view her adorers?
Pope Francis: Could this Marian Focused Pontiff be Fulfilling Prophecy? Pope Francis has taken many steps to turn people more towards his version of 'Mary.' Could this be consistent with biblical and Catholic prophecies? This article documents what has been happening. There is also a video version titled Pope Francis: Could this Marian Focused Pontiff be Fulfilling Prophecy?
Jesus: The Son of God and Saviour Who was Jesus? Why did He come to earth? What message did He bring? Is there evidence outside the Bible that He existed? Here is a YouTube sermon titled Jesus: Son of God and Saviour.
The Malachy Prophecies and "Peter the Roman" An Irish bishop allegedly predicted something about 112 popes in the 12th century. Pope Benedict XVI was number 111. Francis would be number 112–if he is that one–and if so, he is to reign until Rome is destroyed. May he be an antipope/final Antichrist? Here is a related YouTube video The Malachy Prophecies and "Peter the Roman".
Could Pope Francis be the Last Pope and Antichrist? Former Argentinian Cardinal Jorge Mario Bergoglio is now Pope Francis. According to some interpretations of the prophecies of the popes by the Catholic saint and Bishop Malachy, Pope Francis is in the position of "Peter the Roman," the pontiff who reigns during tribulations until around the time of the destruction of Rome. Do biblical prophecies warn of someone that sounds like Peter the Roman?  This is a YouTube video.
Catholic Prophecies: Do They Mirror, Highlight, or Contradict Biblical Prophecies? People of all faiths may be surprised to see what various Roman and Orthodox Catholic prophets have been predicting as many of their predictions will be looked to in the 21st century.
Which Is Faithful: The Roman Catholic Church or the Continuing Church of God? Do you know that both groups shared a lot of the earliest teachings? Do you know which church changed? Do you know which group is most faithful to the teachings of the apostolic church? Which group best represents true Christianity? This documented article answers those questions. [Português: Qual é fiel: A igreja católica romana ou a igreja do deus?]