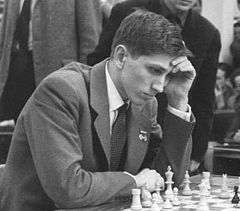 The Washington Post ran the following story:
WASHINGTON — Bobby Fischer, an eccentric genius many considered the greatest chess player in the history of the game and who remains the only American of the modern era to win a world championship, died Thursday at a hospital in Reykjavik, Iceland. He was 64.

A friend, Gardar Sverrisson, said he died of kidney failure…

Fischer received a record purse of $250,000 at Reykjavik, thanks in part to his threatened walkouts and outspoken demands. He also transformed a genteel game, and soon membership in the U.S. Chess Federation nearly tripled.

Reykjavik was the pinnacle of Fischer's career. From then on, his eccentricities overwhelmed his brilliance. In 1975, he lost his title by default, refusing to defend it against Anatoly Karpov after a dispute over match rules.

After he moved to South Pasadena, Calif., shortly after the Spassky match, Fischer sightings became rare and often under bizarre circumstances. In 1981, he was arrested in Pasadena by mistake on suspicion of bank robbery, which prompted him to publish the pamphlet "I Was Tortured in the Pasadena Jailhouse."

He gave $90,000 of his world-championship winnings to the Pasadena-based Worldwide Church of God, a fundamentalist denomination whose founder, Herbert W. Armstrong…
Wikipedia had a slightly different version of the amount:
In late 1963, Fischer began tithing to the church. According to Fischer, he lived a bifurcated life, with a rational chess component and an enthusiastic religious component. Fischer gave the Worldwide Church of God $61,200 of his world championship prize money.
It was never clear to me if Bobby Fischer was truly a member of the Church of God or not (a long time member told me that she was fairly sure that he never was, though she was not 100% positive)–his interest seemed to ebb and flow.  In 1975/6 he went completely off on his own and disassociated himself from the Worldwide Church of God and did not come back.