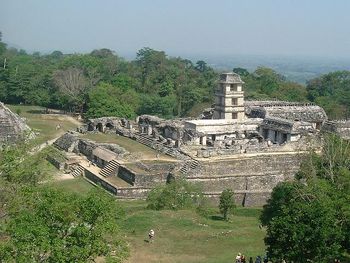 Ancient Mayan City of Palenque
Wallace Smith of the Living Church of God reported the following:
2012 DVD shoot went very well!

…The DVD shoot went very well, and, as usual, my hat is off to the remarkable team at "Tomorrow's World Studios" for their professionalism and patience with me!…

I was a bit more nervous than usual about this particular shoot — not that nervousness is necessarily a bad thing. In high school my theater teacher frequently said that as long as it is not overwhelming nervousness isn't a bad thing: it's evidence that you care deeply about your performance and it helps your body to generate a helpful bit of extra adrenaline.

In this case, shooting a possibly hour-long DVD versus the usual half-hour (actually, less) television program was, admittedly, daunting. While I am very happy with how well it went, at the same time I tend to be fairly self-critical and I look back at how I handled certain portions and think to myself that I wish I had done a better job. Still, that's what we pray about — that God will take our efforts, magnify them, and make them more effective and powerful than they would otherwise be! And I do appreciate how many of you told me that you you were praying about this taping; it makes such a difference, and I can't thank you, enough.

The topic of my program — the origins of the growing "2012 hysteria" and what the Bible has to say about it — has the potential to be a very helpful topic, I think. Every time I bought books on the topic during my research, the person behind the counter seemed to have an opinion (which they happily expressed, unsolicited). One girl mentioned that she was fascinated by the topic and plans to throw and "end of the world" party on December 20, 2012. Another — a professing Christian who goes on mission trips — said that she has wondered if there was anything to it.

For the record, my involvement with the "2012 hysteria" on behalf of the church was a bit of an accident. A church member and his wife — that would be MS & AS in Arkansas (howdy, guys!) — had gone to the movies and had seen the trailer (or teaser, perhaps) to the upcoming Roland Emmerich 2012 movie and lamented that so many of his acquaintances (not in the church) were caught up in it (that is, the date and the so-called "Mayan prophecies" about it, not the movie) as opposed to actual Bible prophecy, which points to God, the truth, and the need to repent of sin. After MS wrote to me about it, I e-mailed Mr. Ames to say that I was interested in doing a telecast about it and wanted his opinion. He wrote back to tell me that not only did he think it would be a fine idea, but that it just so happened that the next program I was due to tape was already scheduled to open the exact same weekend as the 2012 movie (funny how many things "just so happen").

So, before you know it, I had one telecast taped, an internet commentary written ("2012: The Hype and the Truth"), and, now, a Tomorrow's World article, as well (the article should be out in the Nov-Dec 2009 issue). This particular effort, though — the DVD — came out of a dinner discussion with Mr. and Mrs. Meredith. The research I had done on the topic was much more than could be presented on one Tomorrow's World telecast, and he thought that it might be profitable to take advantage of that research to create a larger presentation.  http://wallacegsmith.wordpress.com/2009/09/20/2012-dvd-shoot-went-very-well/

The DVD is a bit different in some ways than anything we've done before, and I must say that making it was a real learning opportunity. If there is a future opportunity to do something along these lines, I suspect that the things we've learned with this one will make the next one all the better. And I can say that those who watch the DVD may learn some things about the sources of the 2012 hysteria that should give them pause and help them desire to look to a "more sure word of prophecy" as opposed to what is offered by McKenna, Pinchbeck, Argüelles, Jenkins, and their cohorts in the 2012 "Pantheon of the Pseudomaya." The truth certainly is so much better than the lie!..

In fact, finding actual, scholarly research on the ancient Maya and writings by real Mesoamerican authorities was much more difficult than finding 2012-related stuff. (And this was important, too, because the fact that something is publically called "Mayan" doesn't mean that it actually is.)
Richard Ames and I first discussed the idea of LCG doing a telecast and having an article in Tomorrow's World magazine last November.  I am pleased that LCG has done both of those as well as a DVD on it.
On a possibly related note, later this morning I am supposed to be interviewed by Robby Kendall of WTXY 1540 related to 2012 and end time prophecies.  He hosts an afternoon talk show out of the Myrtle Beach area.  I believe that the interview is to air within the next few days and I plan to announce the specific date and time once I have it.
For more information on 2012, please visit www.thesecretsect.com or read the following article:
End of Mayan Calendar 2012–Might 2012 Mean Something? Are there Mayan calendar predictions for change in 2012? Changes were centuries ago predicted by the Hopi Native Americans. Do Mayan/Hindu/Hopi/Buddhist/New Age/Nostradamus prophecies have any value here? Why might Satan have inspired this date? Does the Dresden codex show destruction of the earth by flood? Can the great tribulation start before 2012? How might Barack Obama be involved in 2012? What does the upcoming Sony movie attempt to portray?