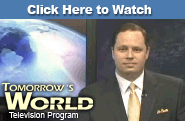 LCG reported in its latest World Ahead Weekly Update that it is to start on the Discovery Channel:
This week, Mr. Wayne Pyle has several exciting developments to report.   This coming Sunday, December 5, the Tomorrow's World program will begin airing on the Discovery channel at 6:30 a.m. Eastern and Pacific Time. It will also start airing again on WRBU-TV in St. Louis, beginning January 2, 2011 at 9:00 a.m., and will begin airing on God TV on the same date at 9:30 a.m. ET and UTC (British time). God TV is viewed around the world by 500 million people. Mr. Pyle also reports that Mr. Rod King's program last weekend, "The Superpower 'Beast' of Revelation" set a new record of responses for The Beast of Revelation booklet—more than 4,000. This afternoon we will be doing budget planning for next year. We are very thankful that in November we had about a 10% increase in income over November 2009 and that the overall income for the year is about 4-5% over last year. Your prayers will also be appreciated for two Tomorrow's World Special Presentations that will be held in Nanaimo and Courtenay, BC, in Canada this weekend.
The increase in income and the opportunity to reach more on the Discovery Channel is exciting news.  Continuing the successful in person Tomorrow's World Special Presentations is another way that LCG supports the great commission (cf. Matthew 28:19-20, 24:14).
Getting its telecast on more stations is one more step to try to fulfill Matthew 24:14.  Once that verse is completely fulfilled to God's satisfaction, "then the end will come".
Some articles of possibly related interest may include:
Should the Church Still Try to Place its Top Priority on Proclaiming the Gospel or Did Herbert W. Armstrong Change that Priority for the Work? Some say the Church should mainly feed the flock now as that is what Herbert W. Armstrong reportedly said. Is that what he said? Is that what the Bible says? What did Paul and Herbert W. Armstrong expect from evangelists?
There are Many COGs: Why Support the Living Church of God? This is an article for those who wish to more easily sort out the different COGs. It really should be a MUST READ for current and former WCG/GCI members or any interested in supporting the faithful church. It also explains a lot of what the COGs are all about.