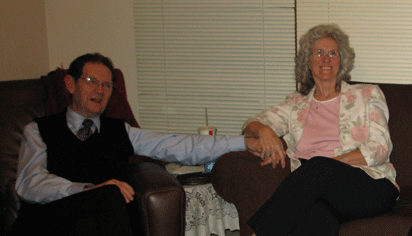 Gaylyn and Leona Bonjour

Shortly before 8:00 p.m. EDT on 6/26/2013, Mrs. Leona Bonjour died.
She had cancer for some time, and recently entered hospice. She worked for the Living Church of God in its mailing and shipping department for around 14 years.
I was present when she was ordained a deaconess in Fresno back in the late 1980s or early 1990s.  I believe that the most of the congregation clapped when they heard she was going to be ordained. She was the wife of Gaylyn Bonjour, who is currently a minister in the Living Church of God.  My wife and I have known the Bonjours for over 26 years.
There is a lot I feel that I should say about Leona, but at this time, I'm just not up to writing much about this.
But I will say that she was a very nice lady and will be missed.
(Perhaps I should also mention here that a week ago, Mrs. Nancy Hall, wife of LCG minister Daniel Hall of Texas, died.  I did not know her, however, so will simply leave this as an announcement.)
Some items of possibly related interest may include:
What Did Early Christians Understand About the Resurrection? Is there more than one future resurrection? Did early Christians teach a physical resurrection? Did early Christians teach three resurrections?
Did Early Christians Believe that Humans Possessed Immortality? What does John 3:16, and other writings, tell us? Did a doctrine kept adopted from paganism? Here is a YouTube video titled Are humans immortal?