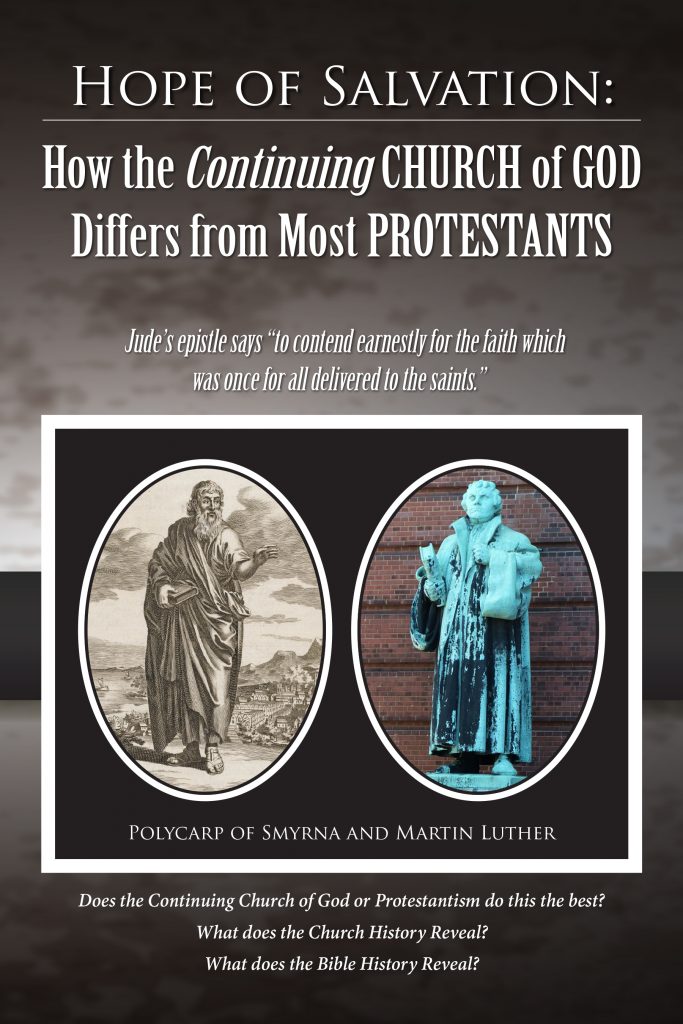 The anti-Church of God website, Banned by HWA, posted the following that seems to be written from a Protestant perspective:
I wonder sometimes how the Cogs have been lead to speak of the Law and how this sets them apart from the "false christians".  The cog law-keeping has only a few elements different from sincere Christians.  Is there really a greater reward because you went to church on a different day and a few other days thru the year and didn't eat pork?  Is that really the difference?  Is it really just that easy? What of those christians that sincerely observe most of the law simply by walking in God's Spirit? They truly believe the law as such was only given to Israel so they congregationally worship the Lord on Sunday rather than Saturday. Is that the great deception? …

Lets not forget that before 1974 or so, Pentecost was kept on Monday. Did those who died before it was changed to sunday never quite achieve first fruit status because they believed something wrong (much like The COGs judge sunday keepers)? Do members in the COGs question such things? …
I'd love to see how a COG member would answer these things…

Jim
As it turned out, in the latest CCOG book, Hope of Salvation: How the Continuing Church of God differs from most Protestants, most of those issues were addressed.
Without going into all the details and reasons in this post, here are some quotes from that book that give insight to answer Jim's (and others) questions:
Christians imitate Jesus and the Apostle Paul by striving to keep the Ten Commandments. Many Protestants do not understand that. They also do not understand the statement by Peter and the other apostles that God's Holy Spirit is "given to those who obey Him" (Acts 5:32). Those who say Jesus is Lord, but practice lawlessness, will not be in His Kingdom if they do not truly repent (Matthew 7:21-23). …

The Ten Commandments were made known to us to help build character in us so that we will be able to be better (cf. Psalm 119:72) and make eternity better. We can, in this life, make our own eternity better if we truly trust Him (cf. Proverbs 16:20). …

Real Christians have repented, been baptized, and received the Holy Spirit (Acts 2:38).

Here is essentially the biblical definition of who is and who is not a real Christian:

9 But you are not in the flesh but in the Spirit, if indeed the Spirit of God dwells in you. Now if anyone does not have the Spirit of Christ, he is not His. (Romans 8:9)

A real Christian has the Spirit of Christ, no one else is a true Christian.

Who receives that Spirit?

Only those who obey are given the Spirit of Christ (Acts 5:32).

Thus, God is the judge of who is, as well as who is not, a real Christian.

Despite claiming sola Scriptura (Latin for 'Scripture alone'), Protestants accept many doctrines based more on tradition than the Bible. …

Protestantism does not really accept sola Scriptura as it accepts many positions and doctrines that are in conflict with scripture. …

Martin Luther admitted:

It is indeed true that the name "Trinity" is nowhere to be found in the Holy Scriptures, but has been conceived and invented by man. (Luther Martin. The Sermons of Martin Luther, Church Postil, 1522; III:406-421)

The trinity doctrine was not from sola Scriptura.

"Jesus, the author and finisher of our faith" (Hebrews 12:2) taught:

24 God is Spirit, and those who worship Him must worship in spirit and truth. (John 4:24)

The truth is that God is NOT a trinity and Christians should not vainly worship God based on improper traditions from men (cf. Matthew 15:3-9).

Yet, most who claim Christianity ignore the Bible and teach the trinitarian tradition that was adopted centuries later by a council of men. …

Peter was still believed to have observed 'Jewish practices' and, also, never ate unclean meat (Acts 10:14).

Furthermore, much later than the time of the Joppa vision, the Apostle Peter wrote:

14 … not conforming yourselves to the former lusts, as in your ignorance; 15 but as He who called you is holy, you also be holy in all your conduct, He who called you is holy, you also be holy in all your conduct, 16because it is written, "Be holy, for I am holy." (1 Peter 1:14-16).

Now where is that first written in the Bible to 'be holy because God is holy'?

It is Leviticus 11:44 & 45 where God is talking about avoiding unclean meat! The statement Peter quoted about being Holy as God is holy is repeated only three more times in the Hebrew Bible, the first in Leviticus 19:2 where it then discusses the Sabbath and the second in Leviticus 20:7 where it teaches about not being involved with witchcraft and then keeping God's statutes. Does your church teach that you are to be holy as God?

Protestant churches, however, generally do not teach that a sign of being unholy would be eating biblically unclean meats or violating the Sabbath.

The final time 'be holy because God is holy' occurs is in Leviticus 20:25-26 where God explains about avoiding unclean animals and being holy.

So what could Peter have been talking about? The only subjects from the Old Testament could have been unclean meat, the seventh-day Sabbath, or the statutes in the Law, including witchcraft. However, the context says to avoid lusts. Lust is unlawful desire. Apparently, Peter is including desires such as eating that which is unlawful.

Paul emphasized that Christians were not to be unclean nor be misled by those who did not teach that:

7 For God did not call us to uncleanness, but in holiness. 8 Therefore he who rejects this does not reject man, but God, who has also given us His Holy Spirit. (1 Thessalonians 4:7-8)

Notice that God says that eating unclean animals makes one abominable and that God's people are to be separate:

25 You shall therefore distinguish between clean animals and unclean, between unclean birds and clean, and you shall not make yourselves abominable by beast or by bird, or by any kind of living thing that creeps on the ground, which I have separated from you as unclean. 26 And you shall be holy to Me, for I the LORD am holy, and have separated you from the peoples, that you should be Mine (Leviticus 20:25-26).

Notice what the Apostle Paul wrote:

17 Come out from among them and be separate, says the Lord. Do not touch what is unclean, and I will receive you (2 Corinthians 6:17).

Now, see something the Apostle John was inspired to write:

11 He who is unjust, let him be unjust still; he who is filthy, let him be filthy still; he who is righteous, let him be righteous still; he who is holy, let him be holy still (Revelation 22:11).

Notice that the holy are distinguished from the filthy (the unclean). Notice also that the Bible warns about those who love and believe a lie:

15 But outside are dogs and sorcerers and sexually immoral and murderers and idolaters, and whoever loves and practices a lie. (Revelation 22:15)

And, in my view, those who believe that God's people are to eat biblically unclean animals are accepting a lie. Consider also that dogs are biblically-unclean animals that eat any type of animal and that they are not to be emulated in the last chapter of the last book of the Bible.

All should realize that Paul did not want Gentile Christians to participate in uncleanness and that is something that they should repent of. Paul also wrote:

5 For this you know, that no fornicator, unclean person, nor covetous man, who is an idolater, has any inheritance in the kingdom of Christ and God. 6 Let no one deceive you with empty words, for because of these things the wrath of God comes upon the sons of disobedience. 7 Therefore do not be partakers with them (Ephesians 5:5-7).

Is eating biblical prohibited foods or not eating them a sign of disobedience? Is not consuming what the Bible prohibits covetous?

Peter added:

9 … the Lord knows how … to reserve the unjust under punishment for the day of judgment, 10and especially those who walk according to the flesh in the lust of uncleanness and despise authority (2 Peter 2:9-10).

Some, sadly, despise biblical authority to eat whatsoever they lust after.

The inability for non-Sabbath-keeping religious leaders to not properly distinguish between things such as clean and unclean was prophesied long ago (Ezekiel 22:26).

All people have done wrong (Roman 3:23). And God knew that would happen before the foundation of the world (1 Peter 1:20; Revelation 13:8).

Although many hope that they are in God's church, consider the following:

Yet none is truly the Church OF GOD, unless it is GOD'S CHURCH, continuing doctrine, practice, organization, in all ways on the original biblical pattern, headed by Jesus Christ, yet belonging to God the Father, empowered by the Holy Spirit, having GOD'S TRUTH, fulfilling Christ's commission of proclaiming his GOOD NEWS of the KINGDOM OF GOD to the world as a whole. (Armstrong HW, Mystery of the Ages)

We in the Continuing Church of God have continued in the original doctrine while we proclaim the gospel of the kingdom to the world as a witness (Matthew 24:14).

While many focus on outward differences such as the Sabbath, Holy Days, and unclean meats, a major difference between Protestants and the Continuing Church of God is the hope of salvation and why we live differently.

Whether or not you are Protestant, God has a plan for you involving Jesus.

All should properly do what the Apostle James wrote:

21 Therefore lay aside all filthiness and overflow of wickedness, and receive with meekness the implanted word, which is able to save your souls.

22 But be doers of the word, and not hearers only, deceiving yourselves. 23 For if anyone is a hearer of the word and not a doer, he is like a man observing his natural face in a mirror; 24 for he observes himself, goes away, and immediately forgets what kind of man he was. 25 But he who looks into the perfect law of liberty and continues in it, and is not a forgetful hearer but a doer of the work, this one will be blessed in what he does.

26 If anyone among you thinks he is religious, and does not bridle his tongue but deceives his own heart, this one's religion is useless. (James 1:21-26)

Many Protestants are hearers more than doers who do not truly understand the hope of salvation we really have in Jesus.

Do you feel that God has a plan that is intended to save nearly all that ever lived or condemn most that ever lived?

Protestants, like the apostate Marcion, doom most human beings to eternal torment.

We in the CCOG realize that God is wise, all-knowing, loving, and all-powerful. We have faith that He has a plan of salvation that will result in the salvation of the vast majority of people who ever lived.

Consider that since the CCOG believes that Christians will be rewarded for their works, deified after being resurrected, and will have dominion over the universe, we live our lives with that in mind (cf. Hebrews 11).

Can you be like the Bereans of old, that when they heard teachings that they had not expected, that they "received the word with all readiness, and searched the Scriptures daily to find out whether these things were so" (Acts 17:11)?

Hopefully, you are willing to believe the word of God and facts of history over unbiblical traditions.

Notice the instructions in the Book of Proverbs:

5 Trust in the Lord with all your heart, And lean not on your own understanding; 6 In all your ways acknowledge Him, And He shall direct your paths. 7 Do not be wise in your own eyes; Fear the Lord and depart from evil. 8 It will be health to your flesh, And strength to your bones.

9 Honor the Lord with your possessions, And with the firstfruits of all your increase; 10 So your barns will be filled with plenty, And your vats will overflow with new wine.

11 My son, do not despise the chastening of the Lord, Nor detest His correction; 12 For whom the Lord loves He corrects, Just as a father the son in whom he delights. (Proverbs 3:5-12)

Shouldn't we all want to be those in whom God delights?

In this life, we are to develop the love of God by living our lives HIS way. Any other way is evil.

Trust God and do not be wise in the eyes of unbiblical traditions of men.

The Christian purpose for this life is to build character so you can maximize your potential and increase how much better you can give love in your own unique way to make eternity better for everyone, including yourself, in Jesus' service.

That is what real Christianity is all about.

The true Christian faith once delivered to the saints is taught in the 21st century by the Continuing Church of God.
While the above book goes into more details as to why real Christians live differently than the Protestants, additional information is also in the book The MYSTERY of GOD's PLAN: Why Did God Create Anything? Why did God make you?
As far as God's plan goes, it includes all, including non-Sabbath keepers.
Some people are being called in this age (see Is God Calling You?).
All others will be called later (see Universal OFFER of Salvation, Apokatastasis: Can God save the lost in an age to come? Hundreds of scriptures reveal God's plan of salvation).
As far as making a mistake about the Day of Pentecost last century, the old WCG was misled by a mistranslation. Once it confirmed that, it confessed its error and repented. And if even the mistake were a sin, the New Testament teaches:
8 If we say that we have no sin, we deceive ourselves, and the truth is not in us. 9 If we confess our sins, He is faithful and just to forgive us our sins and to cleanse us from all unrighteousness. (1 John 1:8-9)
Those who keep Sunday and fail to keep the biblical holy days are welcome to look into those issues as well and repent. More on the holy days can be found in the free online booklet: Should You Keep God's Holy Days or Demonic Holidays? (it also goes over certain mistranslations that Protestants tend to improperly rely on to justify not obeying God on those matters).
As far as the rewards go, Jesus said:
29 And everyone who has left houses or brothers or sisters or father or mother or wife or children or lands, for My name's sake, shall receive a hundredfold, and inherit eternal life. 30 But many who are first will be last, and the last first. (Matthew 19:29-30)
So, yes, some called later may very well have rewards greater than those called now. According to Jesus, rewards will be based on what you do with what you have been given (Matthew 25:14-30; Luke 12:48).
Consider something that the Apostle Peter wrote:
5 But also for this very reason, giving all diligence, add to your faith virtue, to virtue knowledge, 6 to knowledge self-control, to self-control perseverance, to perseverance godliness, 7 to godliness brotherly kindness, and to brotherly kindness love. 8 For if these things are yours and abound, you will be neither barren nor unfruitful in the knowledge of our Lord Jesus Christ. 9 For he who lacks these things is shortsighted, even to blindness, and has forgotten that he was cleansed from his old sins.

10 Therefore, brethren, be even more diligent to make your call and election sure, for if you do these things you will never stumble; 11 for so an entrance will be supplied to you abundantly into the everlasting kingdom of our Lord and Savior Jesus Christ. (2 Peter 1:5-11)
Those who eat biblically-unclean meat, do not keep the Sabbath, who observe pagan holidays, etc., have NOT obeyed God–which is the requirement to receive the Holy Spirit (Acts 5:32). Hence, that is why they would not be considered as true Christians. Notice that simply calling Jesus "Lord" is not sufficient according to Jesus:
21 "Not everyone who says to Me, 'Lord, Lord,' shall enter the kingdom of heaven, but he who does the will of My Father in heaven. 22 Many will say to Me in that day, 'Lord, Lord, have we not prophesied in Your name, cast out demons in Your name, and done many wonders in Your name?' 23 And then I will declare to them, 'I never knew you; depart from Me, you who practice lawlessness!' (Matthew 7:21-23)
But what about Christians who do obey and do not practice lawlessness?
Well, also according to Jesus, in the end times, most real Christians are Laodicean. While they do keep the commandments and have the testimony of Jesus (Revelation 12:17), because they do not properly support the most faithful end time work, Jesus said that unless they repent He will spew them out of His mouth (Revelation 3:14-18).
So, it is more than just obedience to rules.
The bottom line is that God is to be worshiped in truth. The Sabbbath, etc. are part of that truth.
And the other bottom line is that most Christians in the end do not have the right work–and therefore have their own obedience issues. They are not cold like the lawless, nor hot like the Philadelphian Christians, but lukewarm according to Jesus (Revelation 3:14-18).
All will be judged by the works (1 Peter 4:17; Revelation 20:12-13).
As far as the reward goes, Jesus said:
27 For the Son of Man will come in the glory of His Father with His angels, and then He will reward each according to his works. (Matthew 16:27)
Those who do not obey God, do not have the works He expects.
All will be "rewarded" accordingly.
Some items of possibly related interest include the following:
Hope of Salvation: How the Continuing Church of God differs from most Protestants How the real Church of God differs from mainstream/traditional Protestants, is perhaps the question I am asked most by those without a Church of God background. As far as some changes affecting Protestantism, watch the video Charismatic Kenneth Copeland and Anglican Tony Palmer: Protestants Beware! [Português: Esperança do salvação: Como a igreja do deus difere da maioria de protestantes]. A sermon is also available: How Does the Church of God Differ from Protestantism?
COGwriter Position on Other Churches and Religions What is the fate of those who do not know Christ? What about those who profess Christ outside the Church of God?
Spiritual Samaritans: Old and New Who were the Samaritans? Do the represent true Christianity or something else? Here is a link to a related sermon: USA in Prophecy: Samaria.
The Good Samaritan A public domain claymation for younger people.
Mystery of Iniquity What is the mystery of iniquity? How did it start? How will it end? Two related sermons are also available: The Mystery of Iniquity and The Mystery of Lawlessness.
Where is the True Christian Church Today? This free online pdf booklet answers that question and includes 18 proofs, clues, and signs to identify the true vs. false Christian church. Plus 7 proofs, clues, and signs to help identify Laodicean churches. A related sermon is also available: Where is the True Christian Church?
The MYSTERY of GOD's PLAN: Why Did God Create Anything? Why did God make you? This free online book helps answers some of the biggest questions that human have, including the biblical meaning of life. Here is a link to three related sermons: Mysteries of God's Plan, Mysteries of Truth, Sin, Rest, Suffering, and God's Plan, and The Mystery of YOU.
Is God Calling You? This booklet discusses topics including calling, election, and selection. If God is calling you, how will you respond? Here is a link to a related sermon: Could God be Calling You? A short animation is also available: Is God Calling You?
Universal OFFER of Salvation, Apokatastasis: Can God save the lost in an age to come? Hundreds of scriptures reveal God's plan of salvation Will all get a fair chance at salvation? This free book is packed with scriptures showing that God does intend to offer salvation to all who ever lived–the elect in this age, and the rest in the age to come. Here is a link to a related sermon series: Universal Offer of Salvation 1: Apocatastasis, Universal Offer of Salvation 2: Jesus Desires All to be Saved, Mysteries of the Great White Throne Judgment (Universal Offer of Salvation part 3), Is God Fair, Will God Pardon the Ignorant?, Can God Save Your Relatives?, Babies, Limbo, Purgatory and God's Plan, and 'By the Mouth of All His Holy Prophets'.
6. The Philadelphia Church Era was predominant circa 1933 A.D. to 1986 A.D. The old Radio Church of God and old Worldwide Church of God, now the remnant of that era is basically the most faithful in the Church of God, like who hold to the beliefs and practices of the Continuing Church of God.
7. The Laodicean Church Era has been predominant circa 1986 A.D. to present. The Laodiceans are non-Philadelphians who mainly descended from the old WCG or its offshoots.  They do not properly understand the work or biblical prophecies and will face the Great Tribulation if they do not repent. One video of related interest is 17 Laodicean Errors in Prophecy. See also Do You Hold to Any of These Laodicean Prophetic Errors?