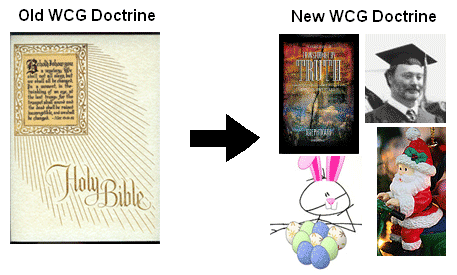 Today, GCI (once called WCG) announced the following:
Just As You Are, by Joseph Tkach

Exams are a big part of life in high school and in college. The trouble is, sometimes we transfer our worries about exams to our standing with God…
Without going into the details, like many Protestants, J. Tkach uses the "just as you are" line when discussing theological matters.
But is that what the Bible teaches?
Not really.
Notice the following incident involving the Apostle Peter:
36 "Therefore let all the house of Israel know assuredly that God has made this Jesus, whom you crucified, both Lord and Christ."

37 Now when they heard this, they were cut to the heart, and said to Peter and the rest of the apostles, "Men and brethren, what shall we do?"

38 Then Peter said to them, "Repent, and let every one of you be baptized in the name of Jesus Christ for the remission of sins; and you shall receive the gift of the Holy Spirit. 39 For the promise is to you and to your children, and to all who are afar off, as many as the Lord our God will call." (Acts 2:36-39)
While repentance is a biblical term, the expressions "just as you are" or "come as you are" are not found in the Bible.
While the Tkach organization can teach what it wishes, those who truly believe that doctrine should come from the Bible realize that "just as you  are" is not really the message of the Bible.  While it is true that God calls people who are sinners, He does not expect that they will stay that way.
Notice what the Apostle Paul taught:
9 Do you not know that the unrighteous will not inherit the kingdom of God? Do not be deceived. Neither fornicators, nor idolaters, nor adulterers, nor homosexuals, nor sodomites, 10 nor thieves, nor covetous, nor drunkards, nor revilers, nor extortioners will inherit the kingdom of God. 11 And such were some of you. But you were washed, but you were sanctified, but you were justified in the name of the Lord Jesus and by the Spirit of our God. (1 Corinthians 6:9-11)
The operative word in the above is WERE.  They were not to remain in their sins.
Thus, while God will call people who have a variety of sins (and all but one can be forgiven–see What is the Unpardonable Sin?), the Bible is clear that God does not want His people to remain "just as you are".
The Apostle Peter also wrote:
18…grow in the grace and knowledge of our Lord and Savior Jesus Christ (2 Peter 3:18)
So, repentance, growing in grace, and growing in knowledge is what God wants.  He may call you from anywhere, but really does not want you to remain "just as you are".
Some articles of possibly related interest may include:
What is the Meaning of Life? Who does God say is happy? What is your ultimate destiny? Do you really know? Does God actually have a plan for YOU personally?
Are You Saved? Do You Love Jesus? What is a True Christian? What is the Gospel? Evangelist Richard Ames answers those important questions.
Sola Scriptura or Prima Luther? What Did Martin Luther Really Believe About the Bible? Though he is known for his public sola Scriptura teaching, did Martin Luther's writings about the Bible suggest he felt that prima Luther was his ultimate authority? Statements from him changing and/or discounting 18 books of the Bible are included. Do you really want to know the truth?
Hope of Salvation: How the Living Church of God differ from most Protestants How the Living Church of God differs from mainstream/traditional Protestants, is perhaps the question I am asked most by those without a Church of God background.