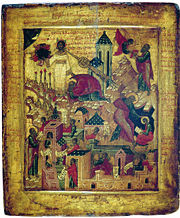 "Orthodox" 16th Century Representation of the "Apocalypse"
There are many false predictions for 2012 and I will try to briefly cover some of them here today.
One of the first to be proven wrong is by former UCG minister and self-appointed prophet/apostle/witness Ronald Weinland.  He made several false declarations related to 2008, but here are some related to something that will not happen in 2012:
And so because of the 50th Truth and the understanding that God has given us of Christ's return on Pentecost, May 27, 2012 (Ronald Weinland 6/26/10 sermon)

But God's righteous judgment must NOW be executed in order for His Kingdom to be established at the coming of His Son on May 27, 2012…(Ronald Weinland 2/25/11 letter)
Jesus cannot come that soon, and Ronald Weinland will be wrong again.  He also claimed that the Great Tribulation began on December 14, 2008, that the USA would be nuked by the summer of 2008, etc.
James Malm (who has also been shown to be wrong in the past), in a 7/28/11 post titled Present Trends and Dating The Tribulation, stated:
There is a very high likelihood that the tribulation will begin late next year; with the abomination being set up on or near September 16th 2012 with the tribulation beginning on 30 Nov ~ 1 Dec time frame.
There is absolutely no likelihood that the Great Tribulation will begin next year nor the biblically required abomination of desolation set up that Jesus (Matthew 24:15) mentioned related to a prophecy in the Book of Daniel 11:31.  James Malm also made a similar post on November 6, 2011:
IF 2012 were to be the year then the abomination would be set up in mid Sep 2012. DO NOT BE DECEIVED: ALL THE BIBLICAL SIGNS MUST BE PRESENT BEFORE THE TRIBULATION WILL START!
And while IT IS NOT POSSIBLE THAT THE GREAT TRIBULATION WILL START IN 2012 NOR IS IT POSSIBLE THAT THE ABOMINATION WILL BE SET UP IN SEPTEMBER 2012, he is correct that all the biblical signs must be present for the Great Tribulation to start–but they are not.
The Great Tribulation will not begin in 2012. And I have studied this matter extensively and even written a book that teaches that (2012 and the Rise of the Secret Sect).  The Great Tribulation biblically cannot begin before 2015, and in my view, 2016 or later is more likely.
What about the Mayan 12/21/2012 date?
Well, while there are some indications in Mayan records that some of the Mayans felt that the world could end in a flood on 12/21/2012, this ignores what the Bible teaches.
Netherlands' Worries About a 2012 Flood
In the Chilam Balam there is the following:
But when the law of the katun has run its course, the God will bring about a great deluge again which will be the end of the world. When this is over, then our Lord Jesus Christ will descend over the valley of Jehoshaphat beside the town of Jerusalem where he redeemed us with his holy blood (José Hoíl J, Roys R. The Book of Chilam Balam of Chumayel. Roys Publisher, 1933. Reprint Forgotten Books, 1967, p. 62).
The above is biblically, a false claim. 2012 is not the end of the world. That Mayan prediction no matter what date it intends wrong. The Mayan flood prophecy will be proven false (Genesis 9:11-17).
However, the people of the Netherlands have long been concerned about the possibility of a destructive flood killing many as much of that nation is below sea level. And partially because of the Mayan prophecies, some in the Netherlands are concerned that they may be predicting the destruction of their nation and perhaps others, like Belgium.
A "flood 2012" is a concern to some. Notice the following news item:
Many Dutch prepare for 2012 apocalypse

UPI – June 23, 2008 AMSTERDAM, Netherlands (UPI) —

Thousands of people in the Netherlands say they expect the world to end in 2012, and many say they are taking precautions to prepare for the apocalypse. The Dutch-language de Volkskrant newspaper said it spoke to thousands of believers in the impending end of civilization, and while theories on the supposed catastrophe varied, most tied the 2012 date to the end of the Mayan calendar, Radio Netherlands reported Monday.

De Volkskrant said many of those interviewed are stocking up on emergency supplies, including life rafts and other equipment. Some who spoke to the newspaper were optimistic about the end of civilization. "You know, maybe it's really not that bad that the Netherlands will be destroyed," Petra Faile said. "I don't like it here anymore. Take immigration, for example. They keep letting people in. And then we have to build more houses, which makes the Netherlands even heavier. The country will sink even lower, which will make the flooding worse." http://www.upi.com/Odd_News/2008/06/23/Many_Dutch_prepare_for_2012_apocalypse/UPI-40461214263554/
The fact is that although Mayan prophecies do allude to flooding, the Netherlands will not be destroyed by a flood in 2012.
However, it is possible that a few years from then that it could have major flooding problems. Unlike most countries, since much of the Netherlands is below sea level, flooding is truly a national concern. But because I do not believe that massive flooding on that type of scale will likely occur until sometime after "the Day of the Lord" begins (which is 2 1/2 years after the Great Tribulation begins), I believe that the most destructive flooding cannot occur before 2016, and most likely will not be for one or more years after that.
There will not be a wolrdwide flood like Noah's time that will begin on 12/21/2012.
However, when Ron Weinland, James Malm, and others are shown again to be in error, this will likely contribute to scoffing about all prophecy:
1 Beloved, I now write to you this second epistle (in both of which I stir up your pure minds by way of reminder), 2 that you may be mindful of the words which were spoken before by the holy prophets, and of the commandment of us, the apostles of the Lord and Savior, 3 knowing this first: that scoffers will come in the last days, walking according to their own lusts, 4 and saying, "Where is the promise of His coming? For since the fathers fell asleep, all things continue as they were from the beginning of creation." 5 For this they willfully forget: that by the word of God the heavens were of old, and the earth standing out of water and in the water, 6 by which the world that then existed perished, being flooded with water. 7 But the heavens and the earth which are now preserved by the same word, are reserved for fire until the day of judgment and perdition of ungodly men.  8 But, beloved, do not forget this one thing, that with the Lord one day is as a thousand years, and a thousand years as one day. 9 The Lord is not slack concerning His promise, as some count slackness, but is longsuffering toward us, not willing that any should perish but that all should come to repentance.  (2 Peter 3:1-9)

1 But there were also false prophets among the people, even as there will be false teachers among you, who will secretly bring in destructive heresies, even denying the Lord who bought them, and bring on themselves swift destruction. 2 And many will follow their destructive ways, because of whom the way of truth will be blasphemed. 3 By covetousness they will exploit you with deceptive words; for a long time their judgment has not been idle, and their destruction does not slumber. (2 Peter 2:1-3).
Bible prophecy is true, but false prophets contribute to scoffers and others unwilling to heed the truth of the Bible.  False prophets do cause the way of truth to be blasphemed.
Perhaps I should also add that those that believe that 2012 will bring in the start of an era of peace are also wrong.  While an era of peace is coming (see Did The Early Church Teach Millenarianism?), the Bible shows that there will be a lot of war and destruction prior.
Some articles of related interest may include the following:
Concerns About Ronald Weinland's Church of God-Preparing for the Kingdom of God Ronald Weinland falsely claims to be one of the two witnesses God is raising up, that the Great Tribulation began on December 14, 2008, and that Jesus will return on May 27, 2012. Why does the Bible show that Ron Weinland is a false prophet? He has other views which show he is not part of the Church of God.
Why Be Concerned About False and Heretical Leaders? There have been many false leaders–here is some of why you should be concerned about them.
Similarities and Differences Between the Jehovah's Witnesses and the Living Church of God Both groups claim to represent the original Christian faith. Do you know much about them? Both groups have some interesting similarities, but many major differences. Would you like information on how to deal with Jehovah's Witnesses?
Does God Have a 6,000 Year Plan? What Year Does the 6,000 Years End? Was a 6000 year time allowed for humans to rule followed by a literal thousand year reign of Christ on Earth taught by the early Christians? What year may the six thousand years of human rule end? When will Jesus return? 2018 or 2019?
Can the Great Tribulation Begin in 2012, 2013, or 2014? Can the Great Tribulation begin today? What happens before in the "beginning of sorrows"? What happens in the Great Tribulation and the Day of the Lord? When is the earliest that the Great Tribulation can begin? What is the Day of the Lord?
End of Mayan Calendar 2012–Might 2012 Mean Something? Are there Mayan calendar predictions for change in 2012? Changes were centuries ago predicted by the Hopi Native Americans. Do Mayan/Hindu/Hopi/Buddhist/New Age/Nostradamus prophecies have any value here? Why might Satan have inspired this date? Does the Dresden codex show destruction of the earth by flood? Can the great tribulation start before 2012? How might Barack Obama be involved in 2012?
2012 and the Rise of the Secret Sect This is a link related to a book by Bob Thiel (COGwriter). This link also has YouTube videos. This book documents and explains hundreds of prophecies. And since it was published, world events have aligned with at least 15-16 predictions in the book and many more will to come to pass. This book is a good reference and source for what will and will not happen in 2012 as well as the years shortly afterwards.
2012 y el surgimiento de la secta secreta 2012 libro del Dr. Thiel en Español.
2012 und das Auftreten der geheimen Sekte (German Edition) 2012 Buch von Dr. Thiel in deutscher Sprache.
2012 e o Surgimento da Seita Secreta (Portuguese Edition) 2012 livro do Dr. Thiel em português. Este livro documenta e explica centenas de profecias. E desde que foi publicado pela primeira vez, pelo menos 16 já começaram a acontecer.
2012 e o Surgimento da Seita Secreta (Brazilian Portuguese Edition) 2012 livro do Dr. Thiel. Edição em português do Brasil. Este livro documenta e explica centenas de profecias. E desde que foi publicado pela primeira vez, pelo menos 16 já começaram a acontecer.