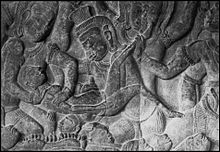 Bas-relief at Angkor Wat depicting a demon performing an ancient abortion.
Notice the following from the latest commentary from Living Church of God (LCG) minister Wyatt Ciesielka:
Gulnaz is a young Afghan woman who was sentenced to twelve years in prison for reporting that she had been raped by her cousin's husband. Assaulted two years ago, she hid the crime for fear of reprisal, until signs of pregnancy forced her to report the attack. Thankfully, after two years of imprisonment and mounting international pressure on the Afghan government, she was released from incarceration. Now, tragically, she faces pressure to marry the man who previously attacked her! What can she do? What can be done to help her?

Gulnaz' story is not uncommon. Violence against women is a worldwide plague affecting every culture. For example, a 2010 UN report titled The World's Women 2010: Trends and Statistics found the "proportion of women experiencing physical violence (irrespective of the perpetrator) at least once in their lifetime" in Germany, Denmark, Mexico, Columbia and Finland at nearly 40 percent, while in nations such as Peru, Australia, Mozambique, Czech Republic and Zambia it is 50 percent or greater (p. 131)! A more recent WHO study found that in Ethiopia 70 percent of women experienced physical and/or sexual violence by a close family member or acquaintance, and in South Africa, 42 percent of females between the ages of 13-23 years reported being a victim of physical dating violence (www.who.int/en fact sheet 239, accessed December 27, 2011). And, according to a recent CDC study, in the U.S. alone, "more than one in three women" have been in some form victimized by "an intimate partner during their lifetime" (CNN.com, December 15, 2011).

Almost daily, these heartbreaking stories make the news. Just a few days ago, in the U.S. State of Virginia, a wife and mother was stabbed to death by her husband, before he took his own life. Tragically, the crime was to be found and reported by the couple's unsuspecting teenage son. Violence against women is a terrible worldwide problem. Violence against women is misogyny, and is sin. Scripture is clear that hatred or violence against anyone regardless of their gender, nationality, ethnicity, or for any reason is sin. The Bible condemns violence (Leviticus 19:17-18), and says that those who even have a hatful or violent attitude are guilty of murder (1 John 3:15).

The Creator of the universe wants His people to be peacemakers, not misogynists. Matthew 5:9 states "Blessed are the peacemakers: for they shall be called the children of God" (KJV). True Christians are peacemakers who understand that God lovingly calls His people—whether male or female – His "sons and daughters" (2 Corinthians 6:17-18). He says that the value of a virtuous wife is "far above rubies" (Proverbs 31:10), and He commands men to treat older women respectfully as mothers, and to treat younger women kindly as sisters, with all purity (1 Timothy 5:2). True Christians do not mistreat women and do not practice violence. Instead, true Christians treat everyone with kindness, and remember that God loves women, who were also created in His image (Genesis 1:27).

Violence against women is one of the many reasons we fervently pray for Christ's return. When the Kingdom of God is established on this earth, then hatred, wars, murder and all forms of misogyny will be eradicated! Then, people will live in peace (Isaiah 9:7) and there will be no more violence or harm (Isaiah 11:9). Then, all people—men and women, young and old—will dwell safely, and no one shall make them afraid (Ezekiel 34:28). Never again will a young woman be attacked and then imprisoned for her "crime" of being a victim! Never again will young or old women fear assault, either by strangers or by those they know!

As Dr. Roderick C. Meredith wrote in his powerful article, "Violence Against Women," all "decent men should be ashamed of the horrifying brutality and abuse to which increasing millions of women are now being subjected." Escalating violence against women is yet another reason why all men and women should earnestly pray "Thy Kingdom come!" (Matthew 6:10).
Women are supposed to be loved (cf. Colossians 3:19; Ephesians 5:25), not raped or beaten.
Also, many societies are effectively practicing a different form of misogyny when they commit abortions, which are often disproportionately towards female babies.
Several articles of possibly related interest may include:
Abortion, the Bible, and a Woman's Right to Choose Do you know what the Bible teaches on this? What do the Living Church of God and the Church of Rome teach?
The Ten Commandments Reflect Love, Breaking them is Evil Some feel that the ten commandments are a burden. Is that what Jesus, Paul, Peter, James, and John taught?
Women and the New Testament Church Were women important in the New Testament Church? Which women and how were they involved?