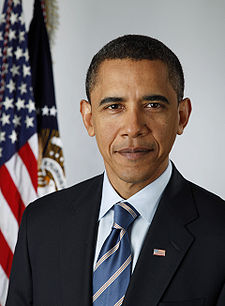 US President Barack Obama has been in Russia the past couple of days meeting with its top leaders:
Obama: US, Russia not destined to be adversaries
MOSCOW (AP) — President Barack Obama, working to warm U.S. relations with Russia, met for the first time Tuesday with Prime Minister Vladimir Putin and told college students that the two countries are not "destined to be antagonists."
"The pursuit of power is no longer a zero-sum game," Obama said, speaking in the Russian capital to graduates of the New Economic School but also hoping to reach the whole nation. "Progress must be shared."
Obama used his speech to further define his view of the United States' place in the world and, specifically, to argue that his country shares compelling interests with Russia.
"Let me be clear: America wants a strong, peaceful and prosperous Russia," he declared in his speech, not long after holding talks with Putin. The prime minister said: "With you, we link our hopes for the furtherance of relations between our two countries."…
In his speech, Obama said the interests of Russia and the United States generally coincide in five key areas: halting the spread of nuclear weapons, confronting violent extremists, ensuring economic prosperity, advancing the rights of people and fostering cooperation without jeopardizing sovereignty…
"By no means is America perfect," Obama said. But he also said: "Independent media have exposed corruption at all levels of business and government. Competitive elections allow us to change course. … If our democracy did not advance those rights, I as a person of African ancestry wouldn't be able to address you as an American citizen, much less a president."
Obama's speech and meetings with Putin did lead the afternoon newscast on NTV, owned by state-controlled natural gas monopoly, Gazprom, and it cast Obama in a favorable light, showing he and Putin smiling and exchanging niceties before taking breakfast outdoors.
Obama's meeting with Putin lasted two hours — about 30 minutes longer than planned. They met a day after Obama held talks with President Dmitry Medvedev and they agreed that the two countries would seek by year's end to cut their nuclear stockpiles by up to a third. Obama told Putin he thought he had had "excellent discussions" on Monday with Medvedev…
The Putin session started the second day of Obama's Moscow mission. The goal: Engage the Russian people and persuade them that their interests coincide with those of Americans.
Obama also had what the White House characterized as a "good meeting" with former Soviet President Mikhail Gorbachev. He was to meet again with Medvedev at the Kremlin; join Medvedev in taking part in a summit of U.S. and Russian business leaders; and was to meet a diverse collection of civil society leaders from both countries — health experts, environmentalists, reporters, human rights advocates — who will be holding their own summit to re-engage bilateral cooperation…
In the late afternoon, Obama was to meet with Russian opposition leaders. http://www.google.com/hostednews/ap/article/ALeqM5isOFwdbq0tsqatW6vJpkDRTI1gMgD999J81O7
Now President Obama is correct that the USA and Russia are NOT destined to be end-time antagonists–as that statement is consistent with Bible prophecy.
Interestingly in a hint about military power, Barack Obama stated today that progress must be shared.  The reality is that if both the USA and Russia reduce their nuclear arsenals, then other nations will be proportionately more powerful than they now are.
Also, it will be easier for powers such as the European Union to attain military parity, and even a certain superiority (see Europa, the Beast, and Revelation).
The truth is that for financial reasons, both Russia and the USA want to cut down their future production of nuclear weapons.
But meanwhile, the EU instead continues to try to figure out how it can make itself a major military power–which is what the Bible shows it will become (Revelation 13:3-4).
But the upcoming European military power will ultimately face Russia (Jeremiah 50:41-43) and others from Asia (Daniel 11:44).  And also God (Revelation 19:19-21).
Hence, all those powers (including the USA) will all be defeated (Revelation 11:15).
And ultimately a millennial peace will come.
Some articles of possibly related interest may include:
Asia in Prophecy What is Ahead for Asia? Who are the "Kings of the East"? What will happen to nearly all the Chinese, Russians, Indians, and others of Asia? China in prophecy, where? Who has the 200,000,000 man army related to Armageddon?
Russia: Its Origins and Prophesied Future Where do the Russians come from? What is prophesied for Russia? What will it do to the Europeans that supported the Beast in the end?
Anglo – America in Prophecy & the Lost Tribes of Israel Are the Americans, Canadians, British, Scottish, Welsh, Australians, Anglo-Southern Africans, and New Zealanders descendants of Joseph? Where are the lost ten-tribes of Israel? Who are the lost tribes of Israel? Will God punish the U.S.A., Canada, United Kingdom, and other Anglo nations? Why might God allow them to be punished first?
Prophecies of Barack Obama? Are there biblical and non-biblical prophecies about Barack Obama. Did Nostradamus predict Barack Obama dealing with the Antichrist?  Might Barack Obama set the stage for the kings of the North and South as his timing and at least one Shiite prophecy suggests?  This is the longest and most detailed of the articles here at COGwriter related to prophecy and Barack Obama.
Barack Obama, Prophecy, and the Destruction of the United States Some claim that Barack Obama is the prophesied "son of Kenya". Might Bible prophecy be fulfilled since he is to be the USA president?
Did The Early Church Teach Millenarianism? Was the millennium (sometimes called chiliasm) taught by early Christians? Who condemned it. Will Jesus literally reign for 1000 years on the earth? Is this time near?
Does God Have a 6,000 Year Plan? What Year Does the 6,000 Years End? Was a 6000 year time allowed for humans to rule followed by a literal thousand year reign of Christ on Earth taught by the early Christians? When does the six thousand years of human rule end?