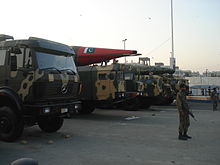 Truck-mounted Pakistani missile (SyedNaqvi90)

Pakistan is not happy that the USA has withheld certain funding:
Pakistan Defiant as US Ponders South Asia Strategy

July 28, 2017

Days after the Pentagon announced it is withholding $50 million intended for Pakistan as part of its Coalition Support Fund, the South Asian country's ambassador hinted at potential retaliation, possibly coaxing Washington to renegotiate access to the country's air corridors, which Islamabad suggests have been taken for granted.

Pakistan is ready to cooperate with the United States, Ambassador Aizaz Ahmad Chaudhry said, though Washington may now end up having to negotiate with Islamabad on the corridors and other tangible assets, he added. …

The Pakistani envoy's remarks came at a time when U.S. President Donald Trump's administration has been reviewing its overall strategy toward South Asia, including India, Pakistan, Afghanistan and Iran. And his relatively defiant tone may reflect Pakistan's decreasing dependence on the United States amid an influx of Chinese capital investments and a strengthening political relationship between Islamabad and Beijing. …

Islamabad sees Beijing as its closest ally, he added, and the two countries find themselves completely attuned. There is "so much of a meeting of minds," he noted — with no "policy differences at all" dividing them.

Chaudhry told VOA "the clearest example and manifestation" of Sino-Pakistan ties has come in the form of the China-Pakistan Economic Corridor, or CPEC, stretching 3,000 kilometers from Kashgar in western China's Xinjiang region to the port city of Gwadar, at the southwestern end of Pakistan on the edge of the Arabian Sea.

Pakistan's strategic value to China

Due to the strategic importance China attaches to Gwadar and its financial resources, Beijing agreed to build the port for free. China has publicly justified its investment in Gwadar as an alternate route for oil and other commodities headed for the Chinese mainland, but the port's potential for military uses has even more significance for strategic thinkers.

Earlier this year, Pakistan announced it has leased operation rights for Gwadar to a Chinese company for 40 years. https://www.voanews.com/a/pakistan-defiant-us-ponders-south-asia-strategy/3962805.html
Pakistan, like many other Asian nations, is looking at China since it does not always get what it wants from the USA. China wants cooperation and logistical space in Pakistan and is getting it.
Pakistan is also concerned about India and apparently believes that its ties with China can help it deal with India.
Now, there have been previous issues between Pakistan and the USA. The Obama Administration wanted Pakistan to quit developing its nuclear military capabilities, but Pakistan rejected its calls to do so (see Pakistan tells USA it will continue its nuclear missile development).
Of course, North Korea has also rejected calls from the USA to curb its nuclear military development. In what is considered to be another act of defiance, North Korea tested another missile, this time at night:
July 28, 2017

PENTAGON — 

North Korea launched another intercontinental ballistic missile ((ICBM)) Friday, the second such launch in just a few weeks, the Pentagon said.

"We detected and tracked a single North Korea missile launch," Pentagon spokesman Navy Captain Jeff Davis told reporters. "We assess that this was an ICBM; this was a launch that had been expected."

Davis said North Korea launched the missile from Mupyong-ni arms plant in the country's north. He said it flew "in excess of 40 minutes" and traveled about 1,000 kilometers laterally before splashing down into the Sea of Japan, about 163 kilometers from Hokkaido, Japan's second-largest island.

Possible landing site

Japan's Prime Minister Shinzo Abe said the missile may have landed in that country's exclusive economic zone, and he convened an emergency meeting with Japanese officials to respond to the launch. https://www.voanews.com/a/north-korea-fires-another-nuclear-missile-/3962988.html

July 28, 2017

The launch — which the Pentagon was expecting, according to Davis — comes just weeks after the government in Pyongyang marked a milestone by conducting its first successful ICBM test. The missile launched Friday, however, flew farther than the one the country fired July 4 — and demonstrated greater capabilities.

"It does appear that at a minimum this missile may go up to 10,000 kilometers, but it may go as far as 11,000 kilometers," Melissa Hanham, senior research associate with the East Asia Nonproliferation Program at the Middlebury Institute, tells NPR's Robert Siegel.
Those in South Korea are also concerned–South Korea borders the North and the North has many weapons pointed towards it.
The situation with North Korea will change, and it may come at a huge cost–and that may be well beyond the financial costs the of the latest sanctions that the Congress of the USA is trying to impose.
As far as Pakistan goes, it seems quite willing to get closer to China if the USA does not see things its way.
Prophetically, it is likely that Pakistan, China, and what is now called North and South Korea will cooperate militarily in the end time. Japan too.
Why?
Consider the following:
12 Then the sixth angel poured out his bowl on the great river Euphrates, and its water was dried up, so that the way of the kings from the east might be prepared. 13 And I saw three unclean spirits like frogs coming out of the mouth of the dragon, out of the mouth of the beast, and out of the mouth of the false prophet. 14 For they are spirits of demons, performing signs, which go out to the kings of the earth and of the whole world, to gather them to the battle of that great day of God Almighty.

15 "Behold, I am coming as a thief. Blessed is he who watches, and keeps his garments, lest he walk naked and they see his shame."

16 And they gathered them together to the place called in Hebrew, Armageddon. (Revelation 16:12-16)
The literal translation of Revelation 16:12 is "the kings of the sunrise" and thus this would seem to have to include those in the far east. China, Korea, and Japan are among the most eastern of lands.
And Pakistan?
Notice that those from the land of the sunrise are going to have to cross over territories to get to Armageddon.
China is working on building roads and ports in order to facilitate travel to and past Pakistan to go further west. Thus, this looks like Pakistan will be involved as well.
US efforts to withhold funding to Pakistan or impose more sanctions on North Korea will not change this.
Some items of possibly related interest may include:
India, Its Biblical Past and Future: Any Witness? The Bible discusses the origins of those of Indian heritage. This article quotes the Bible and also discusses some of the witness to India throughout history and what is happening in the 21st century (including those in Bangladesh, Pakistan, and Sri Lanka).
Is the Future King of the South Rising Up? Some no longer believe there needs to be a future King of the South. Others have many misunderstandings about him. Might Egypt, Islam, Iran, Arabs, or Ethiopia be involved? Might this King be called the Mahdi or Caliph? What does the Bible say? A YouTube video of related interest may be: The Future King of the South is Rising.
Syria, North Korea, and Prophecy On April 7, 2017, 59 US Tomahawk missiles hit a military installation in Syria. While praised by NATO nations, Israel, and Saudi Arabia, this was denounced by Syria, Russia, and North Korea. Is this the start of World War III? Will the Bashar al-Assad regime remain as it is? What about North Korea? What does the Bible show will happen? Dr. Thiel answers these questions and more. This is a video.
Korea in Prophecy, Any Witness? Where did the Korean people come from? Does God have a plan for the Koreans? Is Korea mentioned in any prophecies? Will Koreans be among the first in the Kingdom of God? Here is a machine-translated link to that article in Korean: 한국의 언어로 : 한국 예언, 모든 증인에?; here is a link to that article in Mandarin Chinese: 在预言中的韩国:有任何证人吗?.
Asia in Prophecy What is Ahead for Asia? Who are the "Kings of the East"? What will happen to nearly all the Chinese, Russians, Indians, and others of Asia? China in prophecy, where? Who has the 200,000,000 man army related to Armageddon? A YouTube video of interest may be Is China THE Threat to the United States of America?
The Eurasian Union, the Kings of the East, and Bible Prophecy Is there a Eurasian union that will be formed? Is one being formed right now? Are any leaders working on that in the 21st century? Does the Bible teach that there will be a Eurasian union? If some type of Eurasian union is formed, who might it benefit and who will it destroy? A related video would be Is The Eurasian Union Rising?
Korea in Prophecy, Any Witness? Where did the Korean people come from? Does God have a plan for the Koreans? Is Korea mentioned in any prophecies? Will Koreans be among the first in the Kingdom of God? Here is a machine-translated link to that article in Korean: 한국의 언어로 : 한국 예언, 모든 증인에?. Here is a link to a magazine with that article in Mandarin Chinese: 在预言中的韩国:有任何证人吗? A prophetic video is also available: Syria, North Korea, and Prophecy.
Japan, Its Biblical Past and Future, Part 1: Any Witness? Where did the Japanese people come from? Have they had any witness?
Japan, Its Biblical Past and Future, Part 2: Prophecy Japan in prophecy. What is prophesied for Japan? Will God save the Japanese?
Is China paving roads to Armageddon? China is working on something known as the 'Silk Road' project or the "One Belt, One Road" initiative. NBC reports that China intends to spend one trillion dollars to build roads, bridges, railroads, and maritime facilities to reach from China to Europe and China to the Middle East. Over 60 nations, including Russia, are involved with this. Could this Silk Road project possibly produce thoroughfares that could be used by troops that will amass at Armageddon? Dr. Thiel discusses this project and some of its potential prophetic ramifications in this video.
Armageddon Who is involved and when will this gathering happen? Here is also a video from Dr. Thiel, from Tel Megiddo in Israel: Armageddon.
China, Its Biblical Past and Future, Part 1: Genesis and Chinese Characters Where did the Chinese people come from? This article provides information showing that the Chinese peoples must have known about various accounts in the Book of Genesis up until their dispersion after the Tower of Babel. Here is a link to a version of this article in Spanish: ¿Prueban los caracteres chinos la exactitud de la Biblia?
China, Its Biblical Past and Future, Part 2: The Sabbath and Some of God's Witness in China When did Christianity first come to China? And is there early evidence that they observed the seventh day sabbath?
Anglo – America in Prophecy & the Lost Tribes of Israel Are the Americans, Canadians, English, Scottish, Welsh, Australians, Anglo-Saxon (non-Dutch) Southern Africans, and New Zealanders descendants of Joseph? Where are the lost ten-tribes of Israel? Who are the lost tribes of Israel? What will happen to Jerusalem and the Jews in Israel? Will God punish the U.S.A., Canada, United Kingdom, and other Anglo-Saxon nations? Why might God allow them to be punished first? Here is a link to the Spanish version of this article: Anglo-América & las Tribus Perdidas de Israel. Information is also in the YouTube sermons titled Where are the Ten Lost Tribes? Why does it matter? and British are the Covenant People. A short YouTube of prophetic interest may be Barack Obama and the State of the Apocalypse.
Will the Anglo-Saxon Nations be Divided and Have People Taken as Slaves? Will the lands of the United States, United Kingdom, Canada, Australia, and New Zealand be divided? What about Jerusalem? What does Bible prophecy teach? Are there non-biblical prophecies that support this idea? Who will divide those lands? Who will end up with the lands and the people? Here is a link to a video titled Will the USA and other Anglo-nations be Divided and Their People Made Slaves? Here is a related item in the Spanish language ¿Serán divididas las naciones anglosajonas?
Donald Trump in Prophecy Prophecy, Donald Trump? Are there prophecies that Donald Trump may fulfill?  Are there any prophecies that he has already helped fulfill?  Could a Donald Trump presidency be apocalyptic?  A related video is titled: Donald: 'Trump of God' or Apocalyptic?
Trump Presidency Magic 8 Ball or Bible Prophecy? BBC reported that one might as well use a 'Magic Eight-Ball' to try to predict what will happen in the remaining time of Donald Trump's presidency. What is a 'Magic Eight-Ball'? Dr. Thiel not only explains that, but also briefly goes over 10 biblically-based warnings he wrote would happen if Donald Trump were elected that have already began to come to pass. He also goes over something he wrote back in 2008 that the Trump presidency is also helping lead to fulfillment. Should you trust Bible prophecy or not? Dr. Thiel says that Bible prophecy can be trusted, despite the view of skeptics and others that either overlook or despise the Bible. This is a video.
Donald Trump and America's Apocalypse This 188 page book is for people truly interested in prophecies related to Donald Trump and the United States, including learning about several that have already been fulfilled and those that will be fulfilled in the future. The physical book can be purchased at Amazon for $12.99 from the following link: Donald Trump and America's Apocalypse.
Donald Trump and America's Apocalypse-Kindle Edition This electronic version of the 188 page print edition is available for only US$3.99. And you do not need an actual Kindle device to read it. Why? Amazon will allow you to download it to almost any device: Please click HERE to download one of Amazon s Free Reader Apps. After you go to for your free Kindle reader and then go to Donald Trump and America's Apocalypse-Kindle Edition.