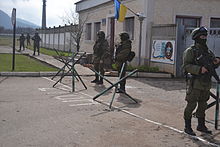 PCG reported the following:
August 6, 2014
Polish Prime Minister Donald Tusk said he believes there's a "growing threat of direct Russian intervention" in eastern Ukraine. He made this statement on August 6, and also said the next phase of the crisis "could be more serious."Pro-Russia forces are fighting to break away from Ukraine, but they cannot push back its military. On Tuesday, Ukrainian troops reached the main rebel stronghold in the city of Donetsk. The two sides are now exchanging rocket fire. If Ukraine's military can recapture Donetsk, it could signal the end of the separatist movement.

The wild card is Russia.

Russian President Vladimir Putin is facing increasing pressure from Russian nationalists. They want him to send the Russian Army into Ukraine to back the insurgency.

In a possible sign that such a move is imminent, Russia has renewed its buildup of military forces near Ukraine's border…

So what will Putin do? While we cannot know the specific details, Bible prophecy does show the overall trend of where this crisis is leading. To learn more, read Gerald Flurry's article "The Crimean Crisis Is Reshaping Europe!"
Before getting to Russia and Ukraine, I did go to the article by Gerald Flurry mentioned above.  Here is one quote from it:
"Ten kings" are going to arise—and the 28 nations currently comprising the European Union are going to be pared down to 10. (Flurry G. The Crimean Crisis Is Reshaping Europe! Philadelphia Trumpet. May-June 2014)
That comment about Europe is not biblical, nor consistent with what the old Worldwide Church of God taught (see Must the Ten Kings of Revelation 17:12 Rule over Ten Currently Existing Nations? ).  While ten physical nations is remotely possible, those who insist on that (LCG insists on 10 or 11), will not possibly know when the Great Tribulation will begin if another (higher) number is involved.
Getting back to Russia, notice that NATO is concerned:
August 6, 2014

Russia, has amassed around 20,000 combat-ready troops on Ukraine's eastern border, could use the pretext of a humanitarian or peace-keeping mission to invade, NATO warned on Wednesday.

"We share the concern that Russia could use the pretext of a humanitarian or peacekeeping mission as an excuse to send troops into eastern Ukraine," NATO spokeswoman Oana Lungescu said Wednesday.

A day earlier, the Western military alliance said Russia has "significantly increased" the number of troops on its border with Ukraine in recent days, bringing the total there to around 20,000, along with a large number of tanks, infantry, special forces and aircraft.

Stating the conflict in Ukraine was fueled by Russia, NATO said in a statement that the troop build-up had further escalated "a dangerous situation."

"We're not going to guess what's on Russia's mind, but we can see what Russia is doing on the ground – and that is of great concern," Lungescu said in an emailed statement.

'Significant re-buildup'

Late last month, U.S. Deputy National Security Adviser Tony Blinken said there had been "a significant re-buildup of Russian forces along the border, potentially positioning Russia for a so-called humanitarian or peacekeeping intervention in Ukraine."

Also Wednesday, Polish Prime Minister Donald Tusk said that the threat of Russian intervention in Ukraine has risen over the past few days.

"We have reasons to suspect – we have been receiving such information in the last several hours – that the risk of a direct intervention is higher than it was several days ago," Tusk told reporters in Warsaw.

Moscow denies Western accusations that it has armed and supported rebels who are fighting Ukrainian forces in eastern Ukraine. It announced new military exercises to take place all this week, involving bombers and warplanes on Monday in a show of strength near the border with Ukraine.

'Combat readiness'

Meanwhile, Russian Defense Minister Sergei Shoigu said Wednesday that the peacekeeping units of Russia's armed forces need to be in a state of "constant combat readiness."

He made his comments while observing drills conducted by a peacekeeping unit at a base in southern Russia's Samara region.

NATO said early this year that Russia had amassed some 40,000 troops close to the Ukraine border. By June, the number had dropped to less than 1,000, but then Russia started building the force up again.

The comments came as intense fighting between Ukrainian government forces and pro-Russian separatists continued in eastern Ukraine.

A Ukrainian military spokesman said Wednesday that 18 servicemen had been killed and 54 wounded in fighting over the previous 24 hours.  http://www.voanews.com/content/nato-russia-could-be-poised-to-invade-eastern-ukraine/1972616.html
Russia wants Ukraine and is trying to figure out the best way to get it.
One way is to see if the Kiev government falls or contributes to more areas of unrest.  The other is to directly and indirectly intervene militarily with the east.
Vladimir Putin wants as much of Ukraine in his coming Eurasian Union as he can get.  He will use force, and/or the threat of it, to do so if he feels that the cost to Russia is not that high.  Notice the following:
August 6, 2014

Vladimir Putin has banned the import of agricultural goods from countries that have imposed sanctions on Russia in a tit-for-tat move that deepens the economic standoff between the Kremlin and the west.

Russian government officials have been told to draw up a list of western agricultural products and raw materials that will be banned or restricted for up to one year, according to the decree published on the Kremlin website.

In tacit recognition that Russian consumers will bear the cost of the import ban, the decree also instructs officials to come up with measures to stabilise commodity markets and prevent food price rises. http://www.theguardian.com/world/2014/aug/06/russia-bans-imports-eu-us-sanctions

August 6, 2014

But with an approval rating that's soared since the annexation of Crimea, Putin has only become more popular among his constituents by giving Moscow more control over the Internet. (Recent polling puts his popularity at 83 percent, a level only rivaled in the U.S. by President George W. Bush in the weeks following Sept. 11, 2001.) http://www.ibtimes.com/russian-internet-censorship-social-media-crackdown-make-it-easy-putin-stay-popular-1651078
Vladimir Putin is popular in Russia.  He is likely calculating the sanctions vs. popularity vs. getting Ukraine if he makes more military moves.
Some items of possibly related interest may include:
Russia and Ukraine: Origins and Prophesied Future Where do the Russians come from? What about those in the Ukraine? What is prophesied for Russia and its allies? What will they do to the Europeans that supported the Beast in the end? You can also watch the short video Ukraine in Prophecy?
Russia in the Bible and in Prophecy Is Russia mentioned in the Bible? It it is where is it? Is there any evidence of a people moving to the land that the Russians now occupy? What do Catholic and other prophecies say about Russia? What does the Bible teach? How are Protestants often in error on this? Is there more in biblical prophecy for Russia than war? Does God have a plan to save Russia and her allies? Does Russia have a history involving Sabbath keepers? Does scripture tie Russia in with Armageddon? Will Russia help defeat the end time Babylonian power? What did the Apostle John, and the prophets Isaiah, Jeremiah, and Daniel, write about Russia? This is a sermon-length video.
Ezekiel 38: For Russia & Iran in Our Day? Is Ezekiel 38 about to be fufilled? A related video is available titled Ezekiel 38: For Russia, Ukraine, & Iran Now?
Bible News Prophecy July-Sept. 2014: The Coming Eurasian Union Here is the latest magazine from the Continuing Church of God. The cover of which shows Vladimir Putin and features an article about the coming Eurasian Union.
Must the Ten Kings of Revelation 17:12 Rule over Ten Currently Existing Nations? Some claim that these passages refer to a gathering of 10 currently existing nations together, while one group teaches that this is referring to 11 nations getting together. Is that what Revelation 17:12-13 refers to? The ramifications of misunderstanding this are enormous.
World War III: Steps in Progress Are there surprising actions going on now that are leading to WWIII? Might a nuclear attack be expected? Does the Bible promise protection to all or only some Christians? How can you be part of those that will be protected? A related video would be Is World War III About to Begin? Can You Escape?
Wars, rumors of wars, and the Apocalypse Jesus foretold a time before the end where there would be wars and rumors of wars. The Apocalypse (the Book of Revelation) warns of the red horseman of war. Now, even secular writers, like Larry Edelson, are worried that wars and rumors of war are the most menacing problem that now haunts the earth? Are they right? What is the solution? This is a sermonette-length video.
Is Russia the King of the North? Some claim it is. But what does the Bible teach? Here is a link to a video, also titled Is Russia the King of the North?
Europa, the Beast, and Revelation Where did Europe get its name? What might Europe have to do with the Book of Revelation? What about "the Beast"? Is an emerging European power "the daughter of Babylon"? What is ahead for Europe? Here is a link to a video titled: Can You Prove that the Beast to Come is European?
The Eurasian Union, the Kings of the East, and Bible Prophecy Is there a Eurasian union that will be formed? Is one being formed right now? Are any leaders working on that in the 21st century? Does the Bible teach that there will be a Eurasian union? If some type of Eurasian union is formed, who might it benefit and who will it destroy? A related video would be Is The Eurasian Union Rising?
Who is the King of the North? Is there one? Do biblical and Roman Catholic prophecies for the Great Monarch point to the same leader? Should he be followed? Who will be the King of the North discussed in Daniel 11? Is a nuclear attack prophesied to happen to the English-speaking peoples of the United States, Great Britain, Canada, Australia, and New Zealand? When do the 1335 days, 1290 days, and 1260 days (the time, times, and half a time) of Daniel 12 begin? When does the Bible show that economic collapse will affect the United States? In the Spanish language check out ¿Quién es el Rey del Norte? Here is a link to a video titled: The Future King of the North.
Barack Obama, Prophecy, and the Destruction of the United States-Second Edition for Second Obama Term This is a 160 page book for people truly interested in prophecies related to Barack Obama and the United States, including learning about many that have already been fulfilled (which the book documents in detail) and those that will be fulfilled in the future. It also has a chapter about a Republican choice. This book is available to order at www.barackobamaprophecy.com. The physical book can also be purchased at Amazon from the following link: Barack Obama, Prophecy, and the Destruction of the United States: Is Barack Obama Fulfilling Biblical, Islamic Catholic, Kenyan, and other America-Related Prophecies? What About Republican Leaders? Second Edition for Second Obama Term.
Barack Obama, Prophecy, and the Destruction of the United States-Second Term-Amazon Kindle edition. This electronic version is available for only US$2.99. And you do not need an actual Kindle device to read it. Why? Amazon will allow you to download it to almost any device: Please click HERE to download one of Amazon s Free Reader Apps. After you go to for your free Kindle reader and then go to Barack Obama, Prophecy, and the Destruction of the United States-Second Term-Amazon Kindle edition.