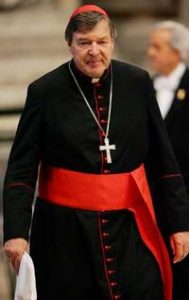 Cardinal George Pell is facing charges

Pope Francis is apparently in a type of clean-up mode as he just announced that he fired Cardinal Gerhard Mueller:
Pope removes German cardinal as sex abuse crisis catches up

July 1, 2017

VATICAN CITY — Pope Francis sacked the head of the Vatican office that handles sex abuse cases Saturday, just days after he released another top Vatican cardinal to return home to stand trial for alleged sexual assault.The developments underscored how the Catholic Church's sex abuse crisis has caught up with Francis, threatening to tarnish his legacy over a series of questionable appointments, decisions and oversights in his four-year papacy.Perhaps sensing a need to change course, Francis declined to renew the mandate of German Cardinal Gerhard Mueller as prefect of the Congregation for the Doctrine of the Faith, the Vatican office that processes and evaluates all cases of priests accused of raping or molesting minors.

Francis named Mueller's deputy, Monsignor Luis Ladaria Ferrer, a Spanish Jesuit, to run the powerful office instead.

During Mueller's five-year term, the congregation amassed a 2,000-case backlog and came under blistering criticism from Irish abuse survivor Marie Collins, who had been tapped by Francis in 2014 to advise the church on caring for abuse victims and protecting children from pedophile priests.

Collins resigned from the papal commission in March, citing the "unacceptable" level of resistance from Mueller's office to heeding the commission's proposals. https://www.washingtonpost.com/national/religion/pope-declines-to-renew-mandate-for-german-doctrine-chief/2017/07/01/bf0fa896-5e46-11e7-aa69-3964a7d55207_story.html?utm_term=.39f396ab0aa6
It would seem that this will greatly reduce Cardinal Gerhard Mueller's chance of being the next pontiff.
Pope Francis faced criticism this week when Caridnal George Pell, the number 3 man in the Vatican, announced he would go to Australia to face sexual abuse charges (see Vatican's #3 facing sex abuse charges; WND reports on lies and Islam). Francis has faced criticism that he has not moved fast enough on these matters, so this action signals that he is doing something.
The Church of Rome has long had pedophiles and other sexual abusers.
But now, more people are willing to go public about it–and this has cost the Roman Catholics a lot of money (e.g. 'Audit of US Catholic church shows sharp spike in sex abuse reports').
It seems that Pope Francis is realizing that changes in how this matter is dealt with are necessary. These scandals affect his plans for ecumenical and interfaith unity–so expect more actions from Rome about them.
Rome would have less of these issues if it simply allowed its priests and bishops to be married like the Bible endorses (Titus 1:5-7; 1 Timothy 3:1-5; 1 Corinthians 9:4-6; see also Was Celibacy Required for Early Bishops or Presbyters?).
But many in the Greco-Roman world stick with traditions, despite them not being original to the Christian faith.
Some items of possibly related interest may include:
Was Celibacy Required for Early Bishops or Presbyters? Some religions suggest this, but what does the Bible teach? What was the practice of the early church?
Did the Early Christian Church Practice Monasticism? Does God expect or endorse living in a monastery or nunnery?
Ashley Madison: Your Sins Will Find You Out A website promoting 'secret' affairs (adultery and fornication) was hacked. This video discusses some of the Bible's perspectives on that.
Were the Early Duties of Elders/Pastors Mainly Sacramental? What was there Dress? Were the duties of the clergy primarily pastoral or sacramental? Did the clergy dress with special liturgical vestments? Can "bishops" be disqualified as ministers of Christ based on their head coverings?
Tradition and Scripture: From the Bible and Church Writings Are traditions on equal par with scripture? Many believe that is what Peter, John, and Paul taught. But did they? A related sermon is titled Tradition and Scripture.
What was the Liturgy of the Early Church? Were early church services mainly scriptural, emotional, or sacramental? Who follows the basic original liturgy today? A related video is also available: What were early Christian church services like?
Hope of Salvation: How the Continuing Church of God differ from most Protestants How the real Church of God differs from mainstream/traditional Protestants, is perhaps the question I am asked most by those without a Church of God background. As far as some changes affecting Protestantism, watch the video Charismatic Kenneth Copeland and Anglican Tony Palmer: Protestants Beware! [Português: Esperança do salvação: Como a igreja do deus difere da maioria de protestantes]
Beware: Protestants Going Towards Ecumenical Destruction! What is going on in the Protestant world? Are Protestants turning back to their 'mother church' in Rome? Does the Bible warn about this? What are Catholic plans and prophecies related to this? Is Protestantism doomed? See also World Council of Churches Peace Plan.
Which Is Faithful: The Roman Catholic Church or the Continuing Church of God? Do you know that both groups shared a lot of the earliest teachings? Do you know which church changed? Do you know which group is most faithful to the teachings of the apostolic church? Which group best represents true Christianity? This documented article answers those questions. [Português: Qual é fiel: A igreja católica romana ou a igreja do deus?]
Why Should American Catholics Fear Unity with the Orthodox? (And the Protestants) Are the current ecumenical meetings a good thing or will they result in disaster? Is doctrinal compromise good? Here is a link to a related video Should you be concerned about the ecumenical movement?
Will the Interfaith Movement Lead to Peace or Sudden Destruction? Is the interfaith movement going to lead to lasting peace or is it warned against? A video sermon of related interest is: Will the Interfaith Movement lead to World War III? and a video sermon is also available: Do You Know That Babylon is Forming?
Some Similarities and Differences Between the Eastern Orthodox Church and the Continuing Church of God Both groups claim to be the original church, but both groups have differing ways to claim it. Both groups have some amazing similarities and some major differences. Do you know what they are?
Orthodox Must Reject Unity with the Roman Catholics Unity between these groups will put them in position to be part of the final end time Babylon that the Bible warns against as well as require improper compromise.
The History of Early Christianity Are you aware that what most people believe is not what truly happened to the true Christian church? Do you know where the early church was based? Do you know what were the doctrines of the early church? Is your faith really based upon the truth or compromise?
Christ or Antichrist? 1961 article by David Jon Hill, originally published in the old Good News magazine.
Will You Be Deceived by Antichrist? 1964 article by David Jon Hill, originally published in the old Good News magazine.
Satan's Plan Does Satan have a plan? What is it? Has it already been successful? Will it be successful in the future? Here are links to a two-part sermon series: What are Some of the Parts of Satan's Plan? and Satan's Plan is More Dramatic than Many Realize.
Do Certain Catholic Prophecies About Antichrist Warn Against Jesus? Will the final "Anti-Christ" be Jewish, insist on Saturday, be opposed to the trinity, and bring in the millennium? Certain Catholic writings indicate this, while others take a different view, but what does the Bible show? A related sermon is Will Jesus Christ be called the Antichrist?
Catholic Prophecies: Do They Mirror, Highlight, or Contradict Biblical Prophecies? People of all faiths may be surprised to see what various Roman and Orthodox Catholic prophets have been predicting as many of their predictions will be looked to in the 21st century.
What Do Roman Catholic Scholars Actually Teach About Early Church History? Although most believe that the Roman Catholic Church history teaches an unbroken line of succession of bishops beginning with Peter, with stories about most of them, Roman Catholic scholars know the truth of this matter. Is telling the truth about the early church citing Catholic accepted sources anti-Catholic? This eye-opening article is a must-read for any who really wants to know what Roman Catholic history actually admits about the early church. There is also a YouTube sermon on the subject titled Church of God or Church of Rome: What Do Catholic Scholars Admit About Early Church History?
Nazarene Christianity: Were the Original Christians Nazarenes? Should Christians be Nazarenes today? What were the practices of the Nazarenes.
Location of the Early Church: Another Look at Ephesus, Smyrna, and Rome What actually happened to the primitive Church? And did the Bible tell about this in advance?
Apostolic Succession What really happened? Did structure and beliefs change? Are many of the widely-held current understandings of this even possible? Did you know that Catholic scholars really do not believe that several of the claimed "apostolic sees" of the Orthodox have apostolic succession–despite the fact that the current pontiff himself seems to wish to ignore this view? Is there actually a true church that has ties to any of the apostles that is not part of the Catholic or Orthodox churches? Read this article if you truly are interested in the truth on this matter! Here is a version in the Spanish language La sucesión apostólica. ¿Ocurrió en Roma, Alejandría, Constantinopla, Antioquía, Jerusalén o Asia Menor?
Early Church History: Who Were the Two Major Groups Professed Christ in the Second and Third Centuries? Did you know that many in the second and third centuries felt that there were two major, and separate, professing Christian groups in the second century, but that those in the majority churches tend to now blend the groups together and claim "saints" from both? "Saints" that condemn some of their current beliefs. Who are the two groups?
COGwriter Position on Other Churches and Religions What is the fate of those who do not know Christ? What about those who profess Christ outside the Church of God?
Where is the True Christian Church Today? This free online pdf booklet answers that question and includes 18 proofs, clues, and signs to identify the true vs. false Christian church. Plus 7 proofs, clues, and signs to help identify Laodicean churches. A related sermon is also available: Where is the True Christian Church? Here is a link to the booklet in the Spanish language: ¿Dónde está la verdadera Iglesia cristiana de hoy? Here is a link in the German language: WO IST DIE WAHRE CHRISTLICHE KIRCHE HEUTE? Here is a link in the French language: Où est la vraie Église Chrétienne aujourd'hui?
Continuing History of the Church of God This pdf booklet is a historical overview of the true Church of God and some of its main opponents from Acts 2 to the 21st century. Related sermon links include Continuing History of the Church of God: c. 31 to c. 300 A.D. and Continuing History of the Church of God: 4th-16th Centuries and Continuing History of the Church of God: 17th-20th Centuries. The booklet is available in Spanish: Continuación de la Historia de la Iglesia de Dios, German: Kontinuierliche Geschichte der Kirche Gottes, French: L Histoire Continue de l Église de Dieu and Ekegusii Omogano Bw'ekanisa Ya Nyasae Egendererete.
Differences Between Islam and the Continuing Church of God What are some of the main differences? Are there any similarities? A video of related interest is titled: Islam: Any Christian Concerns or Similarities?