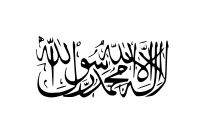 Flag of the Taliban
The following news item is very disturbing:
Jonathon Turley, a law professor at George Washington University, reports on a disturbing case in which a state judge in Pennsylvania threw out an assault case involving a Muslim attacking an atheist for insulting the Prophet Muhammad.

Judge Mark Martin, an Iraq war veteran and a convert to Islam, threw the case out in what appears to be an invocation of Sharia law.

The incident occurred at the Mechanicsburg, Pa., Halloween parade where Ernie Perce, an atheist activist, marched as a zombie Muhammad. Talaag Elbayomy, a Muslim, attacked Perce, and he was arrested by police.

Judge Martin threw the case out on the grounds that Elbayomy was obligated to attack Perce because of his culture and religion. http://news.yahoo.com/penn-judge-muslims-allowed-attack-people-insulting-mohammad-210000330.html

A judge's decision to dismiss a harassment charge against a Muslim accused of attacking a man marching as 'Zombie Muhammad' during a Halloween parade last year was today branded 'completely and unequivocally unacceptable'.

Ernest Perce was marching through Mechanicsburg, Pennsylvania, with a fellow atheist dressed as a 'Zombie Pope' when he was confronted by Talaag Elbayomy, 46, about his 'offensive' costume.

Perce claims Elbayomy then choked him from behind and tried to remove a sign that read 'Muhammad of Islam' from around his neck…

Jonathan Turley, a law professor at George Washington University, questioned whether Judge Martin was letting his personal views get in the way of the U.S. legal process.


Writing on his blog, he said: 'I can understand the judge's claims of conflicting testimony on the crime… However, I view this as an extremely troubling case that raises serious questions of judicial temperament, if not misconduct.'

Perce said Judge Mark Martin showed a 'preferential opinion of Islam over Christianity' when in court.

He is also angry that the judge 'railed on me for six minutes about how bad I was offending Islam'.

* Original article has been corrected as to the judge's official reason for throwing the case out. Also, even though the recording of the proceeding seemed to have the judge say he is a Muslim convert, in fact Judge Martin later said that he is a Lutheran.  http://www.dailymail.co.uk/news/article-2107630/Judge-Mark-Martin-dismisses-case-Muslim-attacked-man-dressed-Zombie-Muhammad.html#ixzz1nhjg9pJf

Martin dismissed a harassment charge against 46-year-old Talaag Elbayomy, a Muslim accused of attacking Ernest Perce V, an atheist dressed as what he said was the "Zombie Muhammad" at a Halloween parade in Mechanicsburg last year.

Perce claimed Elbayomy tried to take his "Muhammad of Islam" sign and choked him.

Martin ruled there wasn't enough evidence to convict Elbayomy. The decision received national attention after Perce posted an audio recording of the hearing on YouTube. The video depicts Martin saying he's a Muslim as reason for him dismissing the charges.

Martin said he's a Lutheran — not a Muslim — and denied making the statement.  http://www.pennlive.com/midstate/index.ssf/2012/02/judge_in_zombie_muhammad_case.html
What other objectives of violent Islamic groups (like, for example, the Taliban) does the judge feel are appropriate?  Presumably this decision will be appealed and overturned upon appeal (the story now is that the judge says there was insufficient evidence to convict).  But whether it is or is not, even having such a decision shows that the USA is getting farther and farther away from biblical morality.
Notice something about Jesus:
1 For to this you were called, because Christ also suffered for us, leaving us an example, that you should follow His steps:

22 "Who committed no sin,  Nor was deceit found in His mouth";

23 who, when He was reviled, did not revile in return; when He suffered, He did not threaten, but committed Himself to Him who judges righteously; (1 Peter 2:21-23).
Notice that this shows Jesus did not respond violently to insults, and that is how His followers were to also react.  Jesus Himself taught:
27 "But I say to you who hear: Love your enemies, do good to those who hate you,  28 bless those who curse you, and pray for those who spitefully use you.  29 To him who strikes you on the one cheek, offer the other also. And from him who takes away your cloak, do not withhold your tunic either.  (Luke 6:27-29)
Hence, physically attacking insulters is not biblically appropriate.
Notice what the Apostle Paul taught:
12 And we labor, working with our own hands. Being reviled, we bless; being persecuted, we endure; 13 being defamed, we entreat. We have been made as the filth of the world, the offscouring of all things until now.  (1 Corinthians 4:12-13)

18 If it is possible, as much as depends on you, live peaceably with all men. 19 Beloved, do not avenge yourselves, but rather give place to wrath; for it is written, "Vengeance is Mine, I will repay," says the Lord. 20 Therefore "If your enemy is hungry, feed him; If he is thirsty, give him a drink; For in so doing you will heap coals of fire on his head." 21 Do not be overcome by evil, but overcome evil with good. (Romans 12:18-21)

"You shall love your neighbor as yourself." Love does no harm to a neighbor; therefore love is the fulfillment of the law (Romans 13:9-10).
Those in Islam, who claim to believe the Bible (though they claim certain parts have been altered), should consider what the Bible really teaches.
As for the USA, it continues to have officials that seem intent to go farther away from biblical morality (as well as its constitution).  This will not bode well for the USA.
Some articles of possibly related interest may include:
What is the Meaning of Life? Who does God say is happy? What is your ultimate destiny? Do you really know? Does God actually have a plan for YOU personally?
The Arab and Islamic World In the Bible, History, and Prophecy The Bible discusses the origins of the Arab world and discusses the Middle East in prophecy. What is ahead for the Middle East and those who follow Islam? What about the Imam Mahdi? What lies ahead for Turkey, Iran, and the other non-Arabic Muslims?
Military Service and the Churches of God: Do Real Christians Participate in Carnal Warfare? Here are current and historical perspectives on a matter which show the beliefs of the true church on military participation. Is war proper for Christians?
Anglo – America in Prophecy & the Lost Tribes of Israel Are the Americans, Canadians, English, Scottish, Welsh, Australians, Anglo-Southern Africans, and New Zealanders descendants of Joseph? Where are the lost ten-tribes of Israel? Who are the lost tribes of Israel? What will happen to the Jews in Israel? Will God punish the U.S.A., Canada, United Kingdom, and other Anglo nations? Why might God allow them to be punished first?
Will the Anglo-Nations be Divided and Have People Taken as Slaves? Will the lands of the United States, United Kingdom, Canada, Australia, and New Zealand be divided? What does Bible prophecy teach? Are there non-biblical prophecies that support this idea? Who will divide those lands? Who will end up with the lands and the people?
Is Tony Blair Apocalyptic? The former Prime Minister of the United Kingdom converted to Catholicism shortly after leaving his office and has been active in European affairs. What role might he play?
Prophecies of Barack Obama? This article has eight reasons why Barack Obama is apocalyptic and eight reasons why Barack Obama is not the Antichrist. It includes many biblical and non-biblical prophecies, from around the world, that seem to discuss Barack Obama. Did Nostradamus predict Barack Obama dealing with the Antichrist? Might Barack Obama set the stage for the kings of the North and South as at least one Shiite prophecy suggests? This is the longest and most complete article at the COGwriter website on Barack Obama prophecies. Read it and decide for yourself if President Obama seems to be fulfilling various prophecies.
Barack Obama, Prophecy, and the Destruction of the United States Some claim that Barack Obama is the prophesied "son of Kenya". Might Bible prophecy be fulfilled since he is to be the USA president?
Several More Reasons American's Question Obama's Religion Is Barack Obama a Christian? He claims to be. Others question that.
Who is the King of the West? Why is there no End-Time King of the West in Bible Prophecy? Is the United States the King of the West?