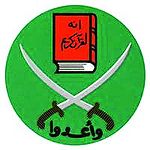 Muslim Brotherhood
الإخوان المسلمون
Al-Ikhwān Al-Muslimūn
The situations in Egypt and the Middle East continue to be of prophetic interest:
Egypt Brotherhood member to run for presidency

Reuters – May 12, 2011

A senior member of Egypt's Muslim Brotherhood said he would run for president as an independent, a move that could draw votes from backers of the Islamist group that has said it will not field a candidate…But

Abdel Moneim Abul Futuh, a reformist leading member of the group, told Reuters: "I will run as an independent candidate in the coming presidential elections. I am not a member of any party now."

http://www.jpost.com/MiddleEast/Article.aspx?id=220206
Now that Osama bin Laden is dead, the Arab World, and not just those who are part of the more extremist side of Islam, are looking for a leader.
And while Abdel Moneim Abul Futuh may or not be the one, the reality is that with all the unrest in the Middle East and North Africa, eventually the people in those countries will decide that the leadership that they end up with needs to be supportive of a pan-Arabic leader.
This, of course, is consistent with what the Muslim Brotherhood has long wanted. Notice what Wikipedia reports that the Muslim Brotherhood wants to accomplish:
In the group's belief, the Quran and Sunnah constitute a perfect way of life and social and political organization that God has set out for man. Islamic governments must be based on this system and eventually unified in a Caliphate. The Muslim Brotherhood's goal, as stated by Brotherhood founder Hassan al-Banna was to reclaim Islam's manifest destiny, an empire, stretching from Spain to Indonesia.
Notice also the following:
The supreme office of caliph, originally elective, became hereditary…Eventually…caliphs became figurehead or "puppet" leaders…Many Arabs…seek to re-create the political and theological unity of the early Islamic caliphate (Stump K. The Arab World in Prophecy. Plain Truth, December 1979, pp. 9-10).

Today this pattern is repeating itself, as a "third wave" of leaders is sweeping across the Middle East. Rejecting both the capitalism of the West and the discredited Marxism of the former Soviet Union, these would-be "third wave" leaders have emphasized a fundamentalist brand of Islam that leaves no room for compromise. Looking back to the glory days of Arab conquest and dominance in the first centuries after Muhammad, they also dream of a pan-Arab union. This will not be a union under a monarch from one of the old Bedouin dynasties, or a secular-educated army officer turned dictator, but rather a new Caliph who will unify the Faithful under the banner of purified Islam. This, they reason, is the only way that Western influence can be expelled from their region, and that Israel can be subjugated…The yearnings across much of the Middle East for a new Saladin—one who will restore Arab glory by conquering the Jews and expelling Western influence—were foreseen by Bible prophecy. In Daniel 11:40, we read of a future "King of the South" who will ultimately "push at" a coming European superpower at the time of the end. This individual, called in Bible prophecy the King of the South because his center of power is south of Jerusalem, will undoubtedly be a charismatic person who will whip up much of the Muslim Middle East into a frenzy against Israel and Europe. (Ogwyn J. Conflict Over the "City of Peace". Tomorrow's World magazine, March-April 2002)
There are several historical and biblical reasons to consider that someone in Egypt would be the leader of such as pan-national Caliphate.
Furthermore, if the Muslim Brotherhood gets a lot of politicians in elected in Egypt (and it has a lot of candidates officially running for various positions, for some examples, see Muslim Brotherhood Trying for 1/2 of Egypt's Parliament), it will likely build a power-base in Egypt that will influence other Islamic states (and that is already starting to happen).
Some articles of possibly related interest may include:
Is There A Future King of the South? Some no longer believe there needs to be. Might Egypt, Islam, Iran, Arabs, or Ethiopia be involved? Might this King be called the Mahdi? What does the Bible say?
The Arab and Islamic World In the Bible, History, and Prophecy The Bible discusses the origins of the Arab world and discusses the Middle East in prophecy. What is ahead for the Middle East and those who follow Islam? What about the Imam Mahdi? What lies ahead for Turkey, Iran, and the other non-Arabic Muslims?
Africa: Its Biblical Past and Prophesied Future What does the Bible teach about Africa and its future? Did the early Church reach Africa? Will God call all the Africans?
Is There an Islamic Antichrist? Is Joel Richardson correct that the final Antichrist will be Islamic and not European? Find out.
Prophecies of Barack Obama? Eight reasons why Barack Obama is apocalyptic and eight reasons why Barack Obama is not the Antichrist. This article includes many biblical and non-biblical prophecies, from around the world, that seem to discuss Barack Obama. Did Nostradamus predict Barack Obama dealing with the Antichrist? Might Barack Obama set the stage for the kings of the North and South as at least one Shiite prophecy suggests? This is the longest and most complete article on this page on Barack Obama prophecies. Read it and decide for yourself if President Obama seems to be fulfilling various prophecies.
Barack Obama, Prophecy, and the Destruction of the United States Some claim that Barack Obama is the prophesied "son of Kenya", based up an early 20th century writing.
Barack Obama in Islamic Prophecy? There is actually a 17th century Shiite prophecy that some believe that Barack Obama will fulfill that will lead to a rising up of Islam.
Europa, the Beast, and Revelation Where did Europe get its name? What might Europe have to do with the Book of Revelation? What about "the Beast"? Is an emerging European power "the daughter of Babylon"? What is ahead for Europe?