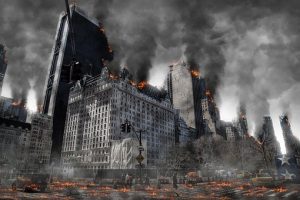 With the nuclear brinkmanship between North Korea and the USA, it is perhaps not surprising that the US Centers for Disease Control is going to provide information on how to prepare for a possible nuclear attack:
Public Health Response to a Nuclear Detonation

January 16, 2018 at 1:00 p.m. (ET)

While a nuclear detonation is unlikely, it would have devastating results and there would be limited time to take critical protection steps. Despite the fear surrounding such an event, planning and preparation can lessen deaths and illness.  For instance, most people don't realize that sheltering in place for at least 24 hours is crucial to saving lives and reducing exposure to radiation. While federal, state, and local agencies will lead the immediate response efforts, public health will play a key role in responding.

Join us for this session of Grand Rounds to learn what public health programs have done on a federal, state, and local level to prepare for a nuclear detonation. Learn how planning and preparation efforts for a nuclear detonation are similar and different from other emergency response planning efforts.

CDC's Public Health Grand Rounds Presents:

"Public Health Response to a Nuclear Detonation"
Tuesday, January 16, 2018
1:00 p.m. – 2:00 p.m. (ET)
Global Communications Center (Building 19)
Alexander D. Langmuir Auditorium
Roybal Campus

Presented By:

Dan Sosin, MD, MPH
Deputy Director and Chief Medical Officer
Office of Public Health Preparedness and Response
Centers for Disease Control and Prevention
"Public Health: Preparing for the Unthinkable"

CAPT Michael Noska, MS
Radiation Safety Officer and Senior Advisor for Health Physics
Chair, Advisory Team for Environment, Food and Health (A Team)
Office of the Commissioner
U.S. Food and Drug Administration
"Using Data and Decision Aids to Drive Response Efforts"

Robert Whitcomb, PhD
Chief, Radiation Studies Branch
Division of Environmental Hazards and Health Effects
National Center for Environmental Health
Centers for Disease Control and Prevention
"Public Health Resources to Meet Critical Components of Preparedness"

Betsy Kagey, PhD
Academic and Special Projects Liaison
Office of Emergency Preparedness and Response
Division of Health Protection
Georgia Department of Health
"Roadmap to Radiation Preparedness"

https://www.cdc.gov/cdcgrandrounds/archives/2018/January2018.htm
The time will come when the USA will be hit by weapons of mass destruction, including likely nuclear ones.

The CDC's briefing on nuclear bombs exploding over the skies of America comes at a time when tensions between North Korea and the United States are at crisis levels. …North Korean leader Kim Jong Un unleashed a nuclear threat in his annual speech: "The entire mainland of the US is within the range of our nuclear weapons and the nuclear button is always on the desk of my office. They should accurately be aware that this is not a threat but a reality."

Earlier …, another war of words erupted between Trump and Kim, as they bickered who had the bigger nuclear button:

Perhaps we should not be shocked any more by the tone of President Trump's tweets but he has kicked off 2018 with bang and his latest shot across North Korea's bow is quite stunning in both its seriousness and its juvenileness.

Apparently responding to what North Korean leader Kim Jong Un said in a New Year's Day speech – that he had a nuclear launch button at his desk, and that the international community would have to accept North Korea's status as a nuclear-armed nation as a "reality."

President Trump responded by tweeting "Will someone from his depleted and food starved regime please inform him that I too have a Nuclear Button, but it is a much bigger & more powerful one than his, and my Button works!"…

While there is no definite confirmation, it increasingly appears that the US federal government is actively preparing for a possible, if not probable, nuclear catastrophe, especially after late last year, Hawaii reinstated a Cold War nuclear early warning system that went live in December. The pieces to the puzzle are coming together and it looks very troubling. Will 2018 be the year that either Trump or Kim pushes their big (and not so big) red button? https://www.zerohedge.com/news/2018-01-05/cdc-will-start-preparing-americans-nuclear-war
While physical preparations can help, ultimately the USA will be destroyed.
The late Herbert W. Armstrong wrote the following in 1979:
What is this abomination? This refers to Daniel 11:31 and Matthew 24:15…That will be a time when the UNITED Europe shall appear–the revival of the medieval "Holy Roman Empire." We shall then be warned, and readied to be taken to a place of refuge and safety from the Great Tribulation. Forty-five days later "the beasts armies" will surround Jerusalem. Thirty days later the Great Tribulation will probably start with a nuclear attack on London and Britain–and possibly the same day or immediately after, on the United States and Canadian cities. The GREAT TRIBULATION, we shall fully then realize, is the time of "Jacob's Trouble," spoken of in Jeremiah 30:7. And Jacob's name was named on Joseph's sons, Ephraim and Manasseh (Gen. 48:16). At that time a third of the people in our nations will die, or shall have died, by famine and disease epidemics; another third will dies of the war–our cities being destroyed (Ezek. 6:6), and the remaining third will be carried to the land of our enemies as slaves (Ezek. 5:12). (Armstrong HW. The Time We Are In, Now. Pastor General's Report-Vol 1, No. 15, November 20, 1979, Page 2).
The Bible states:
33 I will scatter you among the nations and draw out a sword after you; your land shall be desolate and your cities waste (Leviticus 26:33).
Nuclear and other high-tech weapons (as well as emp, electromagnetic pulse, bombs), as well as devastating solar flares, are ways to make land desolate and modern cities waste (for more on emp-weapons and solar flares see Nuclear EMP Attack on UK Called 'Quite Likely').
Events that resemble nuclear or similar devastation are part of the prophesied curses mentioned in the Bible:
23 'The whole land is brimstone, salt, and burning (Deuteronomy 29:23).

19 Through the wrath of the LORD of hosts
The land is burned up,
And the people shall be as fuel for the fire; No man shall spare his brother.
20 And he shall snatch on the right hand
And be hungry;
He shall devour on the left hand
And not be satisfied; Every man shall eat the flesh of his own arm. 21 Manasseh shall devour Ephraim, and Ephraim Manasseh; Together they shall be against Judah (Isaiah 9:19-21).

6 In all your dwelling places the cities shall be laid waste (Ezekiel 6:6).
It remains likely that many of the Protestants that survive the tribulation (whether or not they believed in a pre-tribulation view of Christ's return) will be part of the great multitude of those converted during the tribulation (c.f. Revelation 7:9) through the Continuing Church of God message which will mainly then be brought to the world by The Two Witnesses (a lot of Greco–Roman Catholics and those of non-biblically-claimed faiths will be converted as well; cf. Revelation 7:9-10).
How do we know that the Anglo-nations in general, and the USA in particular, and not just the land of Judea are the target of the great tribulation? Notice the following two scriptures:
39 Thus he shall act against the strongest fortresses with a foreign god, which he shall acknowledge, and advance its glory; and he shall cause them to rule over many, and divide the land for gain. (Daniel 11:39)

7 Alas! For that day is great,
So that none is like it;
And it is the time of Jacob's trouble,
But he shall be saved out of it. (Jeremiah 30:7)
The "he" is the final King of the North, the Beast of Revelation 13. The "strongest fortresses" in the world belong to the USA, and to a lessor degree, its Anglo-allies (see USA in Prophecy: The Strongest Fortresses also and/or watch Do these 7 prophesies point to the end of the USA?). The strongest fortresses, by the way, cannot be referring to China or Russia as they do not get involved until verse 44 of Daniel 11 (for more details, see King of the North); nor the Arab lands which are invaded in verses 40-43. The current nation of Israel, of course, does not have the strongest fortresses. In the Bible, Jacob placed his name on Joseph's descendants, Ephraim and Manasseh (Genesis 48:2-16)–hence this is their time of trouble. The Anglo-American peoples are their descendants.
And dividing the Anglo-lands would bring much more gain, than the land of Judea (see also Will the Anglo-Nations be Divided?). This will be the final time of the Gentiles.
(Much more information on the times of the Gentiles can be found in the article: The Times of the Gentiles. A related sermon is also available and is titled: The Times of the Gentiles.)
While nuclear preparations may help some people, the USA, itself, will not survive.
Some items of possibly related interest may include:
Donald Trump, Warmongering, and the Red Horse of War Various Europeans believe that Donald Trump has been 'warmongering' related to North Korea, Iran, Saudi Arabia, Afghanistan, and elsewhere. They believe that Europe must lead and that the US President must learn from Europe. Jesus spoke of a time called the "beginning of sorrows" that included wars and rumors of war. Are we in the time of sorrows now? Could the red horse of the apocalypse be about to ride? Did the old WCG teach this was a future event in 1985? Does this ride start before or after the start of the "great tribulation"? What does the Bible show? Is Satan involved in this? What about Armageddon? How will all of this end? In this video, Dr. Thiel addresses these issues and more.
Why Terrorism? Is Terrorism Prophesied? What does the Bible teach? Which nations may be affected? Here is a link to a related sermon: Terrorism, Christianity, and Islam.
Four Horsemen of the Apocalypse What do each of the four horseman of the Apocalypse represent? Have they began their ride? Did Jesus discuss the any of this? Might their rides coincide with the "beginning of sorrows? Do they start their ride prior to the Great Tribulation? Did Nostradamus or any other 'private prophets' write predictions that may mislead people so that they may not understand the truth of one or more of the four horseman? There is also a related YouTube video titled The Four Horsemen of the Apocalypse.
Syria, North Korea, and Prophecy On April 7, 2017, 59 US Tomahawk missiles hit a military installation in Syria. While praised by NATO nations, Israel, and Saudi Arabia, this was denounced by Syria, Russia, and North Korea. Is this the start of World War III? Will the Bashar al-Assad regime remain as it is? What about North Korea? What does the Bible show will happen? Dr. Thiel answers these questions and more. This is a video.
Korea in Prophecy, Any Witness? Where did the Korean people come from? Does God have a plan for the Koreans? Is Korea mentioned in any prophecies? Will Koreans be among the first in the Kingdom of God? Here is a machine-translated link to that article in Korean: 한국의 언어로 : 한국 예언, 모든 증인에?. Here is a link to a magazine with that article in Mandarin Chinese: 在预言中的韩国:有任何证人吗?. A prophetic video is also available: Syria, North Korea, and Prophecy.
What is the Gospel? True religion should be based upon the true gospel. What are some of the different gospels and where did they come from? Do you believe the true or a false gospel? Who is preaching the gospel? Here is a version in Korean 복음이란 무엇인가?.
Electrical End of the USA? Could problems with the electrical power grid caused by one or more electo-magnetic pulse bombs, solar flares, and/or other phenomena help weaken the USA to the point of allowing it to be taken over? Does such potential exist? If so, is this consistent with any biblical prophecies? What are some of the severe consequences that the USA would face in the event of an electrical power grid failure? Is there evidence in scripture that the USA will be taken over in the 21st century? Dr. Thiel addresses these issues and more.
Asia in Prophecy What is Ahead for Asia? Who are the "Kings of the East"? What will happen to nearly all the Chinese, Russians, Indians, and others of Asia? China in prophecy, where? Who has the 200,000,000 man army related to Armageddon? A YouTube video of interest may be Is China THE Threat to the United States of America?
The Eurasian Union, the Kings of the East, and Bible Prophecy Is there a Eurasian union that will be formed? Is one being formed right now? Are any leaders working on that in the 21st century? Does the Bible teach that there will be a Eurasian union? If some type of Eurasian union is formed, who might it benefit and who will it destroy? A related video would be Is The Eurasian Union Rising?
Physical Preparation Scriptures for Christians. We all know the Bible prophecies famines. Should we do something? Here is a version in the Spanish language Escrituras sobre Preparación física para los Cristianos.
USA in Prophecy: The Strongest Fortresses Can you point to scriptures, like Daniel 11:39, that point to the USA in the 21st century? This article does. A related sermon is titled: Do these 7 prophesies point to the end of the USA?
Is Russia the King of the North? Some claim it is. But what does the Bible teach? Here is a link to a video, also titled Is Russia the King of the North?
Ezekiel 38: For Russia & Iran in Our Day? Is Ezekiel 38 about to be fulfilled? A related video is available titled Ezekiel 38: For Russia, Ukraine, & Iran Now? Another could be Russia, Iran, Syria, & the Bible (Code).
When Will the Great Tribulation Begin? 2018, 2019, or 2020? Can the Great Tribulation begin today? What happens before the Great Tribulation in the "beginning of sorrows"? What happens in the Great Tribulation and the Day of the Lord? Is this the time of the Gentiles? When is the earliest that the Great Tribulation can begin? What is the Day of the Lord? Who are the 144,000? Here is a version of the article in the Spanish language: ¿Puede comenzar la Gran Tribulación en 2018 o 2019? ¿Es el Tiempo de los Gentiles? You can also see the English language sermon videos: The Great Tribulation from the Mount of Olives and Can the Great Tribulation begin before 2020? A shorter video is: Can the Great Tribulation begin in 2018?
Jerusalem: Past, Present, and Future What does the Bible say about Jerusalem and its future? Is Jerusalem going to be divided and eliminated? Is Jesus returning to the area of Jerusalem? There are also two related YouTube videos you can watch: Jerusalem To be divided and eliminated and God's and Satan's Plan for Jerusalem.
Anglo – America in Prophecy & the Lost Tribes of Israel Are the Americans, Canadians, English, Scottish, Welsh, Australians, Anglo-Saxon (non-Dutch) Southern Africans, and New Zealanders descendants of Joseph? Where are the lost ten-tribes of Israel? Who are the lost tribes of Israel? What will happen to Jerusalem and the Jews in Israel? Will God punish the U.S.A., Canada, United Kingdom, and other Anglo-Saxon nations? Why might God allow them to be punished first? Here is a link to the Spanish version of this article: Anglo-América & las Tribus Perdidas de Israel. Information is also in the YouTube sermons titled Where are the Ten Lost Tribes? Why does it matter? and British are the Covenant People. A short YouTube of prophetic interest may be: Are Chinese threats against Australia for real?
Will the Anglo-Saxon Nations be Divided and Have People Taken as Slaves? Will the lands of the United States, United Kingdom, Canada, Australia, and New Zealand be divided? What about Jerusalem? What does Bible prophecy teach? Are there non-biblical prophecies that support this idea? Who will divide those lands? Who will end up with the lands and the people? Here is a link to a video titled Will the USA and other Anglo-nations be Divided and Their People Made Slaves? Here is a related item in the Spanish language ¿Serán divididas las naciones anglosajonas?
British are the Covenant People What do 'British' and 'Britain' mean in Hebrew? Are the descendants of the Anglo-Saxons people of the covenant? Does the British royal family connect to the throne of David? What does the Bible teach? What does history show us? Is there any DNA evidence related to British-Israelism? When did Christianity make it to the British Isles? Could Jeremiah have made it to the British Isles? What type of Christians made it to the British Isles? Did the last King of England believe in British Israelism?
Donald Trump in Prophecy Prophecy, Donald Trump? Are there prophecies that Donald Trump may fulfill?  Are there any prophecies that he has already helped fulfill?  Could a Donald Trump presidency be apocalyptic?  A related video is titled: Donald: 'Trump of God' or Apocalyptic?
Trump Presidency Magic 8 Ball or Bible Prophecy? BBC reported that one might as well use a 'Magic Eight-Ball' to try to predict what will happen in the remaining time of Donald Trump's presidency. What is a 'Magic Eight-Ball'? Dr. Thiel not only explains that, but also briefly goes over 10 biblically-based warnings he wrote would happen if Donald Trump were elected that have already began to come to pass. He also goes over something he wrote back in 2008 that the Trump presidency is also helping lead to fulfillment. Should you trust Bible prophecy or not? Dr. Thiel says that Bible prophecy can be trusted, despite the view of skeptics and others that either overlook or despise the Bible. This is a video.
Donald Trump and America's Apocalypse This 188 page book is for people truly interested in prophecies related to Donald Trump and the United States, including learning about several that have already been fulfilled and those that will be fulfilled in the future. The physical book can be purchased at Amazon for $12.99 from the following link: Donald Trump and America's Apocalypse.
Donald Trump and America's Apocalypse-Kindle Edition This electronic version of the 188 page print edition is available for only US$3.99. And you do not need an actual Kindle device to read it. Why? Amazon will allow you to download it to almost any device: Please click HERE to download one of Amazon s Free Reader Apps. After you go to for your free Kindle reader and then go to Donald Trump and America's Apocalypse-Kindle Edition.
The Gospel of the Kingdom of God This free online pdf booklet has answers many questions people have about the Gospel of the Kingdom of God and explains why it is the solution to the issues the world is facing. Here are links to three related sermons: The World's False Gospel, The Gospel of the Kingdom: From the New and Old Testaments, and The Kingdom of God is the Solution.