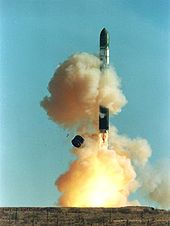 (Photo by ISC Kosmotras)
North Korea is pushing its nuclear agenda despite threats from Donald Trump and pressure from China:
May 1, 2017
U.S. President Donald Trump has said a "major, major conflict" with North Korea is possible over its nuclear and ballistic missile programs, while China said last week the situation on the Korean peninsula could escalate or slip out of control.

In a show of force, the United States has sent the nuclear-powered USS Carl Vinson aircraft carrier group to waters off the Korean peninsula to join drills with South Korea to counter a series of threats of destruction from North Korea, formally known as the Democratic People's Republic of Korea (DPRK). …

Trump stepped up his outreach to allies in Asia over the weekend to discuss the North Korean threat and make sure all are "on the same page" if action is needed, a top White House official said.

"There is nothing right now facing this country and facing the region that is a bigger threat than what is happening in North Korea," White House Chief of Staff Reince Priebus told ABC's "This Week."

The THAAD deployment has drawn protests from China, which says the powerful radar that can penetrate its territory will undermine regional security, and from residents of the area in which it is being deployed, worried they will be a target for North Korean missiles.

The United States is seeking more help from China, the North's major ally, to rein in Pyongyang's nuclear and missile development. Trump, in the Reuters interview, praised Chinese counterpart Xi Jinping as a "good man." http://www.cnbc.com/2017/05/01/defiant-north-korea-hints-at-nuclear-tests-to-boost-force-to-the-maximum.html
So, North Korea is pushing ahead, despite US and other actions. Pope Francis is concerned about a possible war:
May 1, 2017

Pope Francis voiced concerns about rising tensions on the Korean Peninsula and called for a diplomatic solution to the North Korean missile issue for the "future of humanity."

Speaking to reporters on an aircraft returning to the Vatican on Apr. 29 from a visit to Egypt, the Pope was quoted by the media as saying the situation with the North Korean nuclear issue had "become too hot" over the past year. "We are talking about the future of humanity. Today, a widespread war would destroy . . . a good part of humanity, and of culture, everything, everything," he continued. "It would be terrible. I don't think that humanity today would be able to withstand it," he added.

The Pope also stressed the roles of the UN and other countries, especially Norway, in a diplomatic resolution to tensions on the peninsula. "I call on, and will call on, all leaders . . . to work to seek a solution to problems through the path of diplomacy," he said. http://english.hani.co.kr/arti/english_edition/e_northkorea/793037.html
The USA is considering both a diplomatic and military "solution" to North Korea. The President of the Philippines had some comments as well:
May 1, 2017

NORTH Korea wants to "end the world" and is playing a dangerous game which could have catastrophic results.

That's the view of the outspoken Philippines President Rodrigo Duterte who warned the US, Japan, South Korea and even China against antagonising someone "who's excited about firing missiles".

Duterte, who is renowned for his blunt approach, has also urged the US to proceed with caution and patience when it comes to North Korean leader Kim Jong-un.

And he said US President Donald Trump shouldn't play into Kim's hands.

"There seems to be two countries playing with their toys and those toys are not really to entertain," he told a news conference after the ASEAN summit in Manila on Saturday.

"You know that they are playing with somebody who relishes letting go of missiles and everything.

"I would not want to go into his (Mr Kim's) mind because I really do not know what's inside but he's putting mother Earth, the planet to an edge."

Duterte said the tensions and North Korea's nuclear ambitions were extremely worrying and one miscalculation of a missile or warhead could be catastrophic.

"Who am I to say that you should stop? But I would say 'Mr President, please see to it that there is no war because my region will suffer immensely'," Mr Duterte said.

"I will just communicate to (Mr Trump), 'just let him play … do not play into his hands'."

"The guy (Mr Kim) simply wants to end the world, that is why he is very happy. He is always smiling. But he really wants to finish everything and he wants to drag us all down." http://www.news.com.au/world/asia/rodrigo-duterte-says-kim-jongun-wants-to-end-the-world/news-story/710fb4380de74934f8c0e273483f9efd
The Bible says:
16 Destruction and misery are in their ways;
17 And the way of peace they have not known."
18 "There is no fear of God before their eyes." (Romans 3:16-18)
Sadly, that is the case with North Korea. It will take the return of Jesus and the Kingdom of God to truly bring peace.
North Korean politicians have often been playing a dangerous game with their country and their people, and hopefully they will realize that a military conflict is not in their interests.
North Korea is one of relatively few small nations to have nuclear weapons and often brags about them and their potential use.
While North Korea is not prophesied to take over the USA (Europe is per Daniel 11:39, etc.), as I wrote in the past, it certainly is possible that it may decided to actually launch one or more missiles at the USA in the future (or take other "terroristic actions; cf. Leviticus 26:26).
North Korea, sadly, is certainly capable of terrorism. It has threatened the USA and its White House in past years (see North Korea threatens the White House), and has been increasing threats against the USA and the region as the USA has taken steps to try to pressure North Korea.
And while some may find it hard to believe, North Korea is believed to have the ability to knock out a lot of the USA's power supply with its electromagnetic pulse (EMP) weapon capability (see VOA: 'US Defenseless Against North Korean EMP Threat'). (This type of weapon may also be used by the coming prophesied King of the South and/or the King of the North.)
The USA, despite its military strength, is vulnerable to being hurt by EMP weapons as well as nuclear weapons, chemical weapons, dirty bombs, terrorism, and biological weapons. Everyone knows that EMPs can basically work as advertised, this may give the North Koreans more reason to look further into using them if they feel pressed.
If North Korea does take certain steps to sufficiently aggravate the USA into a full military conflict, it needs to realize that it likely will no longer exist as it is. At some point in time, however, I believe that both Koreas will be reunited based upon certain verses in Revelation, yet whether this will be because of a war involving the USA or something else, that is not clear.
The Koreans are Asians and occupy the "land of the sunrise" (Revelation 16:2) and I believe that they are part of the kings of the east that the Book of Revelation discusses having a role in the end time (Revelation 9:16). For years I have written that I expect that they will reunify. The unification of North and South Korea is consistent with biblical prophecy. But North Korea may take unusual actions before then, and it may regret doing so.
Whether this reunification will be because of a war involving the USA, South Korea, or something else (such as waiting until Revelation 9:16; & 16:2), is not clear. But the situation in Korea will change.
As Jesus said, "And what I say to you, I say to all: Watch!" (Mark 13:37)
Some items of possibly related interest may include:
Syria, North Korea, and Prophecy On April 7, 2017, 59 US Tomahawk missiles hit a military installation in Syria. While praised by NATO nations, Israel, and Saudi Arabia, this was denounced by Syria, Russia, and North Korea. Is this the start of World War III? Will the Bashar al-Assad regime remain as it is? What about North Korea? What will happen to North Korea? What does the Bible show will happen? Dr. Thiel answers these questions and more. This is a video.
USA in Prophecy: The Strongest Fortresses Can you point to scriptures, like Daniel 11:39, that point to the USA in the 21st century? This article does. A related sermon is titled: Do these 7 prophesies point to the end of the USA?
Korea in Prophecy, Any Witness? Where did the Korean people come from? Does God have a plan for the Koreans? Is Korea mentioned in any prophecies? Will Koreans be among the first in the Kingdom of God? Here is a machine-translated link to that article in Korean: 한국의 언어로 : 한국 예언, 모든 증인에?; here is a link to that article in Mandarin Chinese: 在预言中的韩国:有任何证人吗?.
What is the Gospel? True religion should be based upon the true gospel. What are some of the different gospels and where did they come from? Do you believe the true or a false gospel? Who is preaching the gospel? Here is a version in Korean 복음이란 무엇인가?.
China, Its Biblical Past and Future, Part 1: Genesis and Chinese Characters Where did the Chinese people come from? This article provides information showing that the Chinese peoples must have known about various accounts in the Book of Genesis up until their dispersion after the Tower of Babel. Here is a link to a version of this article in Spanish: ¿Prueban los caracteres chinos la exactitud de la Biblia?
China, Its Biblical Past and Future, Part 2: The Sabbath and Some of God's Witness in China When did Christianity first come to China? And is there early evidence that they observed the seventh day sabbath?
Japan, Its Biblical Past and Future, Part 1: Any Witness? Where did the Japanese people come from? Have they had any witness?
Japan, Its Biblical Past and Future, Part 2: Prophecy Japan in prophecy. What is prophesied for Japan? Will God save the Japanese?
Asia in Prophecy What is Ahead for Asia? Who are the "Kings of the East"? What will happen to nearly all the Chinese, Russians, Indians, and others of Asia? China in prophecy, where? Who has the 200,000,000 man army related to Armageddon? A YouTube video of interest may be Is China THE Threat to the United States of America?
World War III: Steps in Progress Are there surprising actions going on now that are leading to WWIII? Might a nuclear attack be expected? Does the Bible promise protection to all or only some Christians? How can you be part of those that will be protected? A related video would be Is World War III About to Begin? Can You Escape?
Russia and Ukraine: Their Origins and Prophesied Future Russia in prophecy. Where do the Russians come from? What about those in the Ukraine? What is prophesied for Russia and its allies? What will they do to the Europeans that supported the Beast in the end? There is also a video sermon available: Russia in the Bible and in Prophecy and a video sermonette available: Ukraine in Prophecy?
Is Russia the King of the North? Some claim it is. But what does the Bible teach? Here is a link to a video, also titled Is Russia the King of the North?
Ezekiel 38: For Russia & Iran in Our Day? Is Ezekiel 38 about to be fulfilled? A related video is available titled Ezekiel 38: For Russia, Ukraine, & Iran Now? Another could be Russia, Iran, Syria, & the Bible (Code).
When Will the Great Tribulation Begin? 2017, 2018, or 2019? Can the Great Tribulation begin today? What happens before the Great Tribulation in the "beginning of sorrows"? What happens in the Great Tribulation and the Day of the Lord? Is this the time of the Gentiles? When is the earliest that the Great Tribulation can begin? What is the Day of the Lord? Who are the 144,000? Here is a version of the article in the Spanish language: ¿Puede comenzar la Gran Tribulación en 2016 o 2017? ¿Es el Tiempo de los Gentiles? You can also see the English language sermon videos: The Great Tribulation from the Mount of Olives and Can the Great Tribulation begin before 2020? A shorter video is: Will the Great Tribulation Start in 2017?
Donald Trump in Prophecy Prophecy, Donald Trump? Are there prophecies that Donald Trump may fulfill?  Are there any prophecies that he has already helped fulfill?  Could a Donald Trump presidency be apocalyptic?  A related video is titled: Donald: 'Trump of God' or Apocalyptic?
Donald Trump and America's Apocalypse This 188 page book is for people truly interested in prophecies related to Donald Trump and the United States, including learning about several that have already been fulfilled and those that will be fulfilled in the future. The physical book can be purchased at Amazon for $12.99 from the following link: Donald Trump and America's Apocalypse.
Donald Trump and America's Apocalypse-Kindle Edition This electronic version of the 188 page print edition is available for only US$3.99. And you do not need an actual Kindle device to read it. Why? Amazon will allow you to download it to almost any device: Please click HERE to download one of Amazon s Free Reader Apps. After you go to for your free Kindle reader and then go to Donald Trump and America's Apocalypse-Kindle Edition.