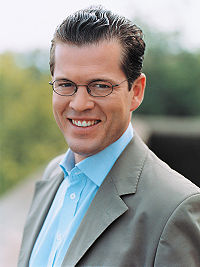 Karl-Theodor zu Guttenberg
Karl Guttenberg keeps making the news.  And so I thought I would share some quotes from a few articles I saw about him:
Germany's Geopolitical Opening

"German Defence Minister Karl-Theodor zu Guttenberg said on Tuesday that Germans as a nation 'must really do something to articulate the relationship between regional security and economic interests without coming to deadlock'. Guttenberg cited China's decision to limit rare earth element exports as an example of how competition for resources with the emerging powers could negatively affect Germany's economic well-being.

In other words, Guttenberg made a direct link between Berlin's economic and security policies. In any other country such a link is obvious and often reiterated by policymakers, but when German President Horst Koehler expressed similar sentiments in May, he was forced to resign a week later due to criticism that he was overstepping his constitutional bounds (the presidency in Germany is a ceremonial position and one of Europe's constitutionally weakest head-of-state institutions).  http://www.euractiv.com/en/foreign-affairs/germanys-geopolitical-opening-analysis-499686

Minister Guttenberg Says Economy Is Part of National Security

Spiegel – Nov 10, 2010…

Speaking at a security conference in Berlin on Tuesday, Guttenberg said that Germany should be prepared to use its military to secure trade routes, for example against piracy. "We in our country must really do something to articulate the relationship between regional security and economic interests without coming to deadlock," Guttenberg said.

http://www.spiegel.de/international/germany/0,1518,728293,00.html




The two lives of Angela Merkel

Reuters – Nov 12, 2010   by Andreas Rinke and Stephen Brown

German conservative party headquarters is rocking. To the heavy thud of AC/DC, hundreds of young party members throng the foyer of Konrad Adenauer House in Berlin waving posters and talking over the music.

Music over, they listen with rapt attention and regular applause to Germany's most popular politician — approval rating a record 74 percent — speak about passion and leadership. With Germany taking on a more assured and outspoken role in Europe, its economy moving into what the economy minister has called an "XL recovery", and no national elections to worry about for three years, there's every reason for Angela Merkel's government to bask in the glow of success.

Unfortunately for the German chancellor, neither she nor her Christian Democratic Party (CDU) is the object of the chants and adulation at this rally of young conservatives on a Saturday afternoon in October. Instead, the calls — "KT! KT! KT!" — refer to Merkel's debonair 38-year-old defense minister from the CDU's smaller, more conservative Bavarian sister party, the Christian Social Union (CSU). "KT" is Karl-Theodor zu Guttenberg — or to give him his full dues, Karl Theodor Maria Nikolaus Johann Jacob Philipp Franz Joseph Sylvester, Baron von und zu Guttenberg. Pictures of Guttenberg and his wife Stephanie, the great-great-granddaughter of the "Iron Chancellor" Otto von Bismarck — architect of German unification in the 19th century — frequently decorate the covers of newspapers and magazines.

It may surprise many, especially those outside Germany, that the young noble is even considered a serious rival to the woman widely known as the new Iron Chancellor. http://www.reuters.com/article/idUSTRE6AB24W20101112

OPINION

The two lives of Angela Merkel

…
In an ARD-Deutschland Trend poll in November, Merkel now ranks seventh with 41 percent against Guttenberg's 75 percent. "The Fabulous Guttenbergs", read the cover of Der Spiegel magazine recently. Stern magazine called Guttenberg Germany's "Chancellor in Reserve". http://www.saudigazette.com.sa/index.cfm?method=home.regcon&contentID=2010111387331
A now highly popular politician, Karl-Theodor zu Guttenberg may yet have a fall or two in popularity.  But he also seems to be a rising star in Germany.  If his stardom rises throughout Europe, he certainly has the potential to be a major influential leader there.
As regular readers of this page are aware, I have had my eye on Karl Guttenberg since late 2009.  And he may be one to watch to rise up as the final "King of the North".
If Karl-Theodor zu Guttenberg is part of a major Middle East peace deal, if he establishes armies (or a great army), and if he establishes something like a new religious order within his version of the "Catholic" faith, he likely will get more people's attention–and even more of mine.
On the other hand, Karl-Theodor zu Guttenberg could simply be a rising politician, like many others.  And all his intentions could be fine.  We will see.  But Karl-Theodor zu Guttenberg does seem, to me at least, to be taking the types of steps that one who could possibly be the final King of the North would actually take.  And his ability to gain popularity seems consistent with scripture.
Some items for further related study may include:
Might German Baron Karl-Theodor zu Guttenberg become the King of the North? Could He Become "the Beast"? What makes the German Defense Minister a candidate?
Who is the King of the North? Is there one? Do biblical and Roman Catholic prophecies point to the same leader? Should he be followed? Who will be the King of the North discussed in Daniel 11? Is a nuclear attack prophesied to happen to the English-speaking peoples of the United States, Great Britain, Canada, Australia, and New Zealand? When do the 1335 days, 1290 days, and 1260 days (the time, times, and half a time) of Daniel 12 begin? When does the Bible show that economic collapse will affect the United States?
Europa, the Beast, and Revelation Where did Europe get its name? What might Europe have to do with the Book of Revelation? What about "the Beast"? Is an emerging European power "the daughter of Babylon"? What is ahead for Europe?