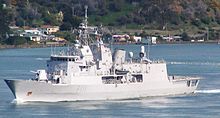 New Zealand Naval Frigate (Benchill)
New Zealand and the USA are expanding military cooperation:
U.S., New Zealand Sign Defense Cooperation Accord
This is not a surprise.  The USA has been making a lot of agreements in the South Pacific and elsewhere near Asia.
Furthermore, because of biblical prophecy tying the two sons of Joseph (son of Israel), Manasseh (mainly represented now by the USA) and Ephraim (and mainly represented now by the UK, Canada, Australia, and New Zealand), together (cf. Genesis 48), all the remaining Anglo-descended nations will apparently have relatively close military ties in the end–and this agreement is another step in showing that.
Because the USA, Australia, New Zealand, and others are highly concerned about the progress being made in China (both militarily and economically),  many have decided that they need more military cooperation to deal with this perceived threat.
And while China does, carnally at least, have major military potential (and may end up with at least parts of Australia and/or possibly New Zealand), this expanded cooperation would certainly seem to make sense for New Zealand.  Also as the Chinese government has already claimed that Australia militarily needs to decide between it and the USA (and Australia has thus far picked the USA),  Chinese prophecy hints that China will ultimately takeover some land to the south (like Australia and/or New Zealand),  Japan still wants more land, and Bible prophecy teaches that the lands of the Anglo-military power will be taken over and divided (cf. Daniel 11:39), those in New Zealand (as well Australia, the USA, UK, and Canada) have real reasons to be concerned.
Why else?
Because, ultimately, the USA will not be able to save itself from the rise of the European Beast power (which it tends to be encouraging as it erroneously thinks that China will be a much more serious threat than Europe).  And thus, the time will come when it will not be able to protect New Zealand and/or Australia from the powers that will take them over in the future.
Some articles of related interest may include:
Will the Anglo-Nations be Divided? Will the lands of the United States, United Kingdom, Canada, Australia, and New Zealand be divided? Might military alliances be part of the reason that non-US Anglo-nations get divided? What does Bible prophecy teach? Are there non-biblical prophecies that support this idea? Who will divide those lands? Who will end up with the lands and the people?
Anglo – America in Prophecy & the Lost Tribes of Israel Are the Americans, Canadians, British, Scottish, Welsh, Australians, Anglo-Southern Africans, and New Zealanders descendants of Joseph? Where are the lost ten-tribes of Israel? Who are the lost tribes of Israel? Will God punish the U.S.A., Canada, United Kingdom, and other Anglo nations? Why might God allow them to be punished first?
Canada in Prophecy: What Does Bible Prophecy, Catholic Prophecy, and other Predictions Suggest About the Future of Canada? There are prophecies that suggest involvement with Canada. And many are not positive about its future.
Who is the King of the West? Why is there no End-Time King of the West in Bible Prophecy? Is the United States the King of the West?
China, Its Biblical Past and Future, Part 1: Genesis and Chinese Characters Where did the Chinese people come from? This article provides information showing that the Chinese peoples must have known about various accounts in the Book of Genesis up until their dispersion after the Tower of Babel.
China, Its Biblical Past and Future, Part 2: The Sabbath and Some of God's Witness in China When did Christianity first come to China? And is there early evidence that they observed the seventh day sabbath?
Asia in Prophecy What is Ahead for Asia? Who are the "Kings of the East"? What will happen to nearly all the Chinese, Russians, Indians, and others of Asia? China in prophecy, where? Who has the 200,000,000 man army related to Armageddon?
Japan, Its Biblical Past and Future, Part 1: Any Witness? Where did the Japanese people come from? Have they had any witness?
Japan, Its Biblical Past and Future, Part 2: Prophecy Japan in prophecy. What is prophesied for Japan? Will God save the Japanese?
End of Mayan Calendar 2012–Might 2012 Mean Something? Are there Mayan calendar predictions for change in 2012? Changes were centuries ago predicted by the Hopi Native Americans. Do Mayan/Hindu/Hopi/Buddhist/New Age/Nostradamus prophecies have any value here? Why might Satan have inspired this date? Does the Dresden codex show destruction of the earth by flood? Can the great tribulation start before 2012? How might the USA's Barack Obama and Australia's Julia Gillard be involved in 2012? Have predictions at COGwriter related to Barack Obama and Julia Gillard began to come to pass?