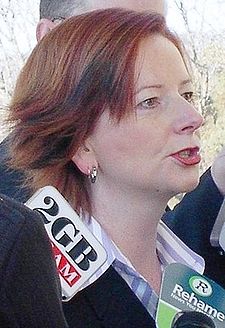 Julia Gillard
The Prime Minister of Australia is at the "Earth Summit" in Rio de Janeiro, Brazil:
Gillard in Rio for environment summit

June 21, 2012 – 12:09AM

AAP

Prime Minister Julia Gillard has arrived in Brazil to a military honour guard, as she prepares to attend a three-day global environmental summit…

Greens senator Larissa Waters, who is in Rio, said the diplomats who drafted the document had failed and national leaders needed to step in.

"The entire draft document is an exercise in rhetoric, lacks any meaningful new commitments and is a mere re-statement of 20 year old goals which have not yet been met," Senator Waters said.  http://news.smh.com.au/breaking-news-world/gillard-in-rio-for-environment-summit-20120621-20owd.html

Greens urge Gillard to intervene in Rio

Paul Osborne, AAP Senior Political Writer

June 20, 2012 – 10:39PM

AAP

The Australian Greens are urging Prime Minister Julia Gillard to strengthen the "toothless" draft text of a global environmental agreement to be approved by leaders at a United Nations summit.

Ms Gillard is in Rio de Janeiro for the three-day Rio+20 conference – a global environmental meeting 20 years after the original Earth Summit which sparked many governments into action on measures stopping deforestation, climate change and protecting oceans.  http://news.smh.com.au/breaking-news-world/greens-urge-gillard-to-intervene-in-rio-20120620-20mlg.html
Currently, the view that the current summit will be particularly effective has many doubters and critics as the following also suggest:
The Rio Earth Summit: is it destined to fail the world?

Rio+20

Environmental summits lose value as past pledges go unmet

PAUL WALDIE

As more than 100 world leaders descend on Rio de Janeiro for a global conference on the environment this week that's supposed to build on the 1992 Earth Summit, some environmentalists say these large international gatherings have lost their value.

"We don't need the heads of state here, frankly," Pat Mooney, executive director of ETC Group, an Ottawa-based environmental organization, said from Rio. "Quite honestly the grandstanding around some of these treaties, it was nonsense and we knew it was nonsense at the time."  http://www.theglobeandmail.com/news/world/environmental-summits-losing-value-as-past-pledges-go-unmet/article4353692/
While Julia Gillard may truly wish to help fix the environment, Bible prophecy indicates that not enough will be done in this age, so that God will have to intervene:
18 The nations were angry, and Your wrath has come, And the time of the dead, that they should be judged, And that You should reward Your servants the prophets and the saints, And those who fear Your name, small and great, And should destroy those who destroy the earth.  (Revelation 11:18)
God would not have to "destroy those who destroy the earth" unless at least parts of the earth will continue to be destroyed.  From the beginning, the Bible also teaches that humans are to be good stewards of the earth–for both plants and animals:
15 Then the Lord God took the man and put him in the garden of Eden to tend and keep it.  (Genesis 2:15)

10 A righteous man regards the life of his animal, But the tender mercies of the wicked are cruel. (Proverbs 12:10)
Yet, historically, most international environmental summits have tended more towards political agendas, with the actual environment seemingly being a lessor priority.
But when Jesus returns, that will be resolved and even environmental wastelands, like many of the deserts will improve:
1 The wilderness and the wasteland shall be glad for them, And the desert shall rejoice and blossom as the rose;  2 It shall blossom abundantly and rejoice, Even with joy and singing. The glory of Lebanon shall be given to it, The excellence of Carmel and Sharon. They shall see the glory of the Lord, The excellency of our God.  (Isaiah 35:1-2)
Jesus taught that we are to pray for that time of the Kingdom of God to get here:
9 In this manner, therefore, pray:

Our Father in heaven, Hallowed be Your name.  10 Your kingdom come. Your will be done On earth as it is in heaven.  (Matthew 6:9-10)
Some articles of related interest may include:
The Gospel of the Kingdom of God was the Emphasis of Jesus and the Early Church Did you know that? Do you even know what the gospel of the kingdom is all about? True religion should be based upon the true gospel.
Will the Anglo-Nations be Divided? Will the lands of the United States, United Kingdom, Canada, Australia, and New Zealand be divided? Might military alliances be part of the reason that non-US Anglo-nations get divided? What does Bible prophecy teach? Are there non-biblical prophecies that support this idea? Who will divide those lands? Who will end up with the lands and the people?
Anglo – America in Prophecy & the Lost Tribes of Israel Are the Americans, Canadians, British, Scottish, Welsh, Australians, Anglo-Southern Africans, and New Zealanders descendants of Joseph? Where are the lost ten-tribes of Israel? Who are the lost tribes of Israel? Will God punish the U.S.A., Canada, United Kingdom, and other Anglo nations? Why might God allow them to be punished first?
Mexico, Central America, South America, Brazil, and the Caribbean in Prophecy [Español: México, America Central, Suramérica, y el Brasil en profecíal] [Português: México, América Central, Ámérica do Sul, e Brasil na profecia] What will happen to those of Latin America? Will they have prosperity? Will they cooperate with Europe? Will they suffer in the future? What role might the various Caribbean nations/territories play?
Did The Early Church Teach Millenarianism? Was the millennium (sometimes called chiliasm) taught by early Christians? Who condemned it? Will Jesus literally reign for 1000 years on the earth? Is this time near?
Does God Have a 6,000 Year Plan? What Year Does the 6,000 Years End? Was a 6000 year time allowed for humans to rule followed by a literal thousand year reign of Christ on Earth taught by the early Christians? Does God have 7,000 year plan? What year may the six thousand years of human rule end? When will Jesus return? 2019 or 202x?
End of Mayan Calendar 2012–Might 2012 Mean Something? Are there Mayan calendar predictions for change in 2012? Changes were centuries ago predicted by the Hopi Native Americans. Do Mayan/Hindu/Hopi/Buddhist/New Age/Nostradamus prophecies have any value here? Why might Satan have inspired this date? Does the Dresden codex show destruction of the earth by flood? Can the great tribulation start before 2012? How might Barack Obama and Julia Gillard be involved in 2012? Have predictions at COGwriter related to Barack Obama and Julia Gillard began to come to pass?