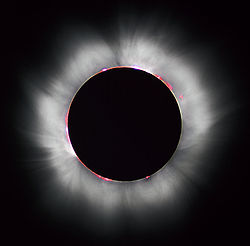 A solar eclipse, claimed to be the longest for the 21st century, will be seen by many in Asia.  Some are concerned that it means doom:
Asia will witness 21st century's longest eclipse

Associated Press – July 20, 2009

by MICHAEL CASEY

BANGKOK — Millions of people across Asia will witness the longest total solar eclipse that will happen this century, as vast swaths of India and China, the entire city of Shanghai and southern Japanese islands are plunged into darkness Wednesday for about five minutes…

The eclipse will appear first at dawn in India's Gulf of Khambhat just north of the metropolis of Mumbai.


It will move east across India, Nepal, Myanmar, Bangladesh, Bhutan and China before hitting the Pacific. The eclipse will cross some southern Japanese islands and be last visible from land at Nikumaroro Island in the South Pacific nation of Kiribati.

Elsewhere, a partial eclipse will be visible in much of Asia.


For astronomers, it will be a chance for a prolonged view of the sun's corona, a white ring 600,000 miles (1 million kilometers) from the sun's surface. The previous total eclipse, in August 2008, was two minutes and 27 seconds. This one will last 6 minutes and 39 seconds at its maximum point…

Solar eclipse pits superstition against science

AFP – July 20, 2009

MUMBAI — Indian astrologers are predicting violence and turmoil across the world as a result of this week's total solar eclipse, which the superstitious and religious view as a sign of potential doom.

But astronomers, scientists and secularists are trying to play down claims of evil portent in connection with Wednesday's natural spectacle, when the moon will come between the Earth and the sun, completely obscuring the sun.

In Hindu mythology, the two demons Rahu and Ketu are said to "swallow" the sun during eclipses, snuffing out its life-giving light and causing food to become inedible and water undrinkable.

Pregnant women are advised to stay indoors to prevent their babies developing birth defects, while prayers, fasting and ritual bathing, particularly in holy rivers, are encouraged.

Shivani Sachdev Gour, a gynaecologist at the Fortis Hospital in New Delhi, said a number of expectant mothers scheduled for caesarian deliveries on July 22 had asked to change the date.

"This is a belief deeply rooted in Indian society. Couples are willing to do anything to ensure that the baby is not born on that day," Gour said.

Astrologers have predicted a rise in communal and regional violence in the days following the eclipse, particularly in India, China and other Southeast Asian nations where it can be seen on Wednesday morning.

Mumbai astrologer Raj Kumar Sharma predicted "some sort of attack by (Kashmiri separatists) Jaish-e-Mohammad or Al-Qaeda on Indian soil" and a devastating natural disaster in Southeast Asia.

An Indian political leader could be killed, he said, and tension between the West and Iran is likely to increase, escalating into possible US military action after September 9, when fiery Saturn moves from Leo into Virgo.

"The last 200 years, whenever Saturn has gone into Virgo there has been either a world war or a mini world war," he told AFP.

It is not just in India that some are uneasy about what will transpire because of the eclipse.

In ancient China they were often associated with disasters, the death of an emperor or other dark events, and similar superstitions persist.

"The probability for unrest or war to take place in years when a solar eclipse happens is 95 percent," announced an article that attracted a lot of hits on the popular Chinese web portal Baidu.com. http://www.google.com/hostednews/afp/article/ALeqM5iJ9tZh4R3FEusQ1C_UQ7jxAyAU4g
While some may react to the solar eclipse, this one simply means almost nothing (unless some people riot or otherwise change their behavior and blame it on the eclipse).
The Bible does tell of a time, just before the return of Jesus, when something that sounds like a much longer solar eclipse is expected.  And it will probably also be in the 21st century:
29 "Immediately after the tribulation of those days the sun will be darkened, and the moon will not give its light; the stars will fall from heaven, and the powers of the heavens will be shaken. 30 Then the sign of the Son of Man will appear in heaven, and then all the tribes of the earth will mourn, and they will see the Son of Man coming on the clouds of heaven with power and great glory. 31 And He will send His angels with a great sound of a trumpet, and they will gather together His elect from the four winds, from one end of heaven to the other (Matthew 24:29-31).
The biblical "eclipse" will be much more frightening for many.  The way the sun will be darkened is not specified.  But it apparently will not be a solar eclipse in the conventional sense.  But it will come to pass.   Jesus will return.  And His Kingdom will be established.
Peace will later reign on the earth.  Including throughout all Asia.
Some articles of possibly related interest may include:
India, Its Biblical Past and Future: Any Witness? The Bible discusses the origins of those of Indian heritage and discusses some of the witness to them (including those in Bangladesh, Pakistan, and Sri Lanka).
China, Its Biblical Past and Future, Part 1: Genesis and Chinese Characters This article provides information showing that the Chinese peoples must have known about various accounts in the Book of Genesis up until their dispersion after the Tower of Babel.
China, Its Biblical Past and Future, Part 2: The Sabbath and Some of God's Witness in China When did Christianity first come to China? And is there early evidence that they observed the seventh day sabbath?
Asia in Prophecy What is Ahead for Asia? Who are the "Kings of the East"? What will happen to nearly all the Chinese, Russians, Indians, and others of Asia? China in prophecy, where? Who has the 200,000,000 man army related to Armageddon?
Japan, Its Biblical Past and Future, Part 1: Any Witness? This is a brief article about Japan. Have they had any witness?
Japan, Its Biblical Past and Future, Part 2: Prophecy Japan in prophecy. What is prophesied for Japan? Will God save the Japanese?
Russia: Its Origins and Prophesied Future Where do the Russians come from? What is prophesied for Russia? What will it do to the Europeans that supported the Beast in the end?
Islands and Bible Prophecy What's ahead for islands? What does the Bible prophesy about them?
The Gospel of the Kingdom of God was the Emphasis of Jesus and the Early Church Did you know that? Do you even know what the gospel of the kingdom is all about? True religion should be based upon the true gospel.
Did The Early Church Teach Millenarianism? Was the millennium (sometimes called chiliasm) taught by early Christians? Who condemned it. Will Jesus literally reign for 1000 years on the earth? Is this time near?
Does God Have a 6,000 Year Plan? What Year Does the 6,000 Years End? Was a 6000 year time allowed for humans to rule followed by a literal thousand year reign of Christ on Earth taught by the early Christians? When does the six thousand years of human rule end?
Can the Great Tribulation Begin in 2009, 2010, or 2011? Can the Great Tribulation begin today? What happens before in the "beginning of sorrows"? What happens in the Great Tribulation and the Day of the Lord? When is the earliest that the Great Tribulation can begin? What is the Day of the Lord?