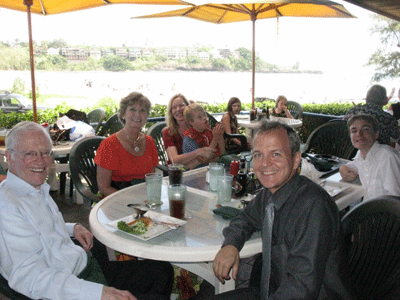 Dr. Meredith, Mrs. Meredith, Mrs. Thiel, David Thiel, Brian Thiel, and Bob Thiel (10/09)
While we do not claim to know all the precise details of every twist and turn, we in the Living Church of God do have an overall framework of end time matters as foretold in the Bible.
Last week, LCG reported:
A New Day Dawns for Europe! Following on the heels of Ireland's approval of the Lisbon Treaty after a second vote in October, this week the last nation "holding out" on signing the document finally gave in. Within hours of the Czech Republic's national court ruling that the Treaty was constitutional, Czech President Vaclav Klaus signed the treaty. "Across the EU, leaders breathed a collective sigh of relief, from the European Commission president, Jose Manuel Barroso, who said he was 'exceptionally satisfied', to the German foreign minister, Guido Westerwelle, who described it as a 'good day for Europe.'" What began as the European Constitution and switched only its name mid-stream, will become law in Europe on December 1, with approval by 100% of 27 nations involved. Europe will now have its own president, foreign minister and diplomatic corps, and the meaning of national sovereignty will forever change (Times online, November 3, 2009). While Europe was in ruins following World War II, a lone voice rang strong from a small location on the west coast of the United States, warning not only that Germany would rise from the ashes, but that Europe would also unify. As Herbert Armstrong predicted the future based on Bible prophecy, many scoffed, noting the shattered condition of Europe. Yet, today, as he predicted decades ago and God prophesied millennia ago (see Daniel 2 and Revelation 17), Europe is now unified under a common set of laws and will soon have a president. The next development to watch for will be the emergence of ten leading kingdoms within Europe.
Dr. R.C. Meredith was ordained an evangelist by Herbert W. Armstrong in 1952.  Dr. Meredith, now the presiding evangelist of the Living Church of God worked for Herbert W. Armstrong from the early 1950s until Herbert W. Armstrong died in 1986.  Dr. Meredith has been teaching that a European supranational state would come for nearly 60 years himself.
And as regular readers of this page are aware, I have believed and taught this for over three decades myself.  Prophetic events are lining up.
A group of ten kingdoms (a combination of territories within a European supranational state) is foretold in the Bible (Revelation 17:12).  What is prophesied will come to pass.
And while prophecy is certainly NOT the only matter of Christian importance, it should be a matter of importance for Christians.  The Bible teaches:
Worship God! For the testimony of Jesus is the spirit of prophecy
(Rev 19:10).
Three articles of possibly related interest may include:
Europa, the Beast, and Revelation Where did Europe get its name? What might Europe have to do with the Book of Revelation? What about "the Beast"? What is ahead for Europe?  Is it destined to rule?
Who is the King of the North? Is there one? Do biblical and Roman Catholic prophecies point to the same leader? Should he be followed? Who will be the King of the North discussed in Daniel 11? Is a nuclear attack prophesied to happen to the English-speaking peoples of the United States, Great Britain, Canada, Australia, and New Zealand? When do the 1335 days, 1290 days, and 1260 days (the time, times, and half a time) of Daniel 12 begin? When does the Bible show that economic collapse will affect the United States?
2012 and the Rise of the Secret Sect This is a link related to a book by Bob Thiel (COGwriter). This also has YouTube videos related to 2012.  The book contains documented prophecies as well as an end time sequence of events that Christians should study and understand.