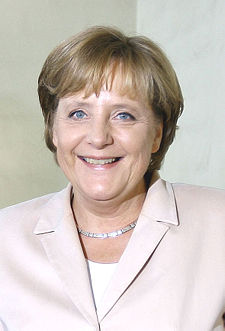 Angela Merkel
Germany's Chancellor Angela Merkel took part in a celebration today related to the fall of the Berlin Wall:
Leaders in Berlin Retrace the Walk West

By NICHOLAS KULISH and ALAN COWELL

Published: November 9, 2009

…Mrs. Merkel has told reporters recently that she was one of those to walk into the west that night across the gray iron bridge at Bornholmer Strasse. Many of the hundreds crowding onto the bridge with her on Monday were former East German civil rights activists…

"The wall is gone. Two Berlins are one. Two Germanys are one. Two Europes are one," Prime Minister Gordon Brown of Britain said in remarks prepared for delivery of Monday evening and released earlier to reporters.
I remember listening to a sermon by the late Dr. Hoeh at the Feast of Tabernacles in Tuscon, Arizona in October 1979 where he explained that Herbert W. Armstrong believed that the two legs of the Beast in Daniel 2, with its two feet (vs. 33), represented both West and East Europe (including specifically Germany).  He taught that this meant that the nations in Eastern Europe would ultimately not be under the power of the Soviet Union, but would become independent of it, and ultimately be part of a supranational European state.
A supranational state was approved by the last of the European Union members (the Czech Republic) on November 2, 2009.  The state forms officially on December 1, 2009.  Thus, the position of Herman Hoeh on this point has been shown to have been correct.
Right after the Berlin wall fell in November 1989, I was asked to give the closing prayer at church services in Fresno, California.  In that prayer, I mentioned that we were witnessing prophecy being fulfilled right before our eyes.  One of the reasons that I stated that was because many in that congregation seemed to be losing their zeal and belief about Bible prophecy.  Many who once were believers, no longer love the law of God and became scorners (Psalm 1).
Sadly, this has afflicted many throughout history.  The prophecies of the Bible are coming to pass right before our eyes today. Jesus taught:
34 But take heed to yourselves, lest your hearts be weighed down with carousing, drunkenness, and cares of this life, and that Day come on you unexpectedly. 35 For it will come as a snare on all those who dwell on the face of the whole earth. 36 Watch therefore, and pray always that you may be counted worthy to escape all these things that will come to pass, and to stand before the Son of Man. (Luke 21:34-36)
Will you be a zealous believer in them or will you let the cares of this world overtake you as Jesus warned against?  Do not be swayed by people like Gordon Brown who do not realize what this "One Europe" will ultimately mean for the Anglo-descended nations.
Some articles of possibly related interest may include:
Europa, the Beast, and Revelation Where did Europe get its name? What might Europe have to do with the Book of Revelation? What about "the Beast"? What is ahead for Europe?
Who is the King of the North? Is there one? Do biblical and Roman Catholic prophecies point to the same leader? Should he be followed? Who will be the King of the North discussed in Daniel 11? Is a nuclear attack prophesied to happen to the English-speaking peoples of the United States, Great Britain, Canada, Australia, and New Zealand? When do the 1335 days, 1290 days, and 1260 days (the time, times, and half a time) of Daniel 12 begin? When does the Bible show that economic collapse will affect the United States?
Anglo – America in Prophecy & the Lost Tribes of Israel Are the Americans, Canadians, British, Scottish, Welsh, Australians, Anglo-Southern Africans, and New Zealanders descendants of Joseph? Where are the lost ten-tribes of Israel? Who are the lost tribes of Israel? Will God punish the U.S.A., Canada, United Kingdom, and other Anglo nations? Why might God allow them to be punished first?