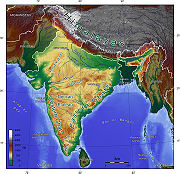 While India has long had a reputation for being something other than an economic power it has other expectations:
India set to become one of the world's largest economies by 2020: Ruby Dhalla
4 Jul 2010
Dr Manmohan Singh's ideas made an impact on leaders of the world's top 20 economies at the recently concluded G20 summit in Toronto…

Ruby Dhalla…The 35-year-old Canadian Liberal Party MP has represented the riding of Brampton-Springdale, near Toronto, since 2004 and her meeting with the Indian Prime Minister during the G20 summit grabbed a great deal of attention…

"With a population of over 1 billion, a middle class that is already larger than the entire US population and 65% of the population less than 35 years old, India is poised to become one of the world's largest economies by 2020. By virtue of statistics combined with progress, innovation, creativity and productivity, India has already become centre stage on the global front. India's arrival at the G20 allowed an opportunity for India to continue as a shining light on the radar of almost every trading nation on the planet especially of the G20 countries which account for almost 80% of the world's economy," Dhalla told SundayET from Toronto. 

http://economictimes.indiatimes.com/Features/Sunday-ET/People/India-set-to-become-one-of-the-worlds-largest-economies-by-2020-Ruby-Dhalla/articleshow/6125962.cms?curpg=1
However, if God's six thousand years for humankind to rule itself is up before 2020 (and it may be), human plans for 2020 will be pretty much irrelevant.
But India will likely have more international economic impact.
Also notice the following:
India hails $3 billion showpiece airport terminal

By Sara Sidner, CNN
July 3, 2010
New Delhi, India (CNN) — A massive new terminal at New Delhi's Indira Gandhi International Airport is being touted as a testament to India's economic prowess.

The sprawling five million square foot building was officially opened Saturday by Prime Minister Manmohan Singh and Congress Party President Sonia Gandhi.

Complete with imported granite floors, huge white columns fitted with expensive speakers, 63 elevators, 95 immigration counters and a state of the art security and baggage system, Terminal 3 is also home to India's first transit hotel.

Officials say the new nine-level hub will be able to handle 34 million passengers per year, making it one of the biggest in the world.

"This is a confirmation that India has truly arrived on the world stage," India's Civil Aviation Minister Praful Patel told the crowd of invited guests.

Terminal 3 is a far cry from the cramped, low tech international terminal that existed before.  http://edition.cnn.com/2010/WORLD/asiapcf/07/03/india.delhi.airport/?hpt=T2&fbid=aw-FzJcuNFH
India is trying to be a first rate economic power.  And while it will not surpass Europe in this age (as well as have various trade and other disappointments), it will surpass the USA, UK, Canada, Australia, and New Zealand before Jesus returns.
Some items of possibly related interest may include:
India, Its Biblical Past and Future: Any Witness? The Bible discusses the origins of those of Indian heritage and discusses some of the witness to them (including those in Bangladesh, Pakistan, and Sri Lanka).
Asia in Prophecy What is Ahead for Asia? Who are the "Kings of the East"? What will happen to nearly all the Chinese, Russians, Indians, and others of Asia? Who has the 200,000,000 man army related to Armageddon?
Europa, the Beast, and Revelation Where did Europe get its name? What might Europe have to do with the Book of Revelation? What about "the Beast"? Is an emerging European power "the daughter of Babylon"? What is ahead for Europe?
Did The Early Church Teach Millenarianism? Was the millennium (sometimes called chiliasm) taught by early Christians? Who condemned it. Will Jesus literally reign for 1000 years on the earth? Is this time near?
Does God Have a 6,000 Year Plan? What Year Does the 6,000 Years End? Was a 6000 year time allowed for humans to rule followed by a literal thousand year reign of Christ on Earth taught by the early Christians? When may the six thousand years of human rule end?  When will Jesus return?