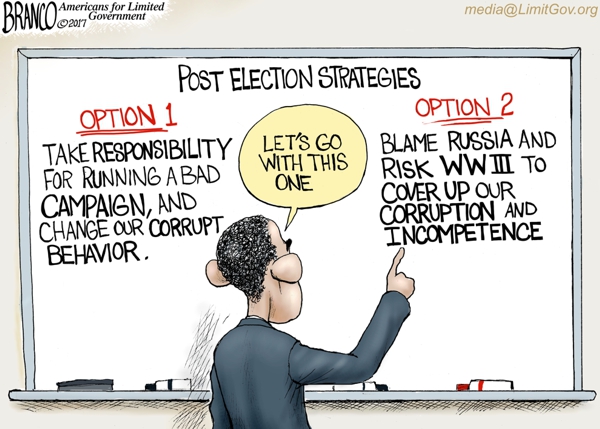 Source: http://comicallyincorrect.com
Barack Obama gave what was called his 'farewell address' in which he claimed that the USA is stronger because of what he accomplished:
U.S. President Barack Obama said Tuesday the country is a "better, stronger place" than when he took office in 2008, pointing to the reversal of a recession, passage of his landmark healthcare program and the legalization of gay marriage as achievements the American people have won through his message of change. …
Obama is the first black man to serve as U.S. president, and he noted that after his election many spoke of what they called a "post-racial" America. But he said race is still a "potent and often divisive force," and stressed the need to uphold anti-discrimination laws. …
Obama listed economic achievements such as cutting the number of people who lack health insurance, a growing economy and a lower unemployment rate. http://www.voanews.com/a/in-farewell-obama-appeals-for-unity-and-participation-in-democracy/3671590.html
With less than two weeks left as president, Barack Obama returns to Chicago Tuesday to give his farewell speech in the city where his political career began.
"For Michelle and me, Chicago is where it all started," Obama wrote in a Facebook post just hours before he was set to arrive in the city. "It's the city that showed us the power and fundamental goodness of the American people."

The open letter to America precedes a bitter-sweet moment for the country, as Obama returns to his roots for one last time as president and the U.S. prepares to usher in a new era.

"Over the course of my life, I've been reminded time and again that change can happen – that ordinary people can come together to achieve extraordinary things. And I've seen that truth up close over these last eight years," the post read. "We've made America a better, stronger place for the generations that will follow. We've run our leg in a long relay of progress, knowing that our work will always be unfinished. And we've reaffirmed the belief that we can make a difference with our own hands, in our own time. That's the imperative of citizenship – the idea that, with hard work, and a generous heart toward our fellow Americans, people who love their country can change it."

http://www.nbcchicago.com/news/local/Obama-Pens-Facebook-Post-About-Chicago-Ahead-of-Farewell-Speech-410297745.html

"If I had told you that we would open up a new chapter with the Cuban people, shut down Iran's nuclear weapons program without firing a shot, and take out the mastermind of 9/11… If I had told you that we would win marriage equality, and secure the right to health insurance for another 20 million of our fellow citizens — you might have said our sights were set a little too high."

"But that's what we did," Obama said. "That's what you did. You were the change. You answered people's hopes. And because of you, by almost every measure, America is a better, stronger place than it was when we started." http://fox61.com/2017/01/10/obama-prepares-to-say-goodbye/
Notice also the following that came out just before his farewell address:
Obama will undoubtedly brag about his amazing "economic recovery,"we would once again highlight the following data that seemingly paints a slightly more sobering picture.

Of course, these charts that we presented last summer also cast a slight shadow over Obama's "economic recovery."

Unfortunately for Obama, simply stating something repeatedly doesn't actually make it a fact. http://www.zerohedge.com/news/2017-01-10/live-stream-obama-says-farewell-reminds-us-one-last-time-how-awesome-he
Barack Obama did brag about his economic impact, but failed to mention most of the above.
Furthermore, he failed to mention that the debt of the USA almost doubled under his Administration. That absolutely means that the USA is a weaker nation than it was. Prophecy also tells us that this debt will lead to the destruction of the USA (cf. Habakkuk 2:6-8). The USA is NOT stronger and better economically. The economy under Barack Obama was fueled by debt (see also 'It's The Debt, Stupid – Massive Borrowing Binge Producing Fake Recovery'), and he does not seem to realize the danger of that.
There are a few other points to consider.
Race relations have worsened under Barack Obama's leadership–and much of this has to do with his unwillingness to denounce thugs and criminals who feign 'race' as a reason for criminal activity. Instead, his Administration tended to blame law enforcement and society to excuse bad behavior.
Next the Iran nuclear deal is dangerous. As is his recent decision to allow the United Nations to condemn Israel. Iran may very well be involved in a regional war with Israel that will not be good (see also Iran in Prophecy).
As far as the lie about 'marriage equality,' that is not good. The Bible basically says that those who approve of sexual immorality, including homosexuality and lesbianism, are guilty and deserve the same punishment (Romans 1:18-32). Promoting transgender matters is bad for those who consider themselves transgendered as well as society–yet Barack Obama has done that (see VOA: 'US Public Schools Must Allow Transgender Students' Bathroom Choice'). The USA is not better off because of Barack Obama's policies on these matters–it is worse and weaker.
On international matters, let's mention that Syria and Libya are worse off now as have been parts of Iraq. Barack Obama's actions and inactions made the environment for the terrorist group calling itself the Islamic State to rise up. The USA will have more terrorism (see Why Terrorism? Is Terrorism Prophesied).
As far the military goes, let's not dwell on the Obama Administration's cutting of military personnel, but mention his Administration's Asian pivot policy. This, combined with various actions and inactions, have shown the Europeans that they need to develop their own military. This will not end well for the USA per Daniel 11:39 (see also USA in Prophecy: The Strongest Fortresses).
The USA has become more anti-Bible since Barack Obama took office and was recently named to the 'Hall of Shame' partially because of policies and practices of the Obama Administration against religion (see USA makes ICC's 'Hall of Shame' list of nations regressing in religious freedom).
As far as Russian relations go, the Obama Administration messed those up when Hillary Clinton, who was then Barack Obama's Secretary of State, tried to force Russia to adopt the LGBT agenda according to Hillary Clinton (see Hillary Clinton in Prophecy). Russia refused. Since then, the USA has taken steps against Russia that it may not have.
As far as the current complaints related to hackers and the USA election, what I do know is that the USA (under Barack Obama) has interfered with at least two elections in other nations recently (Israel and the United Kingdom). It appears hypocritical to be trying to publicly blame the Russians for doing things that the Obama Administration has done.
As far as social media goes, Barack Obama signed a new law authorizing the USA to pay foreign news sources to put out stories that the USA likes (see Barack Obama signed the 'Countering Disinformation And Propaganda Act'). Thus, it seems hypocritical to complain that some Russians wrote negative things on social media about one or more USA presidential candidates.
To this, we could add a list of scandals under that Obama Administration (see Ethics, Scandals, and Barack Obama), as well as his promotion of abortion and pornography.
So, do I believe that the USA is a "better, stronger place" because of Barack Obama?
No.
The immoral accumulation of debt, the promotion of immorality, and various actions and inactions of Barack Obama will not end well for the USA (Habakkuk 2:6-8; Romans 1:18-332; Daniel 11:39).
Some items of related interest may include:
USA in Prophecy: The Strongest Fortresses Can you point to scriptures, like Daniel 11:39, that point to the USA in the 21st century? This article does. A related sermon is titled: Do these 7 prophesies point to the end of the USA?
God's Grace is For All Is being Jewish a hindrance to salvation? What about not being a descendant of Israel? What does the Bible really teach? Here is a link to a related sermon titled Race and Grace; Do you view race as God does?
Who is the King of the West? Why is there no Final End-Time King of the West in Bible Prophecy? Is the United States the King of the West? Here is a version in the Spanish language: ¿Quién es el Rey del Occidente? ¿Por qué no hay un Rey del Occidente en la profecía del tiempo del fin?
Cross-dressing and other assaults against your children.  What should you do? Is there an agenda to turn your children and/or grandchildren away from biblical morality and towards practices promoted by homosexuals? What does the Bible teach about cross-dressing? What should parents do? If there is an agenda, what has been going on?  There are also three YouTube videos related to this, titled Transgender 'Woe to those who call evil good' and Cross dressing and Other Assaults Against Your Children and USA pushing gender confusion.
The Bible Condemns Homosexuality "Same-sex marriage" for "gays" and lesbians is becoming more acceptable to many. What does the Bible teach about homosexuality?  Can homosexuals change? A related video sermon is titled: What Does the Bible Really Teach about Homosexuality?
Pornography: A scourge on society Is pornography harmless fun? Does the Bible teach anything about it? What are the views of some involved with it? A related sermons is titled: Pornography, False Comfort, and False Religion. Here a shorter YouTube video Pornography: Harmless Fun or a Scourge on Society?
Abortion, the Bible, and a Woman's Right to Choose Do you know what the Bible teaches on this? Has the Roman Catholic Church allowed abortions? What about the real Church of God? Some may also, or instead, wish to view the YouTube video Abortion, the Bible, and US Debt.
Why Terrorism? Is Terrorism Prophesied? What does the Bible teach? Which nations may be affected? Here is a link to a related sermon: Terrorism, Christianity, and Islam.
Who is the King of the North? Is there one? Do biblical and Roman Catholic prophecies for the Great Monarch point to the same leader? Should he be followed? Who will be the King of the North discussed in Daniel 11? Is a nuclear attack prophesied to happen to the English-speaking peoples of the United States, Great Britain, Canada, Australia, and New Zealand? When do the 1335 days, 1290 days, and 1260 days (the time, times, and half a time) of Daniel 12 begin? When does the Bible show that economic collapse will affect the United States? In the Spanish language check out ¿Quién es el Rey del Norte? Here is a link to a video titled: The Future King of the North.
Europa, the Beast, and Revelation Where did Europe get its name? What might Europe have to do with the Book of Revelation? What about "the Beast"? Is an emerging European power "the daughter of Babylon"? What is ahead for Europe? Here is a link to a video titled: Can You Prove that the Beast to Come is European?
Russia and Ukraine: Their Origins and Prophesied Future Russia in prophecy. Where do the Russians come from? What about those in the Ukraine? What is prophesied for Russia and its allies? What will they do to the Europeans that supported the Beast in the end? There is also a video sermon available: Russia in the Bible and in Prophecy and a video sermonette available: Ukraine in Prophecy?
Is Russia the King of the North? Some claim it is. But what does the Bible teach? Here is a link to a video, also titled Is Russia the King of the North?
Ezekiel 38: For Russia & Iran in Our Day? Is Ezekiel 38 about to be fulfilled? A related video is available titled Ezekiel 38: For Russia, Ukraine, & Iran Now? Another could be Russia, Iran, Syria, & the Bible (Code).
Forbes' Brexit Monster is the Beast of Revelation Various ones have been properly convinced that there is a plan for a European superstate. Forbes' writer Tom Worstall wrote that the Brexit vote was about the United Kingdom "not joining the monster of the European Union to come." The Bible tells of a Beast monster that will arise in the end times in Europe. Dr. Thiel cites news reports, as well as the Old and New Testaments, to show that the monster many fear will arise in Europe, despite the vote by the British to exit the European Union.
Post Brexit Prophecy On June 23, 2016, the voters of the United Kingdom of Great Britain and Northern Ireland (UK) chose to leave the European Union. Now with this BRitish EXIT (Brexit) vote, what is prophesied to happen to the UK? Will the UK do well or be taken over and made slaves? Dr. Thiel explains from biblical prophecies what is ahead for the UK, Europe, and even the USA, Canada, Australia, and New Zealand. This is a video.
Anglo – America in Prophecy & the Lost Tribes of Israel Are the Americans, Canadians, English, Scottish, Welsh, Australians, Anglo-Saxon (non-Dutch) Southern Africans, and New Zealanders descendants of Joseph? Where are the lost ten-tribes of Israel? Who are the lost tribes of Israel? What will happen to Jerusalem and the Jews in Israel? Will God punish the U.S.A., Canada, United Kingdom, and other Anglo-Saxon nations? Why might God allow them to be punished first? Here is a link to the Spanish version of this article: Anglo-América & las Tribus Perdidas de Israel. Information is also in the YouTube sermons titled Where are the Ten Lost Tribes? Why does it matter? and British are the Covenant People. A short YouTube of prophetic interest may be: Are Chinese threats against Australia for real?
Will the Anglo-Saxon Nations be Divided and Have People Taken as Slaves? Will the lands of the United States, United Kingdom, Canada, Australia, and New Zealand be divided? What about Jerusalem? What does Bible prophecy teach? Are there non-biblical prophecies that support this idea? Who will divide those lands? Who will end up with the lands and the people? Here is a link to a video titled Will the USA and other Anglo-nations be Divided and Their People Made Slaves? Here is a related item in the Spanish language ¿Serán divididas las naciones anglosajonas?
World War III: Steps in Progress Are there surprising actions going on now that are leading to WWIII? Might a nuclear attack be expected? Does the Bible promise protection to all or only some Christians? How can you be part of those that will be protected? A related video would be Is World War III About to Begin? Can You Escape?
When Will the Great Tribulation Begin? 2017, 2018, or 2019? Can the Great Tribulation begin today? What happens before the Great Tribulation in the "beginning of sorrows"? What happens in the Great Tribulation and the Day of the Lord? Is this the time of the Gentiles? When is the earliest that the Great Tribulation can begin? What is the Day of the Lord? Who are the 144,000? Here is a version of the article in the Spanish language: ¿Puede comenzar la Gran Tribulación en 2016 o 2017? ¿Es el Tiempo de los Gentiles? You can also see the English language sermon videos: The Great Tribulation from the Mount of Olives and Can the Great Tribulation begin before 2020? A shorter video is: Will the Great Tribulation Start in 2017?
Donald Trump in Prophecy Prophecy, Donald Trump? Are there prophecies that Donald Trump may fulfill? Are there any prophecies that he has already helped fulfill? Could a Donald Trump presidency be apocalyptic? A related video is titled: 13 Ways President-Elect Trump is Apocalyptic.
Prophecies of Barack Obama? Reasons why Barack Obama is apocalyptic and reasons why Barack Obama is not the Antichrist. This article includes many biblical and non-biblical prophecies, from around the world, that seem to discuss Barack Obama. Did Nostradamus predict Barack Obama dealing with the Antichrist? Might Barack Obama set the stage for the kings of the North and South as at least one Shiite prophecy suggests? Read it and decide for yourself if President Obama seems to be fulfilling various prophecies. Watch also the YouTube Barack Obama and the State of the Apocalypse.