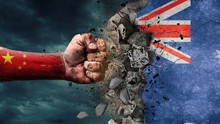 (Public Domain Pictures)

Voice of America reported the following:
Diplomatic Thaw as Australian, Chinese Ministers Meet for First Time Since 2020

June 13, 2022

Sydney — Australia's Defense Minister Richard Marles met his Chinese counterpart General Wei Fenghe on the sidelines of the Shangri La Security Summit in Singapore during the weekend. After the breakthrough meeting, a former spy chief says Australia has "a long way to go" to repair relations with China.Analysts say that the meeting of Australian and Chinese defense ministers in Singapore on Sunday could be the start of better diplomatic relations.

Relations between the two nations have deteriorated in recent years to such an extent that ministerial dialogue between the Indo-Pacific nations ceased more than two years ago.

There were allegations of Chinese interference in Australian politics and cyber-espionage. The detention of Australian citizens in China was also a source of friction, as was Canberra's decision on national security grounds to ban Chinese company Huawei from its 5G telecommunications system.

Then there was friction over the pandemic. In 2020, Australia's former Prime Minister Scott Morrison said there should be an independent inquiry into the origins of COVID-19 that was first detected in China. It angered Beijing, which saw it as a direct criticism of its handling of the virus. Various trade sanctions followed on a range of Australian exports, including farming goods, wine and coal. …

Australian Defense Minister Richard Marles said he had a "full and frank exchange" with his Chinese counterpart in Singapore, but he conceded that the relationship with China remained deeply problematic. …

Marles said Australia's recently-elected government would continue to oppose Beijing's attempts to militarize the South China Sea, but was committed to having "a productive relationship" with China, its biggest trading partner. https://www.voanews.com/a/diplomatic-thaw-as-australian-chinese-ministers-meet-for-first-time-since-2020/6615154.html
Australia wants good trade relations with China because China is Australia's biggest export market.
But Australia also considers China a military threat.
The Chinese, in turn, want to buy from Australia, but consider that it is often a proxy for the USA military.
Though a "thaw" in tensions can be good, the following prophecy came to mind:
10 To whom shall I speak and give warning,
That they may hear?
Indeed their ear is uncircumcised,
And they cannot give heed.
Behold, the word of the Lord is a reproach to them;
They have no delight in it.

11 Therefore I am full of the fury of the Lord.
I am weary of holding it in.
"I will pour it out on the children outside,
And on the assembly of young men together;
For even the husband shall be taken with the wife,
The aged with him who is full of days.
12 And their houses shall be turned over to others,
Fields and wives together;
For I will stretch out My hand
Against the inhabitants of the land," says the Lord.

13 "Because from the least of them even to the greatest of them,
Everyone is given to covetousness;
And from the prophet even to the priest,
Everyone deals falsely.

14 They have also healed the hurt of My people slightly,
Saying, 'Peace, peace!'
When there is no peace.

15 Were they ashamed when they had committed abomination?
No! They were not at all ashamed;
Nor did they know how to blush.
Therefore they shall fall among those who fall;
At the time I punish them,
They shall be cast down," says the Lord.  (Jeremiah 6:10-15)
Yes, a "thaw" in relations between Australia and China will "heal the hurt … slightly," but will not lead to lasting peace.
Notice also the following:
Jun 12, 2022 11:10 PM

Australian Prime Minister Anthony Albanese … is following the footsteps of his predecessor in this regard, that is, to strengthen military ties with the US and UK.

Albanese claimed that given the "gravity of the challenges" that Australia and France face both in the region and globally, it is essential that both countries once again "unite to defend our shared principles and interests." The statement reflects that the new Australian government is still under the manipulation of the US and sees China as a threat and a major adversary.

According to Song Zhongping, a Chinese military expert and TV commentator, Australia's unshakable consideration of China as an important imaginary enemy is rooted in the US' control of the AUKUS alliance and Australia's position in the US' blueprint as the backbone of its Indo-Pacific strategy.

In addition, there are so-called common values and ideologies between the US and Australia, let alone Australia's ambition to become a global power through the US that makes it difficult to properly position itself. The result is a wrong estimation of China-Australia relations, which is based on the premise of the relationship between Australia and the US.

A healthy China-Australia relationship must be independent of any other bilateral relations, must transcend ideology or values, and develop a broad consensus on many issues. However, despite Canberra's previous olive branch which Australian Trade Minister Don Farrell extended to Beijing to restore trade ties, remarks by Australian Deputy Prime Minister and Defense Minister Richard Marles sent bleak signals.  …

According to Song, this reflects that Australia is unrealistic and not objective in dealing with China-Australia relations. Canberra is still taking the US view of international security and order to lecture China.

The US is determined to use Australia as a frontline country to achieve the forward movement of US military power by promoting the Pacific Deterrence Initiative, in spite of the alleged cooperation with allies to protect common interests. But how is it possible for a country which has turned its back on countries like Ukraine, Afghanistan and Syria to value the interest of its allies like Australia?

Marles affirmed in Singapore that there will be no cuts to Australian defense spending. The Albanese government has committed to spending 2 percent of GDP on defense, of which AUKUS will be central. https://www.globaltimes.cn/page/202206/1267921.shtml
AUKUS stands for Australia, United Kingdom, and the United States–it is a military alliance, which includes an agreement to allow Australia to purchase nuclear submarines from the USA.
China is not happy about that.
Australia has concerns about China, and China is not pleased with Australia's military ties to the USA. Here is something posted at ZeroHedge late last Fall:
China Deems Australia 'No Longer Peaceful', But Now "Saber Wielding" After Sub Deal

Nov 19, 2021 – 10:20 PM

China's acting ambassador to Australia, Wang Xining, said by seeking nuclear submarines under the AUKUS military pact, Australia will turn to "saber wielding" rather than being a "peace defender."

In an interview with The Guardian published Thursday, Wang said he used to view Australia as a peace-loving nation, but now that it is seeking nuclear-powered submarines designed for long-range attacks, that view has changed. "So who are you going to attack? You are no longer a peace lover, a peace defender, you become a saber wielder in certain form," he said.

Under the AUKUS deal, a three-way pact between the UK, the US, and Australia, Canberra would not get the nuclear submarines until at least the late 2030s. But the pact is a sign that Australia is following the US and other Western powers in the campaign against China, and Australian officials have stepped up their rhetoric. …
Responding to Dutton, Wang said Australian officials should not do "anything that would lead to an even more gloomy state of our relationship."
China has made various threats against Australia, including the following from last Spring:
China Warns Australia's Military Is "Weak", Will Be "First Hit" In Any War With Western Alliance

May 28, 2021

Following now completed joint war games held by the US, Japan, France and Australia in the East China Sea off the southwest coast of Japan earlier this month, China has lashed out particularly at its large regional neighbor Australia, calling its military "weak" and "insignificant" at a moment the two are locked in a severe trade and diplomatic tit-for-tat dispute.

Beijing voiced specific threats and warnings via its state-run English language mouthpiece Global Times, which recently wrote, "Australia's military is too weak to be a worthy opponent of China, and if it dares to interfere in a military conflict for example in the Taiwan Straits, its forces will be among the first to be hit."

"Australia must not think it can hide from China if it provokes," the report continued with its threats. "Australia is within range of China's conventional warhead-equipped DF-26 intermediate-range ballistic missile." https://www.zerohedge.com/geopolitical/china-warns-australias-military-weak-will-be-first-hit-any-war-western-alliance
China may well go after Australia first, once the USA is attacked by the European King of the North (cf. Daniel 11:39).
Militarily, the Aussies concluded decades ago that they would want to rely on the USA for defense.
It is in agreement with the USA on various matters related to China (e.g. 'Five Eyes: Is the alliance in trouble over China?' as New Zealand does not endorse condemnation of China over Uyghur treatment and USA and Australia have concerns over China's 'Belt and Road Initiative,' but the new 'Silk Road' has prophetic ramifications).
Australia will likely find out that China will take it over (watch Are Chinese threats against Australia for real?).
Australia hopes to defend itself, but must realize that China is too powerful.
While carnally speaking, reliance on the military of the USA could seem to make sense, Bible prophecy shows that will not succeed not too many years from now. The prophetic reality is that the US military will NOT be able to protect Australia and other parts of the world in the future.
As regular readers of this page are aware, since 2009 (in my book 2012 and the Rise of the Secret Sect), I wrote that China may take over Australia, and possibly New Zealand. Since I wrote that, my belief in that outcome has increased.
Alliances like AUKUS will NOT be able to protect Australia against powers like China.
On June 24, 2010, the day it was announced that she became Prime Minister of Australia, I warned that I felt that Julia Gillard would take steps to fulfill prophecies that also could get the Chinese interested in taking over Australia (see Australia Now Has a Female Prime Minister: Prophetic Ramifications?).
And that happened.
For more on that and other issues with China and Australia, the Continuing Church of God put together the following video on our Bible News Prophecy YouTube channel:
The Chinese paper 'Global Times' has carried threats in 2011 and 2016 suggesting the China would militarily intervene against Australia. It has declared that Australia is a 'paper cat,' that China will get revenge against it, and that Australia would be no more. Is this possible? Are there biblical and other reasons to think that this threat is real? Dr. Thiel answers these questions and brings up the fact that he has been warning about this threat since last decade.
Here is a link to our video: Are Chinese threats against Australia for real?
The Continuing Church of God, later, also put together this sermon on our ContinuingCOG channel:
Who are the ancestors of the British peoples who went to Australia and New Zealand? Are there biblical and even non-biblical prophecies that point to the nations of Australia and New Zealand? If so, what do they teach? Have any been fulfilled? What are some of the blessings and cursings the Bible tells of? Does prophecy help explain the wealth of Australia and New Zealand? Will future prophecies still be fulfilled? Does Isaiah 49:12 refer to Australia or New Zealand? What about the Five Eyes? Are there any Catholic or Chinese prophecies that point to Australia and New Zealand? What about the Cook Islands and Australia's external territories? How will the Great Tribulation affect Australia and New Zealand? Will military alliances fail? Are Australians and New Zealanders prophesied to be slaves? Is China a real threat? What about Japan?
China is trying to rise up and spread its influence. It is not pleased with interference from the USA or Australia.
The current world order dominated by the USA, and formerly by the British Empire is being changed. The Bible shows that the time of Jacob's trouble (Jeremiah 30:7) is getting nearer–and that will greatly affect the USA, the UK, Canada, Australia, and New Zealand which have descendants from Jacob, also known as Israel.
Australia, the UK, the USA and others need national repentance to delay what is coming.
While that is not likely, individual repentance can be an option for all who are truly willing–irrespective of where they reside.
Some items of possibly related interest may include:
Is God Calling You? This booklet discusses topics including calling, election, and selection. If God is calling you, how will you respond? Here is are links to related sermons: Christian Election: Is God Calling YOU? and Predestination and Your Selection. A short animation is also available: Is God Calling You?
Christian Repentance Do you know what repentance is? Is it really necessary for salvation? Two related sermons about this are also available: Real Repentance and Real Christian Repentance.
Just What Do You Mean — Repentance? Do you know what repentance is? Have you truly repented? Repented of what? Herbert W. Armstrong wrote this as a booklet on this important subject.
When You Sin: Do You Really Repent? This is an article by Charles F. Hunting. A related sermon is Confess to God and truly repent.
China, Its Biblical Past and Future, Part 1: Genesis and Chinese Characters Where did the Chinese people come from? Japeth, Javan, Magog? Is there evidence that the Chinese peoples must have known about various accounts in the Book of Genesis up until their dispersion after the Tower of Babel? What do Chinese writings and characters help show? What about the Garden of Eden, Noah's Flood, and the Tower of Babel? Here is a link to a version of this article in Spanish: ¿Prueban los caracteres chinos la exactitud de la Biblia? A related sermon is also available: China's biblical past and prophetic actions.
China, Its Biblical Past and Future, Part 2: The Sabbath and Some of God's Witness in China When did Christianity first come to China? What about the Apostle Thomas? Did Confucius say anything to get the Chinese to possibly consider Christianity? Is there early evidence that they observed the seventh day sabbath? What about the Ten Commandments? What type of Church of God witness has there been to China? What has been happening with China that ties it together with prophecies in Revelation? What about the 200 million man army and Armageddon? What about the Belt and Road Initiative and end time Babylon the Great? A related sermon is also available: China's biblical past and prophetic actions. Watch also China's Silk Road and Babylon the Great.
Asia in Prophecy What is Ahead for Asia? Who are the "Kings of the East"? What will happen to nearly all the Chinese, Russians, Indians, and others of Asia? China in prophecy, where? Who has the 200,000,000 man army related to Armageddon? Here is a link to a related sermon: Asia in Prophecy. Two YouTube video are Is China THE Threat to the United States of America? and China: A King of the East.
When Will the Great Tribulation Begin? 2022, 2023, or 2024? Can the Great Tribulation begin today? What happens before the Great Tribulation in the "beginning of sorrows"? What happens in the Great Tribulation and the Day of the Lord? Is this the time of the Gentiles? When is the earliest that the Great Tribulation can begin? What is the Day of the Lord? Who are the 144,000? Here is a version of the article in the Spanish language: ¿Puede la Gran Tribulación comenzar en el 2020 o 2021? ¿Es el Tiempo de los Gentiles? A related video is: Great Tribulation: 2026 or 2027? A shorter video is: Can the Great Tribulation start in 2022 or 2023? Here is a video in the Spanish language: Es El 2021 el año  de La Gran Tribulación o el Grande Reseteo Financiero.
Does God Have a 6,000 Year Plan? What Year Does the 6,000 Years End? Was a 6000 year time allowed for humans to rule followed by a literal thousand year reign of Christ on Earth taught by the early Christians? Does God have 7,000 year plan? What year may the six thousand years of human rule end? When will Jesus return? 2030 or 20xx? There is also a video titled 6000 Years: When will God's Kingdom Come? Here is a link to the article in Spanish: ¿Tiene Dios un plan de 6,000 años?
Might the U.S.A. Be Gone by 2028? Are there prophetic reasons to believe that the USA will not last two complete presidential terms? Yes. There is a tradition attributed to the Hebrew prophet Elijah that humanity had 6,000 years to live before being replaced by God's Kingdom. There are scriptures, writings in the Talmud, early Christian teachings that support this. Also, even certain Hindu writings support it. Here is a link to a related video: Is the USA prophesied to be destroyed by 2028? In Spanish: Seran los Estados Unidos Destruidos en el 2028?
Armageddon Who is involved and when will this gathering happen? Here is also a video from Dr. Thiel, from Tel Megiddo in Israel: Armageddon. Other videos include: Armageddon Will it come on Trump's watch?, Iraq, Armageddon, & Prophecy, Freemasonry, Armageddon, and Rome, Is China paving roads to Armageddon?, and Jordan, Petra, and Armageddon.
Anglo – America in Prophecy & the Lost Tribes of Israel Are the Americans, Canadians, English, Scottish, Welsh, Australians, Anglo-Saxon (non-Dutch) Southern Africans, and New Zealanders descendants of Joseph? Where are the lost ten-tribes of Israel? Who are the lost tribes of Israel? What will happen to Jerusalem and the Jews in Israel? Will God punish the U.S.A., Canada, United Kingdom, and other Anglo-Saxon nations? Why might God allow them to be punished first? Here is a link to the Spanish version of this article: Anglo-América & las Tribus Perdidas de Israel. Information is also in the YouTube sermons titled Where are the Ten Lost Tribes? Why does it matter? and British are the Covenant People. A short YouTube of prophetic interest may be: Are Chinese threats against Australia for real?
Will the Anglo-Saxon-Celtic Nations be Divided and Have People Taken as Slaves? Will the lands of the United States, United Kingdom, Canada, Australia, and New Zealand be divided? What about Jerusalem? What does Bible prophecy teach? Are there non-biblical prophecies that support this idea? Who will divide those lands? Who will end up with the lands and the people? Here is a link to a video titled Will the USA and other Anglo-nations be Divided and Their People Made Slaves? Here is a related item in the Spanish language ¿Serán divididas las naciones anglosajonas?
British are the Covenant People What do 'British' and 'Britain' mean in Hebrew? Are the descendants of the Anglo-Saxons people of the covenant? Does the British royal family connect to the throne of David? What does the Bible teach? What does history show us? Is there any DNA evidence related to British-Israelism? When did Christianity make it to the British Isles? Could Jeremiah have made it to the British Isles? What type of Christians made it to the British Isles? Did the last King of England believe in British Israelism?
Canada in Prophecy: What Does Bible Prophecy, Catholic Prophecy, and other Predictions Suggest About the Future of Canada? There are prophecies that suggest involvement with Canada. And many are not positive about its future. A sermon of related interest is also available: Canada in Prophecy.
Australia and New Zealand in Prophecy Do biblical prophecies help explain the wealth blessings for Australia and New Zealand? Might cursings from disobedience come in the 21st century? Here is a link to a related sermon: Australia and New Zealand: Origins and Prophecy.