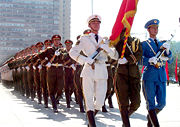 Chinese Soldiers
There is more direct military cooperation going on between China and Pakistan:
China military denounces U.S.-Australia defense upgrade

BEIJING(SANA) China's military denounced the United States and Australia on Wednesday for upgrading military ties, warning that such moves could erode trust and fan Cold War-era antagonism.

Chinese Defense Ministry spokesman Geng Yansheng made the warning about a plan unveiled in mid-November by U.S. President Barack Obama and Australian Prime Minister Julia Gillard to form a de facto base in north Australia for up to 2,500 U.S. Marines.  http://www.sananews.net/english/2011/12/china-military-denounces-u-s-australia-defense-upgrade/
 China, Pakistan Boost Anti-Terror Cooperationhttp://www.foxnews.com/world/2011/11/25/china-pakistan-boost-anti-terror-cooperation/

China's Hu urges navy to prepare for combat

AFP – Dec 6, 2011
China and Pakistan have long had cooperation and so have the USA and Australia–but China is not pleased with what it sees as US efforts to impede its objectives.
With the current situation with the USA and China, I believe that Australia should be concerned as I have been writing for a couple of years that China may end up with at least part of the land of Australia (see Obama Putting 'Permanent' Troops in Australia Because of China, But…).
With China getting more and more vocal about its displeasure about the US Marine presence in Australia, China is sending a signal to Australia that most Australians will not realize is as dangerous as it really may be.
Some articles of possible interest may include the following:
China, Its Biblical Past and Future, Part 1: Genesis and Chinese Characters Where did the Chinese people come from? This article provides information showing that the Chinese peoples must have known about various accounts in the Book of Genesis up until their dispersion after the Tower of Babel.
China, Its Biblical Past and Future, Part 2: The Sabbath and Some of God's Witness in China When did Christianity first come to China? And is there early evidence that they observed the seventh day sabbath?
Asia in Prophecy What is Ahead for Asia? Who are the "Kings of the East"? What will happen to nearly all the Chinese, Russians, Indians, and others of Asia? China in prophecy, where? Who has the 200,000,000 man army related to Armageddon?
Anglo – America in Prophecy & the Lost Tribes of Israel Are the Americans, Canadians, English, Scottish, Welsh, Australians, Anglo (non-Dutch) Southern Africans, and New Zealanders descendants of Joseph? Where are the lost ten-tribes of Israel? Who are the lost tribes of Israel? What will happen to Jerusalem and the Jews in Israel? Will God punish the U.S.A., Canada, United Kingdom, and other Anglo nations? Why might God allow them to be punished first?
Will the Anglo-Nations be Divided and Have People Taken as Slaves? Will the lands of the United States, United Kingdom, Canada, Australia, and New Zealand be divided? What about Jerusalem? What does Bible prophecy teach? Are there non-biblical prophecies that support this idea? Who will divide those lands? Who will end up with the lands and the people?
Canada in Prophecy: What Does Bible Prophecy, Catholic Prophecy, and other Predictions Suggest About the Future of Canada? There are prophecies that suggest involvement with Canada. And many are not positive about its future.
Who is the King of the West? Why is there no End-Time King of the West in Bible Prophecy? Is the United States the King of the West?
India, Its Biblical Past and Future: Any Witness? The Bible discusses the origins of those of Indian heritage and discusses some of the witness to them (including those in Bangladesh, Pakistan, and Sri Lanka).