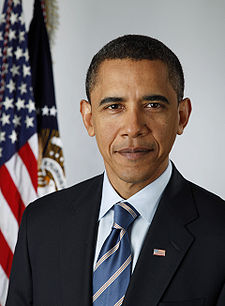 US President Barack Obama has put additional pressure on the small nation of Israel:
Obama Gives Netanyahu Ultimatum on Resuming Talks
This is not really a surprise as Barack Obama has indicated his preference to try to force his ideas (though can you really force real peace?).
A Middle East peace deal seems to be predicted in the Book of Daniel (for detail, please see the article When Will the Great Tribulation Begin? 2011, 2012, or 2013?).  And it will happen.  Apparently this is one more step in that direction–though a step that will tend to drive Israel toward the Europeans and nations other than the USA.
Some articles of possibly related interest may include:
Prophecies of Barack Obama? This article has eight reasons why Barack Obama is apocalyptic and eight reasons why Barack Obama is not the Antichrist. It includes many biblical and non-biblical prophecies, from around the world, that seem to discuss Barack Obama. Did Nostradamus predict Barack Obama dealing with the Antichrist? Might Barack Obama set the stage for the kings of the North and South as at least one Shiite prophecy suggests? This is the longest and most complete article at the COGwriter website on Barack Obama prophecies. Read it and decide for yourself if President Obama seems to be fulfilling various prophecies.
Barack Obama, Prophecy, and the Destruction of the United States Some claim that Barack Obama is the prophesied "son of Kenya". Might Bible prophecy be fulfilled since he is to be the USA president?
Will the Anglo-Nations be Divided? Will the lands of the United States, United Kingdom, Canada, Australia, and New Zealand be divided? What does Bible prophecy teach? Are there non-biblical prophecies that support this idea? Who will divide those lands? Who will end up with the lands and the people?
Anglo – America in Prophecy & the Lost Tribes of Israel Are the Americans, Canadians, British, Scottish, Welsh, Australians, Anglo-Southern Africans, and New Zealanders descendants of Joseph? Where are the lost ten-tribes of Israel? Who are the lost tribes of Israel? What will happen to the Jews in Israel? Will God punish the U.S.A., Canada, United Kingdom, and other Anglo nations? Why might God allow them to be punished first?
Canada in Prophecy: What Does Bible Prophecy, Catholic Prophecy, and other Predictions Suggest About the Future of Canada? There are prophecies that suggest involvement with Canada. And many are not positive about its future.
Who is the King of the West? Why is there no End-Time King of the West in Bible Prophecy? Is the United States the King of the West?
Is Tony Blair Apocalyptic? The former Prime Minister of the United Kingdom converted to Catholicism shortly after leaving his office and has been active in European affairs. What role might he play?
Mexico, Central America, South America, and Brazil in Prophecy [Español: México, America Central, Suramérica, y el Brasil en profecíal] [Português: México, América Central, Ámérica do Sul, e Brasil na profecia] What will happen to those of Latin America? Will they have prosperity? Will they cooperate with Europe? Will they suffer in the future? What rule might the various Caribbean nations/territories play?
2012 and the Rise of the Secret Sect This is a link related to a book by Bob Thiel (COGwriter). This link also has YouTube videos. This book documents and explains hundreds of prophecies. And since it was published, world events have aligned with at least 14-15 predictions in the book (including some related to Barak Obama ) and many more will to come to pass.
2012 y el surgimiento de la secta secreta 2012 libro del Dr. Thiel en Español.
2012 und das Auftreten der geheimen Sekte (German Edition) 2012 Buch von Dr. Thiel in deutscher Sprache.
2012 e o Surgimento da Seita Secreta (Portuguese Edition) 2012 livro do Dr. Thiel em Português. Este livro documenta e explica centenas de profecias. E desde que foi publicado pela primeira vez, pelo menos 14 já começaram a acontecer.