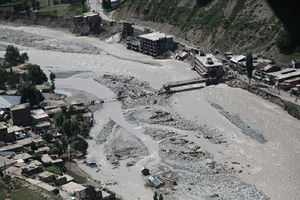 Bridge washed out by flooding in Pakistan
In its latest update, LCG reported the following at services yesterday:
Toxic Red Sludge Could Enter Danube. The Danube, Europe's second-longest waterway, could be threatened by a toxic red sludge that has entered one of its tributaries.  This week, a reservoir for toxic sludge at an aluminum plant in Hungary burst, releasing 1 million cubic meters (more than 35 million cubic feet) of sludge into two neighboring towns.  So far, four people have been killed, three are missing, and 120 have been treated for chemical burns.  The sludge is a by-product of the aluminum refining process.  Officials fear that if the sludge enters the Danube (45 miles away), an environmental disaster could ensue, impacting half a dozen other European nations.  Workers in hazmat suits have been laboring all week to clear the hardest hit towns.  Hungary's federal investigation agency is now involved in determining the cause (Associated Press, October 6, 2010).  This disaster is likely not the "beginning of the end."  However, the Bible predicts end-time events will result in contamination of one-third of all waters in rivers and springs (Revelation 8:10-11).  Exactly "how" this end time catastrophe will occur remains to be seen.  However, as we witness increasing disasters around the earth, we can glimpse the potential devastation that modern industries could inflict on creation.  Aluminum plants exist around the globe and "holding reservoirs" for toxic sludge can be breached by intense rains, earthquakes, as well as terrorist activities.  This event in Hungary could be a sobering foretaste of events to come…

Floods in Diverse Places. In the past several weeks, extensive flooding has inundated the U.S.A.'s East Coast and upper Mid-West, Jamaica, Barbados and Cuba, parts of Europe, the Southeast Asian nations of Indonesia and Viet Nam, and the Chinese island of Hainan.  As of Wednesday morning, the death toll across Asia had reached 110, with tens of thousands displaced, and bridges and homes destroyed due to the flooding (Associated Press, October 6, 2010). In Jamaica, 11 people died and thousands went without power and water for several days (Canadian Press, October 3, 2010).  In the American upper Mid-West, some towns were inundated with up to 12 feet (nearly 4 meters) of floodwater and entire towns were destroyed (CBS.com, September 25, 2010).  In Luke 21:8-11, Jesus said that "signs of the end of the age" would include pestilences, earthquakes in various places, and fearful sights. The prophet Amos foretold that rain would fall on some cities while drought would affect other areas (Amos 4:7).  As we come closer to the end of the age, we will see increasing natural and man-made disasters… signs that Christ's return is approaching.
AFP reported today the death toll in Viet Nam itself rose to 64 and 100,000 people there need fresh water, and that 148 died in Indonesia from flooding.  Today, Hungary is trying to divert the toxic sludge to prevent what could be a real disaster in Europe.  "The World Health Organization (WHO) has warned of the threat of a disease epidemic in Pakistan's flood-stricken areas" (http://www.presstv.ir/detail/146071.html).  It was also announced today, "The Meteorological Service of Jamaica is once again placing the entire island on a flash-flood watch for heavy showers" and that the tropical storm Nicole last week caused the island nation $10.6 billion in damages (http://www.jamaica-gleaner.com/gleaner/20101010/news/news2.html).
The weather situations around the world affect many things, including the economy, people's lives, politics, and the food supply.  The fact that so much is happening now in so many areas, may be consistent with certain end time prophecies.  But the end is not yet.
LCG has long had a booklet of possibly related interest titled "Who Controls the Weather? " that is available for those interested in more on the weather and Bible prophecy.
Jesus foretold on a time of natural disasters as "the beginning of sorrows" (Matthew 24:7-8), but the Book of Revelation (16:8-11) tells of a time of even greater disturbances during "the Day of the Lord".

Now there is good news as ultimately, God's kingdom will come and those issues will be gone (Revelation 7:16).
Some articles of possibly related interest may include:
The Gospel of the Kingdom of God was the Emphasis of Jesus and the Early Church Did you know that? Do you even know what the gospel of the kingdom is all about? True religion should be based upon the true gospel.
Asia in Prophecy What is Ahead for Asia? Who are the "Kings of the East"? What will happen to nearly all the Chinese, Russians, Indians, and others of Asia? China in prophecy, where? Who has the 200,000,000 man army related to Armageddon?
India, Its Biblical Past and Future: Any Witness? The Bible discusses the origins of those of Indian heritage and discusses some of the witness to them (including those in Bangladesh, Pakistan, and Sri Lanka).
Islands and Bible Prophecy What's ahead for islands? What does the Bible prophesy about them?
Europa, the Beast, and Revelation Where did Europe get its name? What might Europe have to do with the Book of Revelation? What about "the Beast"? Is an emerging European power "the daughter of Babylon"? What is ahead for Europe?