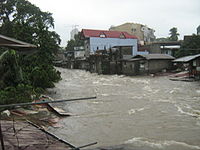 In today's TW News & Prophecy, LCG reported:
Catastrophic flooding in Australia.

News sources report that Queensland, Australia, is experiencing the

worst flooding in history

and a disaster of "biblical proportions." Flood waters have inundated an area the size of Germany and France.Queensland is Australia's "bread basket" and a highly profitable mining district. Farms have been flooded, several towns have been evacuated and 75% of the mines are flooded or closed. Flooded fields and the inability to move collected wheat stocks by rail have caused wheat prices to soar. Areas that have been devastated by locusts and ten years of drought are now flooded (

The Australian

, January 5, 2011;

Associated Press

, December 31, 2005). Queensland supplies half of the world's coking coal for steel mills. Costs of this disaster to the Australian economy will run into billions of dollars!

The Bible warns that because Israelite nations have "forgotten God" and rejected His ways, God will bring increasingly severe punishments on His chosen people (Hosea 8). End-time prophecies reveal God's purpose, "I also withheld rain from you… I made it rain on one city, I withheld rain from another city… I blasted you with blight and mildew… The locust devoured them; yet you have not returned to me, says the LORD" (Amos 4:7-9).

Jesus Christ also warned that increasing famines, pestilences and other disasters will be a prelude to His second coming.

As we watch world events building to a crescendo, we need to remember these events are predicted in the Bible.
The situations in Australia and Brazil have to be very difficult for people affected by the rains and flooding:
Emergency crews in Brazil are struggling to reach areas affected by deadly mudslides and floods because of renewed rainfall.

Officials say more than 500 people are known to have died in the floods – the country's worst in decades.

Local media reported rescuers had to reach worst-hit areas on foot because vehicles cannot cross blocked roads.  http://www.bbc.co.uk/news/world-latin-america-12195226
There are also floods in other areas.

Philippine floods kill 40 and affect one million people http://www.bbc.co.uk/news/world-asia-pacific-12168921

One million people displaced by Sri Lanka floods http://www.bbc.co.uk/news/world-south-asia-12189086
Many in these areas probably need our prayers.
Jesus warned about a time of troubles called the beginning of sorrows:
8 … And there will be…troubles. These are the beginnings of sorrows. (Mark 13:8)
Some articles of possibly related interest may include:
Mexico, Central America, South America, and Brazil in Prophecy [Español: México, America Central, Suramérica, y el Brasil en profecíal] [Português: México, América Central, Ámérica do Sul, e Brasil na profecia] What will happen to those of Latin America? Will they have prosperity? Will they cooperate with Europe? Will they suffer in the future? What rule might the various Caribbean nations/territories play?
Islands and Bible Prophecy What's ahead for islands? What does the Bible prophesy about them?
Will the Anglo-Nations be Divided? Will the lands of the United States, United Kingdom, Canada, Australia, and New Zealand be divided? What does Bible prophecy teach? Are there non-biblical prophecies that support this idea? Who will divide those lands? Who will end up with the lands and the people?
Anglo – America in Prophecy & the Lost Tribes of Israel Are the Americans, Canadians, British, Scottish, Welsh, Australians, Anglo-Southern Africans, and New Zealanders descendants of Joseph? Where are the lost ten-tribes of Israel? Who are the lost tribes of Israel? Will God punish the U.S.A., Canada, United Kingdom, and other Anglo nations? Why might God allow them to be punished first?
Can the Great Tribulation Begin in 2011 or 2012? Can the Great Tribulation begin today? When is the earliest that the Great Tribulation can begin? What is the Day of the Lord? What is "the beginning of sorrows"? Have we begun or are we about ready for "the beginning of sorrows" to begin.