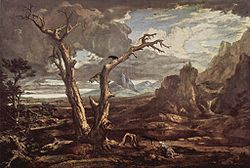 "Elijah in the wilderness"
While numerous news items of prophetic interest were covered at this page in 2014, there are sixteen that stand out in my mind that I thought would be of interest to share today:
The USA increased its debt, as I said it would on a Bible News Prophecy video made on January 1, 2013 (see The Debt Crisis Will Be Worse Than Most Imagine). Throughout 2014, the USA continued to have a variety of debt and budget crises, showed the world it really was not serious about fixing its problems, removed its "debt ceiling" until 2015 (see USA has now decided against an official debt limit), and increased its debt. This will not end well per Habakkuk 2:6-8 (watch also Was USA debt and destruction predicted 2,600 years ago?).  Although the 'great recession' is a concern for many (see CBS: Why the Great Recession may be with us for years), and it looks like it is impossible to pay back the debt (see The Eurasian Union, the Kings of the East, and Bible Prophecy), what the Bible teaches will happen to the debtor nation will be much worse than most imagine.
The increased acceptance of marijuana.  In February 2014, the Obama Administration greatly facilitated the profitable rise of marijuana dealers (see Obama Administration relaxes financial restrictions for marijuana sellers).  Now, more and more places in the USA (see More US states legalize marijuana) are increasing the availability of this intoxicating drug (see also Marijuana: Should a Christian Get High?).
The homosexual agenda was legally imposed in more of the USA (see Marriage in USA: 32 states defiled, 18 remaining?).  This will end in death (Romans 1:18-32; see also The Bible Condemns Homosexuality). 35 states recognize it and others will likely will as judges and others keep agreeing with the homosexuals.
Germany came more incensed about USA espionage (see and Germany, US Espionage, Drones, Blitzkrieg, and the World Cup).  The USA, strangely, then placed a German General to be in charge of the USA Army in Europe (see German general now commands the US Army in Europe).  Europe has taken more steps to become the final Beast power the Bible warns against (see also Obama's aloof style disturbing Germany, the real 'cost of coolness,' and the 'King of Europe' Griffin?).  Germany's Foreign Minister, Frank Walter Steinmeier, basically publicly declared the German plan to dominate the world (see German Foreign Minister calls for support and dominance similar to that proposed for Adolf Hitler).
Europe moved ahead on its space and technological plans. This has gone mainly unnoticed, but the ramifications are major (cf. Revelation 13:4). Soon Europe's Galileo system (which originally was approved because of military reasons) is expected to be the most accurate 'GPS' system in the world (see also EU's Galileo moving forward, despite delays).  Germany's FAIR collider (see Germany's F.A.I.R. progressing: How might it affect civilization?) and CERN's Large Hadron Collider projects made progress (see Large Hadron Collider, Strangelets, and Destruction).  Europe worked on developing space laser (see Europe's Galileo 'GPS' and laser nuclear fusion).  More companies are storing data in Europe to evade USA monitoring (see WSJ: Data centers increasing in Europe in response to USA espionage). Europe decided to produce Ariane 6 rockets (see Europe agrees to develop Ariane 6 rocket) to reduce dependence on Russia and the USA to launch its satellites (see Europe considering Ariane to replace need for NASA and Russia).
Russia annexed Crimea and took steps to influence matters in eastern Ukraine and Moldova.  The tells of a time when "the kings of the Medes" will unite (Jeremiah 51:11-32) and Russia wants to take more steps that will help result in this (see also Russia and Ukraine: Their Origins and Prophesied Future).  It also got three other nations to formally agree to be part of its upcoming Eurasian Union (see The Eurasian Union, the Kings of the East, and Bible Prophecy), which officially begins on January 1, 2015.
Although the Vatican failed to get full control, the Vatican was able to arrange for Pope Francis to conduct Catholic mass at the 'Cenacle' (see Pope Francis conducts Catholic mass in building on Mt. Zion).  His agenda and the reaction of certain Israeli officials concerned some Jews about it (see Jews claim that they have been improperly blocked from visiting the 'tomb of David' since the Pope's visit to Mt. Zion). This building could have major prophetic ramifications and most, by and large, have overlooked them. For more details, please see Church of God on Jerusalem's Western Hill.
Israel attempted to reduce the threat posed to it by Palestinians in Gaza (Israel continues Gaza offensive as Hamas warns 'Israel will pay a heavy price'; see also  Gaza and the Palestinians in Bible Prophecy).  But its actions have resulted in more nations in Europe becoming more sympathetic to Palestinian positions. The time will come when Israel is pressured into a deal that the Bible tells of in Daniel 9:27, which will set the countdown for the start of the Great Tribulation and the return of Jesus Christ (see also The 'Peace Deal' of Daniel 9:27).
At least two Islamic groups proclaimed 'caliphates' (see ISIL declares itself 'Islamic State' and Abu Bakr al-Baghdadi as caliph and Boko Haram declares itself 'Islamic Caliphate,' Nigeria denies that it is one) which seem to be what may happen with the rise of the final King of the South of Bible prophecy (Daniel 11:40-43).  Various of there actions have outraged leaders around the world (e.g. Boko Haram and ISIS continue to terrorize, kill, and abuse and Islamic State's horrifying answers about Non-Muslim females). Western leaders, without realizing the prophetic ramifications, began to call for the type of confederation (see How Will Middle East Peace be Brought About?) that will be part of the King of the South.  A confederation that will end in disaster (see also Ezekiel 30:2-8).
The Ebola virus got major attention as it killed thousands in Africa (see Ebola: More deaths in Africa, more issues in USA).  Jesus prophesied pestilences (Matthew 24:4-8), and some of the steps that were not handled right with Ebola have apparently set a precedent that will make a future pestilence that hits a place like the USA worse.
The ecumenical and inter-faith movements moved forward under the direction of Pope Francis and others (see UN states it has the 'same goals' as the Vatican). More Protestants are publicly supporting it (see Protestant endorsement of the ecumenical agenda: Kenneth Copeland do you not understand?). Even Jews, Muslims, and Joel Osteen have been involved (see In Vatican City: New Babylon more openly forming!). Even China indicated it will somewhat support it (see China moving toward one world religion! Pope to conduct mass in South Korea).  Although some of the Greek Orthodox (see Greek Orthodox Bishops denounce Pope Francis, Church of Rome, and Ecumenism as Antichrist Plan of Freemasons) and Catholic leaders (see Pope Francis speaks of unity and authority; Conservative Catholics have doubts and Francis demotes Cardinal Burke) have tried to raise objections, it moved forward (see Pope Francis speaks on his plans to re-establish full communion with the Eastern Orthodox and World Council of Churches launches global peace network with UN interest).
The rise of the United Kingdom Independence Party (UKIP) is concerning the leaders in the United Kingdom.  UKIP wants out the UK out of the European Union and its gain of supporters in 2014 is expected by some, like its Nigel Farage, to carry forward into 2015 (see Farage's anti-EU party gets a big win in UK and eyes more in May).  The time will come when the United Kingdom is NOT an "equal" member of Europe, but instead will be taken over by the power that is beginning to arise there.
We have had yet another year of bizarre weather.  In California, a report came out claiming it was in its worse drought in 1200 years (see California drought the worst in 1200 years?).  The United Nations reported about the bizarre weather, but did not propose the biblically-needed solutions (see United Nations insists 'climate change' is real and steps need to be taken: but which steps?).  Extreme weather is now accepted as reality but certain secularists, but they do not truly understand the cause (see Typhoon Hagupit and other extreme weather).
In the USA, there were massive protests related to police actions in Ferguson (Missouri), Cleveland (Ohio), New York City (New York) and elsewhere (see Ferguson protests spreading across USA, Molotov cocktails and tear gas in Ferguson, Missouri, and NYC protests Garner death; Cleveland police found to use excessive force).  While the actions of some police were improper, the looting and violent protesters, though a minority, seem to be setting the stage for more violent civil unrest in the future.
International trade agreements with Europe, China, India, and other parts of the world were worked on (see G-20 commit to USD$2 trillion increase in world economy–a prelude to Revelation 18? and Ukraine, Moldova, and George sign deals with European Union; Russia not pleased and BRICS take another step to reduce USA dollar dominance and China tells India it is not warlike as the two nations make deals).
The Continuing Church of God (CCOG) made major strides in reaching people in around the world and in different ways.   A conference was held in Nairobi that close to 30 leaders from Tanzania and Kenya were able to attend.  In addition to English, Spanish, Mandarin, and Tagalog, CCOG also began to produce literature in Kiswahili and in Africa print materials in both the English and Kiswahili languages. The Study the Bible Course started in January and regular lessons have been produced since. Three booklets were produced (Continuing History of the Church of God / Continuación de la Historia de la Iglesia de Dios, Faith for Those God has Called and Chosen / Fe para aquellos que Dios ha llamado y escogido, and Where is the True Christian Church Today? / ¿Dónde está la verdadera Iglesia cristiana de hoy?). A dream from another about CCOG was confirmed (see Dreams, the Bible, and the Continuing Church of God).  A Bible News Prophecy Flipboard site was added as a new means to reach people around the world with internet access and Bible News Prophecy online radio began. Our video channels had over 325,000 views.  Millions of articles were viewed on our websites in multiple languages. CCOG was also able to point on out prophetic errors that non-Philadelphian COGs are mistakenly following. CCOG does have the fruits to show that it can lead final phase of the work.
A lot more happened in 2014 than is listed above (like  increased governmental surveillance/monitoring of the internet, to mention another). But the above list includes many items that the mainstream media has tended to not cover, to gloss over, or not understand the ramifications.
2015 will likely be another year that many news items will align with properly understood biblical prophecy.
Some items of possibly related interest may include:
When Will the Great Tribulation Begin? 2015, 2016, or 2017? Can the Great Tribulation begin today? What happens before the Great Tribulation in the "beginning of sorrows"? What happens in the Great Tribulation and the Day of the Lord? Is this the time of the Gentiles? When is the earliest that the Great Tribulation can begin? What is the Day of the Lord? Who are the 144,000? Here is a version of the article in the Spanish language: ¿Puede comenzar la Gran Tribulación en 2014 o 2015? ¿Es el Tiempo de los Gentiles? You can also see the English language sermon video: The Great Tribulation from the Mount of Olives.
How To Determine If Someone is a True Prophet of God There are many false prophets, yet many overlook what the Bible teaches about how to recognize a true one. How can Christians determine who is a true prophet? This article contains a scripture-based checklist to assist with this determination.
How to determine if someone is a true prophet of God This is a sermon on YouTube addressing a subject that most in the Church of God do not seem to have looked into very much. It discusses scriptures and dispels some improper assertions that some associated with the COG have made about prophets in this time.
Elijah: Past and Prophesied Information about the original Elijah and some information about the Elijah-related prophecies.
Why Be Concerned About False and Heretical Leaders? There have been many false leaders–here is some of why you should be concerned about them.
The Final Phase of the Work What is the final phase of the work? Who will lead it? Do you have the courage to support it? Here is a related YouTube video titled The Final Phase of the Work. The written article has been translated into Spanish La Fase Final de la Obra.
CCOG.ORG Continuing Church of God The group striving to be most faithful amongst all real Christian groups to the word of God.
CCOG.ASIA We in the Continuing Church of God also have the url www.ccog.asia which has a focus on Asia and has various articles in Mandarin Chinese as well as some in English, plus some items in other Asian languages. 我们在继续神的教会也提供此网址 www.ccog.asia, 关注于亚洲并且有各种各样的中英文文章,其中一些用菲律宾语翻译的文章也正在进行中,准备添加到这个网站中。 Here is a link to our Statement of Beliefs in Mandarin Chinese 继续神的教会的信仰声明.
CCOG.IN This is a website targeted towards those of Indian heritage. It has a link to an edited Hindi translation of The Mystery of the Ages and is expected to have more non-English language materials in the future.
CCOG.EU This is a website targeted toward Europe. It has materials in more than one language (currently it has English, Dutch, and Serbian, with links also to Spanish) and it is intended to have additional language materials added.
CDLIDD.ES La Continuación de la Iglesia de Dios. This is the Spanish language website for the Continuing Church of God and has articles in español/castellano.
PNIND.PH Patuloy na Iglesya ng Diyos. This is the Philippines website Continuing Church of God. It has information in English and Tagalog.