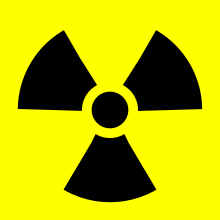 Radiation Warning Symbol

Smugglers in Moldova were stopped from getting more materials to the Islamic State from which it could make dirty bombs:
October 7, 2015

CHISINAU, Moldova — In the backwaters of Eastern Europe, authorities working with the FBI have interrupted four attempts in the past five years by gangs with suspected Russian connections that sought to sell radioactive material to Middle Eastern extremists, The Associated Press has learned. The latest known case came in February this year, when a smuggler offered a huge cache of deadly cesium – enough to contaminate several city blocks – and specifically sought a buyer from the Islamic State of Iraq and Syria (ISIS).

Criminal organizations, some with ties to the Russian KGB's successor agency, are driving a thriving black market in nuclear materials in the tiny and impoverished Eastern European country of Moldova, investigators say. The successful busts, however, were undercut by striking shortcomings: Kingpins got away, and those arrested evaded long prison sentences, sometimes quickly returning to nuclear smuggling, AP found.

Moldovan police and judicial authorities shared investigative case files with the AP in an effort to spotlight how dangerous the nuclear black market has become. They say the breakdown in cooperation between Russia and the West means that it has become much harder to know whether smugglers are finding ways to move parts of Russia's vast store of radioactive materials – an unknown quantity of which has leached into the black market.

"We can expect more of these cases," said Constantin Malic, a Moldovan police officer who investigated all four cases. "As long as the smugglers think they can make big money without getting caught, they will keep doing it." http://www.cbsnews.com/news/ap-moldova-fbi-smuggling-gangs-possible-russia-links-nuclear-material/
I have warned for some time that the Islamic State might try to use dirty bombs to cause more terror and destruction.
Here is some information about dirty bombs:
A dirty bomb is a speculative radiological weapon that combines radioactive material with conventional explosives. The purpose of the weapon is to contaminate the area around the dispersal agent/conventional explosion with radioactive material, serving primarily as an area denial device against civilians. It is however not to be confused with a nuclear explosion, such as a fission bomb, which by releasing nuclear energy produces blast effects far in excess of what is achievable by the use of conventional explosives.

Though a radiological dispersal device (RDD) would be designed to disperse radioactive material over a large area, a bomb that uses conventional explosives and produces a blast wave would be far more lethal to people than the hazard posed by radioactive material that may be mixed with the explosive.At levels created from probable sources, not enough radiation would be present to cause severe illness or death. A test explosion and subsequent calculations done by the United States Department of Energy found that assuming nothing is done to clean up the affected area and everyone stays in the affected area for one year, the radiation exposure would be "fairly high", but not fatal.Recent analysis of the nuclear fallout from the Chernobyl disaster confirms this, showing that the effect on many people in the surrounding area, although not those in close proximity, was almost negligible.

Since a dirty bomb is unlikely to cause many deaths by radiation exposure, many do not consider this to be a weapon of mass destruction. Its purpose would presumably be to create psychological, not physical, harm through ignorance, mass panic, and terror. For this reason dirty bombs are sometimes called "weapons of mass disruption". Additionally, containment and decontamination of thousands of victims, as well as decontamination of the affected area might require considerable time and expense, rendering areas partly unusable and causing economic damage. (Dirty Bomb, Wikipedia, viewed 07/10/14)
I have been warning that the ISIS/ISIL group, which now calls itself the Islamic State, was a terrorist organization. The acquisition of any nuclear materials by terrorist organizations is dangerous and may well result in the production of dirty bombs some day.
One or more dirty bombs may well be detonated in the USA and/or UK in the future. Other countries could be affected as well. Jesus warned about a time of troubles, sorrows, wars, and rumors of wars (Mark 13:7-8), and dirty bombs could well be part of that.
Some items of possibly related interest may include:
Iraq, the King of the South, Armageddon, and Prophecy What will happen to Iraq? Is it the prophesied Mystery Babylon? What is Armageddon and how does that have to do with Iraq? Here is a related video Iraq, Armageddon, & Prophecy.
The Prophesied 'Islamic' Confederation Where is an Islamic caliphate prophesied? Will one happen? Should you be concerned about it? A related video is Will an Arabic Calphiphate Destroy the West?
Is the Future King of the South Rising Up? Some no longer believe there needs to be a future King of the South. Might Egypt, Islam, Iran, Arabs, or Ethiopia be involved? Might this King be called the Mahdi or Caliph? What does the Bible say? A YouTube video of related interest may be: The Future King of the South is Rising.
The Muslim Brotherhood and the Rise of the King of the South The Bible tells of the formation of a power of nations that are in the Middle East and North Africa that are part of the final "King of the South" (Daniel 11:40-43) The Muslim Brotherhood wishes to have an Islamic empire with basically the same nations. This YouTube video explains what to expect from such a confederation.
The Arab and Islamic World In the Bible, History, and Prophecy The Bible discusses the origins of the Arab world and discusses the Middle East in prophecy. What is ahead for the Middle East and those who follow Islam? What about the Imam Mahdi? What lies ahead for Turkey, Iran, and the other non-Arabic Muslims? An item of possibly related interest in the Spanish language would be: Líderes iraníes condenan la hipocresía de Occidente y declaran que ahora es tiempo para prepararse para el Armagedón, la guerra, y el Imán Mahdi.
Egypt in Prophecy Does Egypt have a special role in end time prophecy? Will Egypt rise up and then be defeated. What does God teach will
What Should You Know About Turkey in Prophecy Do you know the Turkish people descended from? Did the Ottoman Empire possibly fulfill a promise in Genesis? Will Turkey support the European King of the North or Arabic King of the South? Will it betray one of them? Will Turkey be involved in the encouraging the destruction of Israel? Is Turkey going to become Catholic? Is Turkey mentioned in Psalm 83, Daniel 11, and elsewhere in the Bible? This video provides answers.
Damascus and Syria in Prophecy Will Bashar Assad hold power as he has it? Does the Bible show that Damascus, the capital of Syria, will be destroyed? What will happen to Syria? Will the Syrians support the final King of the South that the Bible tells will rise up? Which scriptures discuss the rise and fall of an Arabic confederation? Does Islamic prophecy predict the destruction of Syria. This is a YouTube video.
Is There an Islamic Antichrist? Is Joel Richardson correct that the final Antichrist will be Islamic and not European? Find out.
Anglo – America in Prophecy & the Lost Tribes of Israel Are the Americans, Canadians, English, Scottish, Welsh, Australians, Anglo-Saxon (non-Dutch) Southern Africans, and New Zealanders descendants of Joseph? Where are the lost ten-tribes of Israel? Who are the lost tribes of Israel? What will happen to Jerusalem and the Jews in Israel? Will God punish the U.S.A., Canada, United Kingdom, and other Anglo-Saxon nations? Why might God allow them to be punished first? Here is a link to the Spanish version of this article: Anglo-América & las Tribus Perdidas de Israel. Information is also in the YouTube sermons titled Where are the Ten Lost Tribes? Why does it matter? and British are the Covenant People. A short YouTube of prophetic interest may be Barack Obama and the State of the Apocalypse.
Will the Anglo-Saxon Nations be Divided and Have People Taken as Slaves? Will the lands of the United States, United Kingdom, Canada, Australia, and New Zealand be divided? What about Jerusalem? What does Bible prophecy teach? Are there non-biblical prophecies that support this idea? Who will divide those lands? Who will end up with the lands and the people? Here is a link to a video titled Will the USA and other Anglo-nations be Divided and Their People Made Slaves? Here is a related item in the Spanish language ¿Serán divididas las naciones anglosajonas?
Barack Obama in Islamic Prophecy? There is actually a 17th century Shiite prophecy that some believe that Barack Obama will fulfill that will lead to a rising up of Islam.
Arabic Nazarenes May Have Kept Original Christian Practices Were their faithful Arabs who held to original Christianity?
Nazarene Christianity: Were the Original Christians Nazarenes? Should Christians be Nazarenes today? What were the practices of the Nazarenes.
Barack Obama, Prophecy, and the Destruction of the United States-Second Edition for Second Obama Term This is a 160 page book for people truly interested in prophecies related to Barack Obama and the United States, including learning about many that have already been fulfilled (which the book documents in detail) and those that will be fulfilled in the future. It also has a chapter about a Republican choice. This book is available to order at www.barackobamaprophecy.com. The physical book can also be purchased at Amazon from the following link: Barack Obama, Prophecy, and the Destruction of the United States: Is Barack Obama Fulfilling Biblical, Islamic Catholic, Kenyan, and other America-Related Prophecies? What About Republican Leaders? Second Edition for Second Obama Term.
Barack Obama, Prophecy, and the Destruction of the United States-Second Term-Amazon Kindle edition. This electronic version is available for only US$2.99. And you do not need an actual Kindle device to read it. Why? Amazon will allow you to download it to almost any device: Please click HERE to download one of Amazon s Free Reader Apps. After you go to for your free Kindle reader and then go to Barack Obama, Prophecy, and the Destruction of the United States-Second Term-Amazon Kindle edition.