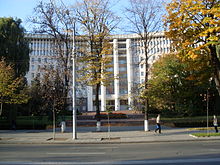 Moldovan Parliament

Voice of America and the EU Observer had the following about Moldova and Bulgaria:
November 14, 2016
Moldova's pro-Russian presidential candidate Igor Dodon has declared victory in Sunday's presidential runoff.

With nearly all the votes counted in the former Soviet republic, Dodon, who campaigned on promises to restore closer ties with Russia, earned about 55 percent of the vote, well ahead of pro-European rival Maya Sandu.

Final results are expected Monday in the impoverished country of 3.5 million.

Speaking to reporters at a late night news conference Sunday, Dodon recognized the strong campaigning of his rival and Dodon said he will be "a president of the whole state."

"Today we can do everything to avoid division in the society. I'll be a president to all Moldavians and for those who vote for you. I will listen to those who voted against me, because since today I'm a president of the whole state," said Dodon.

Pro-Moscow Dodon came close to winning the presidency outright in the first round of voting two weeks ago.

He has pledged to foster good relations with Moldova's neighbors, Romania and Ukraine. Such appeasement gestures, however, may face stiff resistance in Kyiv by many who object to Dodon's support for Russia's 2014 annexation of Ukraine's Crimean peninsula.

For her part, Sandu, a former education minister, used her campaign to urge closer ties with Europe. She also called for the withdrawal of several thousand Russian troops from Moldova's Russian-speaking separatist region of Trans-Dniester.

Dodon's victory comes alongside that of nearby Bulgaria's pro-Russian presidential candidate Gen. Rumen Radev, a political novice whose win Sunday prompted center-right Prime Minister Boyko Borisov to announce his resignation.

Moldova, like Bulgaria, has in recent years been plagued with rampant official corruption.

Former prime minister Vlad Filat was sentenced earlier this year to a nine-year prison term after a court found him guilty of corruption and abuse of power during his 2009-2013 term as head of government. His pro-European ruling coalition had been linked to the country's most powerful oligarch, Vladimir Plahotniuc, who has long been accused of running the country through bribes and intimidation.

Filat was arrested last year during a parliamentary session and later charged for his links to a bank-fraud scheme that included the disappearance from three banks of $1 billion – nearly 13 percent of the tiny country's annual GDP.

Filat's successor later lost a parliamentary vote of confidence. http://www.voanews.com/a/moldova-pro-russian-candidates-claims-presidency-in-runoff/3594883.html
14 November 2016
Russian-friendly candidates won elections on Sunday (13 November) in Bulgaria and Moldova.

Bulgaria was thrown into political uncertainty after prime minister Boyko Borisov quit following the bruising defeat his presidential candidate suffered at the hands of the opposition Socialist candidate Rumen Radev.

Borisov had backed centre-right parliamentary speaker Tsetska Tsacheva, who received only 36 percent in Sunday's run-off vote.

A political outsider and former commander of the country's Air Force, Radev won with more than 59 percent of the votes.

Commentators said his landslide win came as a result of anger with government policies and corruption.

Critics fear it could tilt Bulgaria towards Russia's power orbit.

"The results clearly show that the ruling coalition no longer holds the majority," Borisov, who was re-elected in 2014 for a second time, said on Sunday.

Radev said earlier that he would keep Bulgaria in Nato, but claimed that "being pro-European does not mean being anti-Russian". …

Nearby Moldova was also set to elect a pro-Russian president on Sunday. …

Dodon's win is partly the result of a loss of trust in the pro-European government, which was plunged into political and economic crisis after a corruption scandal in 2014.

Moldova also signed a EU association agreement in 2014, but its European integration could be in derailed, as Dodon advocated for stronger ties with Russia. https://euobserver.com/political/135885
Not all in Europe fear Russia. As I wrote in the past, with the UK Brexit vote, expect to see more cooperation between Europe and Russia. The votes in Bulgaria and Moldova seem to be steps in that direction.
Zero Hedge had the following report:
Kremlin Gains Two More European Allies As Bulgaria, Moldova Elect Pro-Russian Presidents

November 14, 2016

The good news just keeps going Putin's way. Just days after Trump defeated the Kremlin's nemesis Hillary Clinton, and at the same time as NATO is panicking over a potential shift in strategy and funding by the Trump administration and as Russian forces prepare for another blitz assault on Syria to cement their hold over Syria, on Sunday pro-Russian candidates won presidential elections in Moldova and Bulgaria on Sunday, giving Moscow new allies in its efforts to regain influence in parts of Eastern Europe it regards as its backyard. And while Russia is the clear winner, one loser to emerge bruised from the two votes is the European Union. …

According to the WSJ, the results are a shot in the arm for those in Moldova and Bulgaria who want to see their states warm up relations with their large Eastern neighbor, reversing years of westward drift they say has yielded too few rewards.

"I will dramatically improve the relations between Moldova and Russia," Mr. Dodon said in an email to The Wall Street Journal ahead of the vote. "These relations are very important for the citizens of the country." …

The votes in Bulgaria and Moldova were held in an atmosphere of widespread voter skepticism of the countries' political classes. Lawmakers in both countries have been accused of moving too slowly on public sector reform and allegations of corruption are common. http://www.zerohedge.com/news/2016-11-14/kremlin-gains-two-more-european-allies-bulgaria-moldova-elect-pro-russian-presidents
I have been following the election in Bulgaria and Moldova for some time.
While I long thought that Moldova was likely to move towards Russia, until recently the shift of Bulgaria towards Russia was not clear.
But both have been dealing with corruption.
Notice some passages from the Bible:
34 Righteousness exalts a nation, But sin is a reproach to any people. (Proverbs 14:34)

3…they turned aside after dishonest gain, took bribes, and perverted justice (1 Samuel 8:3).

9 Do not gather my soul with sinners,
Nor my life with bloodthirsty men,
10 In whose hands is a sinister scheme,
And whose right hand is full of bribes. (Psalms 26:9-10)

23…Everyone loves bribes,
And follows after rewards.
They do not defend the fatherless,
Nor does the cause of the widow come before them. (Isaiah 1:23)

12 For I know your manifold transgressions
And your mighty sins:
Afflicting the just and taking bribes;
Diverting the poor from justice at the gate. (Amos 5:12)

4…corruption that is in the world through lust. (2 Peter 1:4)
Corruption is not good.
Now, cries about corruption in government are not new. Notice something reported a while back related to an earlier election in Moldova:
December 3, 2014

Igor Botan, a Moldovan political scientist, says that for most voters the elections represented a strategic choice between "pro-European crooks and pro-Russian crooks". http://www.economist.com/news/europe/21635339-moldovans-choose-europe-barely
So Moldovans see corruption in Moldavia, Russia, and the European Union. And Bulgarians are also seeing corruption in Bulgaria.
Both have been disappointed by the European Union.
The European Union wants nearly all of continental Europe to be part of it, and that includes Moldova. Moldova is a land, which like Ukraine, some in the West see as a 'buffer' against Russia because of geographic proximity.
Georgia (another potential "buffer"), Ukraine, and Moldova have all formally made steps to become part of the European Union (EU). Bulgaria is currently in the EU.
Russia's Vladimir Putin, on the other hand, wants all the former Soviet states to become part of Russia or at least part of his new Eurasian Economic Union. And he also is interested in other nations that were under Soviet influence behind the old 'iron curtain.' And as it turns out, those countries tend to lean towards some version of the Eastern Orthodox faith, including the Russian Orthodox religion, so there are religious reasons that can also be involved.
Moldovans are somewhat torn about Russia vs. the EU. Bulgarians do not particularly want out of the EU, but they do feel that economically they will benefit by having closer ties with Russia.
They took some steps towards the European Union in the past few years which has made them poorer as this displeased Russia, which restricted aspects of trade. Many in Moldova do not trust Russia and believe that they will be freer and wealthier as part of the European Union. Others have been disappointed with the Europeans, have been made poorer by turning away from Russia, and have serious doubts that the Europeans can improve their lives for some time. The migrant crisis in the European Union this year did not turn Moldovans towards the EU, however.
So what will happen?
The Bible teaches that the European Beast power will expand to the south and the east.
Notice that, in Daniel 8, the Bible prophesied that a little horn would mainly expand South and East:
9 And out of one of them came a little horn which grew exceedingly great toward the south, toward the east, and toward the Glorious Land. 10 And it grew up to the host of heaven; and it cast down some of the host and some of the stars to the ground, and trampled them. 11 He even exalted himself as high as the Prince of the host; and by him the daily sacrifices were taken away, and the place of His sanctuary was cast down. 12 Because of transgression, an army was given over to the horn to oppose the daily sacrifices; and he cast truth down to the ground. He did all this and prospered. (Daniel 8:9-12).
And while the above has had a past fulfillment, this prophecy seems to be dual (compare with Daniel 11:27-39). The European Union has mainly expanded south and east of the Benelux nations Belgium, Netherlands, Luxembourg)–which is where it initially formed. Now, approximately 500 million people are now under a new, single (though not completely united) government, called the European Union, headquartered in Brussels. Ukraine is mainly east of much of the EU–thus its geography is consistent with being part of the EU. And Moldova and Georgia are south and east, which is also consistent. Do not be surprised if Moldova ends up with the Europeans for a time. But this is not certain. Bulgaria, at least for a time, is expected to remain.
The European Union has demonstrated a history and willingness to enlarge–and it is interested in Ukraine, Moldova, and Georgia. The U.S.A. keeps encouraging all of this, but this will not end well for the U.S.A. (cf. Daniel 11:39; Isaiah 10:5-11).
Of course, even now, not all in Ukraine, Moldova, and Georgia want to be part of the European Union, some prefer to be in Russia's upcoming Eurasian Union. As I have written for a long time, those that become disillusioned/disappointed by the EU may ultimately back out of it.
Notice also the following:
1 The burden against Babylon which Isaiah the son of Amoz saw…

17 "Behold, I will stir up the Medes against them,
Who will not regard silver;
And as for gold, they will not delight in it.
18 Also their bows will dash the young men to pieces,
And they will have no pity on the fruit of the womb;
Their eye will not spare children.
19 And Babylon, the glory of kingdoms,
The beauty of the Chaldeans' pride,
Will be as when God overthrew Sodom and Gomorrah. (Isaiah 13:1, 17-19)

11 Make the arrows bright!
Gather the shields!
The Lord has raised up the spirit of the kings of the Medes.
For His plan is against Babylon to destroy it,
Because it is the vengeance of the Lord,
The vengeance for His temple. (Jeremiah 51:11)
Biblically (because of prophecies involving the Medes, some of which are in Ukraine, and some in the "north and east" in Daniel 11:44), it would seem that Russia (a power of the "far north" Ezekiel 38:3,6) would be closer to at least parts of Ukraine (like some of the eastern portions of it) and possibly Moldova and Georgia in the end than many realize. (There is also a YouTube video available titled Ukraine in Prophecy?)
This will ultimately not end well for Europe:
50:41 "Behold, a people shall come from the north,
And a great nation and many kings
Shall be raised up from the ends of the earth.
42 They shall hold the bow and the lance;
They are cruel and shall not show mercy.
Their voice shall roar like the sea;
They shall ride on horses,
Set in array, like a man for the battle,
Against you, O daughter of Babylon.

43 "The king of Babylon has heard the report about them,
And his hands grow feeble;
Anguish has taken hold of him,
Pangs as of a woman in childbirth…"(Jeremiah 50:41-43).

8 O daughter of Babylon, who are to be destroyed,
Happy the one who repays you as you have served us!
9 Happy the one who takes and dashes
Your little ones against the rock! (Psalms 137:8-9)
That is some of the bad news.
The good news is that Jesus will return after this and usher in the millennial kingdom of God. Until then, expect ups and downs and ups, and then ultimately major downs in Europe.
Some items of possibly related interest may include:
Russia and Ukraine: Their Origins and Prophesied Future Russia in prophecy. Where do the Russians come from? What about those in the Ukraine? What is prophesied for Russia and its allies? What will they do to the Europeans that supported the Beast in the end? There is also a video sermon available: Russia in the Bible and in Prophecy and a video sermonette available: Ukraine in Prophecy?
Is Russia the King of the North? Some claim it is. But what does the Bible teach? Here is a link to a video, also titled Is Russia the King of the North?
Ezekiel 38: For Russia & Iran in Our Day? Is Ezekiel 38 about to be fulfilled? A related video is available titled Ezekiel 38: For Russia, Ukraine, & Iran Now?
The Eurasian Union, the Kings of the East, and Bible Prophecy Is there a Eurasian union that will be formed? Is one being formed right now? Are any leaders working on that in the 21st century? Does the Bible teach that there will be a Eurasian union? If some type of Eurasian union is formed, who might it benefit and who will it destroy? A related video would be Is The Eurasian Union Rising?
Some Similarities and Differences Between the Eastern Orthodox Church and the Continuing Church of God Both groups claim to be the original church, but both groups have differing ways to claim it. Both groups have some amazing similarities and some major differences. Do you know what they are?
Anglo – America in Prophecy & the Lost Tribes of Israel Are the Americans, Canadians, English, Scottish, Welsh, Australians, Anglo-Saxon (non-Dutch) Southern Africans, and New Zealanders descendants of Joseph? Where are the lost ten-tribes of Israel? Who are the lost tribes of Israel? What will happen to Jerusalem and the Jews in Israel? Will God punish the U.S.A., Canada, United Kingdom, and other Anglo-Saxon nations? Why might God allow them to be punished first? Here is a link to the Spanish version of this article: Anglo-América & las Tribus Perdidas de Israel. Information is also in the YouTube sermons titled Where are the Ten Lost Tribes? Why does it matter? and British are the Covenant People. A short YouTube of prophetic interest may be Barack Obama and the State of the Apocalypse.
Will the Anglo-Saxon Nations be Divided and Have People Taken as Slaves? Will the lands of the United States, United Kingdom, Canada, Australia, and New Zealand be divided? What about Jerusalem? What does Bible prophecy teach? Are there non-biblical prophecies that support this idea? Who will divide those lands? Who will end up with the lands and the people? Here is a link to a video titled Will the USA and other Anglo-nations be Divided and Their People Made Slaves? Here is a related item in the Spanish language ¿Serán divididas las naciones anglosajonas?
British are the Covenant People What do 'British' and 'Britain' mean in Hebrew? Are the descendants of the Anglo-Saxons people of the covenant? Does the British royal family connect to the throne of David? What does the Bible teach? What does history show us? Is there any DNA evidence related to British-Israelism? When did Christianity make it to the British Isles? Could Jeremiah have made it to the British Isles? What type of Christians made it to the British Isles? Did the last King of England believe in British Israelism?
The Gospel of the Kingdom of God was the Emphasis of Jesus and the Early Church Did you know that? Do you even know what the gospel of the kingdom is all about? You can also see a YouTube video sermon The Gospel of the Kingdom.
Did The Early Church Teach Millenarianism? Was the millennium (sometimes called chiliasm) taught by early Christians? Who condemned it? Will Jesus literally reign for 1000 years on the earth? Is this time near? A related sermon is titled The Millennium.
Does God Have a 6,000 Year Plan? What Year Does the 6,000 Years End? Was a 6000 year time allowed for humans to rule followed by a literal thousand year reign of Christ on Earth taught by the early Christians? Does God have 7,000 year plan? What year may the six thousand years of human rule end? When will Jesus return? 2023 or 20xx? There is also a video titled The 6000 Year Plan: Is the end of humanity's reign almost up? Here is a link to the article in Spanish: ¿Tiene Dios un plan de 6,000 años?
When Will the Great Tribulation Begin? 2016, 2017, or 2018? Can the Great Tribulation begin today? What happens before the Great Tribulation in the "beginning of sorrows"? What happens in the Great Tribulation and the Day of the Lord? Is this the time of the Gentiles? When is the earliest that the Great Tribulation can begin? What is the Day of the Lord? Who are the 144,000? Here is a version of the article in the Spanish language: ¿Puede comenzar la Gran Tribulación en 2016 o 2017? ¿Es el Tiempo de los Gentiles? You can also see the English language sermon video: The Great Tribulation from the Mount of Olives. A shorter video is: Can the Great Tribulation Start in 2016?