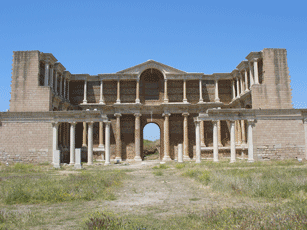 Rebuilt Gymnasium in Sardis

The current edition of CG7-Denver's Bible Advocate has the following:
August 12, 1863, was the dateline printed on the very first issue of The Hope of Israel, a publication now named the Bible Advocate. We're planning to memorialize BA's history as one of the oldest religious publications in America and to improve its service in the future.
Back in 1863, not only was the publication not called the Bible Advocate, and Church of God (Seventh Day) was actually called Church of God (Adventist).  Based upon my research into its early history, while it may have some actual COG members back in 1863, they seemed to be the minority until around the early 20th century.
While, as a rule, CG7 has lost certain knowledge of some doctrines (cf. Revelation 3:1-6), especially prophecy (and this loss here seems to have accelerated over the past five or so years), the current issue of the Bible Advocate does have an article by Arlo Gieselman consistent with the COG view that God will give everyone an opportunity for salvation, either now or at the second resurrection.  And while I have personally spoken to one of its former presidents (Calvin Burrell) about why he should teach this doctrine, and he is the editor of the Bible Advocate,  he did have the following disclaimer after the pro-second resurrection opportunity doctrine article:
Arlo Gieselman attends the Church of God Kansas City in Independence, MO, and conducts a ministry to truckers at nearby truck stops. Though Arlo is a good friend of the editor and of CoG7, not every idea in his Viewpoint necessarily represents positions adopted by the Church.
So, while I am glad that more in CG7 seem to understand at least parts of this doctrine, it is still not one that CG7 is fully comfortable about embracing.  Anyway, if my understanding of end time Bible prophecy is close to correct, CG7 will not have too many more years to put out its publications.
For more information on related topics, please check out the following:
Church of God, Seventh Day: History and Teachings Nearly all COG's I am aware of trace their history through this group. Whaid Rose is the president of the largest CG7 group (Denver). Do you know much about them?
The Sardis Church Era was predominant circa 1600 A.D. to circa 1933 A.D. Discusses early history of the Seventh Day Baptists, Seventh-day Adventists, and COG-7th Day.
Universal Offer of Salvation: There Are Hundreds of Verses in the Bible Supporting the Doctrine of True Apocatastasis Do you believe what the Bible actually teaches on this? Will all good things be restored? Will God call everyone? Will everyone have an opportunity for salvation? Does God's plan of salvation take rebellion and spiritual blindness into account?
Hope of Salvation: How the Church of God differ from most Protestants How the genuine Church of God differs from mainstream/traditional Protestants, is perhaps the question I am asked most by those without a Church of God background.
Which Is Faithful: The Roman Catholic Church or the Genuine Church of God? Do you know that both groups shared a lot of the earliest teachings? Do you know which church changed? Do you know which group is most faithful to the teachings of the apostolic church? Which group best represents true Christianity? This documented article answers those questions. Português: Qual é fiel: A igreja católica romana ou a verdadeira igreja do deus? Tambien Español: ¿Que es fiel: La Iglesia Católica Romana o la Iglesia verdadera de Dios? Auch: Deutsch: Welches ist treu: Die römisch-katholische Kirche oder die Kirche Gottes Original?
Does God Have a 6,000 Year Plan? What Year Does the 6,000 Years End? Was a 6000 year time allowed for humans to rule followed by a literal thousand year reign of Christ on Earth taught by the early Christians? Does God have 7,000 year plan? What year may the six thousand years of human rule end? When will Jesus return? 2019 or 202x?