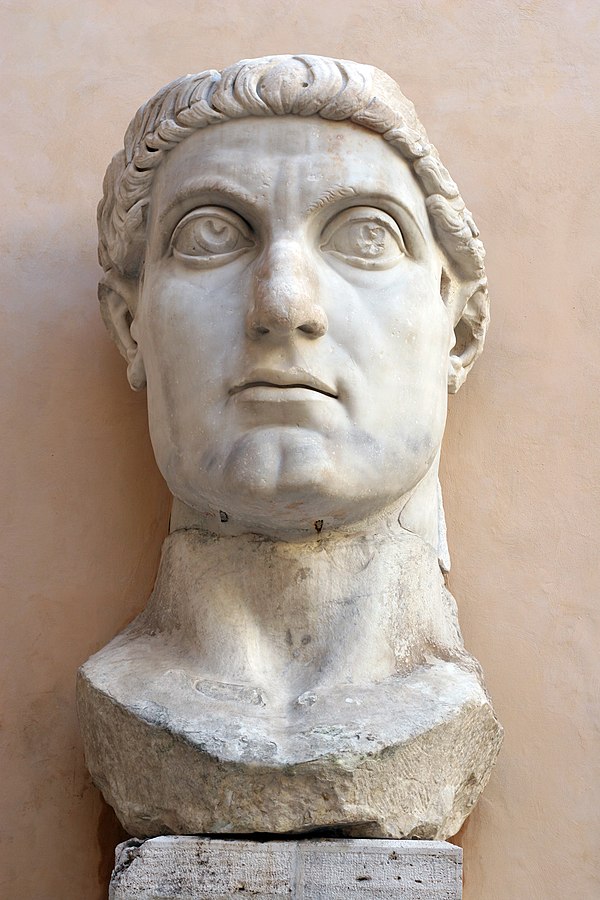 Bust of Constantine (photo by Camille King)
The first Sunday law was enacted by Emperor Constantine in the early 4th century.
Constantine decreed circa March 7, 321:
Let all judges, the people of cities, and those employed in all trades, remain quiet on the Holy Day of Sunday. (Code of Justinian, Book III, Title XII, III. THE JUSTINIAN CODE FROM THE CORPUS JURIS CIVILIS. Translated from the original Latin by Samuel P. Scott. Central Trust Company, Cincinnati, 1932).
Shortly after the above decree, Eusebius recorded this about Constantine:
Accordingly he enjoined on all the subjects of the Roman empire to observe the Lord's day, as a day of rest (Eusebius. Life of Constantine, Book IV, Chapter 18).
Notice that "the Lord's day" became enjoined by a decree of a Roman Empire. Also notice the following:
There is a large body of civil legislation on the Sunday rest side by side with the ecclesiastical. It begins with an Edict of Constantine, the first Christian emperor, who forbade judges to sit and townspeople to work on Sunday (Slater T. Transcribed by Scott Anthony Hibbs. Sunday. The Catholic Encyclopedia, Volume XIV Copyright © 1912 by Robert Appleton Company Online Edition Copyright © 2003 by K. Knight).
Notice the following related to Constantine and Sunday written by one who observes Sunday:
So prominent had Christians and their day become that when the Emperor Constantine proclaimed Sun Day as the weekly holy day for all Romans, some Christians believed that it was for their sake. More likely Constantine, like many Roman aristocrats of the time, was simply trying to find common ground for his mixed pagan and Christian subjects, especially his soldiers. Unity was for the good of the state and the emperors' power (Harline C. Sunday: A History of the First Day from Babylonia to the Super Bowl. Doubleday, NY, 2007, p. 17).
However, after a time, Constantine did clearly begin to provide more favor for the Roman version of 'Christianity' which (like the pagans, but unlike the Church of God) endorsed Sunday. He, the sun-worshiping emperor, then called for the famous Council of Nicea, which took place in 325 A.D. This council decided that Sunday was to be the day of worship and that Passover was to be observed on Sunday (and that eventually became what is known as Easter). After that council, those in the Church of God who kept the Sabbath were considered to be heretics and outcasts and had to flee in the wilderness.
The Emperor authorized persecution. Around 332, Constantine issued what is known as the Edict Against the Heretics,
Victor Constantinus, Maximus Augustus, to the heretics. "Understand now, by this present statute, ye Novatians, Valentinians, Marcionites, Paulians, ye who are called Cataphrygians, and all ye who devise and support heresies by means of your private assemblies, with what a tissue of falsehood and vanity, with what destructive and venomous errors, your doctrines are inseparably interwoven; so that through you the healthy soul is stricken with disease, and the living becomes the prey of everlasting death. Ye haters and enemies of truth and life, in league with destruction! All your counsels are opposed to the truth, but familiar with deeds of baseness; full of absurdities and fictions: and by these ye frame falsehoods, oppress the innocent, and withhold the light from them that believe. Ever trespassing under the mask of godliness, ye fill all things with defilement: ye pierce the pure and guileless conscience with deadly wounds, while ye withdraw, one may almost say, the very light of day from the eyes of men. But why should I particularize, when to speak of your criminality as it deserves demands more time and leisure than I can give? For so long and unmeasured is the catalogue of your offenses, so hateful and altogether atrocious are they, that a single day would not suffice to recount them all. And, indeed, it is well to turn one's ears and eyes from such a subject, lest by a description of each particular evil, the pure sincerity and freshness of one's own faith be impaired. Why then do I still bear with such abounding evil; especially since this protracted clemency is the cause that some who were sound are become tainted with this pestilent disease? Why not at once strike, as it were, at the root of so great a mischief by a public manifestation of displeasure?" (Chapter LXIV.—Constantine's Edict against the Heretics. This document is from the Christian Classics Ethereal Library at Calvin College).
Originally,
As with the Jewish Sabbath, the observance of the Christian Sunday began with sundown on Saturday and lasted till the same time on Sunday (Slater T. Transcribed by Scott Anthony Hibbs Sunday. The Catholic Encyclopedia, Volume XIV Copyright © 1912 by Robert Appleton Company Online Edition Copyright © 2003 by K. Knight).
But this changed for most who observed Sunday, to a midnight to midnight observance.
A reader wrote the following:
March 7th – The anniversary of Constantine's "venerable day of the sun" law

It was on this day that the Roman Emperor Constantine enacted his law which obliged all the citizens of the Roman Empire to keep the "venerable day of the sun" – SUNday! The fact that some 3rd century Christians kept Sunday, the first day of the week, gave this Roman emperor an idea to use such a custom to seal the unity within the empire between paganism and Christianity. He retained the old pagan term in his Sunday law – 'Dies Solis "(in Latin "the day of the sun") – which came into force on March 7, 321 AD.

Constantine's Sunday law stipulated the following: "On the venerable Day of the Sun let the magistrates and people residing in cities rest, and let all workshops be closed. In the country, however, persons engaged in agriculture may freely and lawfully continue their pursuits; because it often happens that another day is not so suitable for grain-sowing or for vine-planting; lest by neglecting the proper moment for such operations the bounty of heaven should be lost".

Constantine's ecclesiastical Council of Nicaea in 325 AD abolished the New Testament Passover instituted by Jesus Christ on the night in which He was arrested and later crucified. This is how Constantine describes his motives behind the Nicaen decisions: "it appeared an unworthy thing that in the celebration of this most holy feast (pagan Easter) we should follow the practice of the Jews, who have impiously defiled their hands with enormous sin, and are, therefore, deservedly afflicted with blindness of soul. … Let us then have nothing in common with the detestable Jewish crowd; for we have received from our Savior a different way". (The faithful New Testament Christians did not receive any different way from our Savior, for He is the same yesterday, today and forever!)

Church historian Moshaim writes that Constantine's 4th century superstitions gradually supplanted true piety. He attributes the shameful transformation of Christianity into paganism to a crazy drive of nominal Christians to blend pagan rites with Christianity. Thus, beginning from Constantine, a new religion emerged of which "neither Jesus nor Paul were the founding fathers". "As a completely new religion in the Roman Empire, Christianity came as the result of later interpretations of the original traditions about Christ's life, teachings, death and resurrection". [1]

Constantine died before completing the Church of the Twelve in Constantinople, where he planned his tomb surrounded by the tombs of the apostles.  The first "Christian Emperor" dreamed to rest forever amidst the remains of the Twelve not like one of them, but as a symbol of their leader. [2]

1 Milan Vukomanovic, Early Christianity – from Jesus to Christ, Novi Sad: Svetovi, 1996, 19.

2 William Steuart McBirnie, The Search for the Twelve apostles, Carol Stream, Illinois: Tyndale House Publishers Inc., 2004, 18-19.
Here is a version of the above article in Serbian:
СРПСКИ

На данашњи дан, 7. марта 321. године римски цар Константин је донео закон о држању "часног дана сунца" ("Dies Solis", SUNday) и тако успоставио јединство незнабожаца и хришћана препоручивши свима да држе тај дан. Текст закона гласи: "У часни дан сунца нека се становници градова одмарају и све трговине треба да су затворене. Само они који се баве земљорадњом могу слободно обављати своје уобичајене послове, јер се дешава да који други дан није повољан за сејање или обрађивање винограда; не искористивши погодно време, могли би нам пропасти драгоцени дарови које нам небо пружа".

Протојереј Владимир Дакић у "Историји Старога завета за први разред средњих и грађанских и пети разред народних школа" (издање 1940. на основу одлуке Светога архијерејскога синода и мишљења главног просветног савета) пише: "А седмога дана Бог је престао да ствара. Тај дан је благословио и посветио. Он се зове субота, што значи одмор".

Константинов црквени Сабор у Никеји 325. године забранио је новозаветну Пасху.  Разлог томе је, по наводима његовог биографа Јевсевија Цезарејског, Константинова мржња према Јеврејима и настојање да ништа у верској пракси не подсећа на њих.  Црквени историчар Мошајм тврди да су празноверице у 4. веку постепено истиснуле праву побожност.  Срамно преображење хришћанства у паганство приписује лудој жељи номиналних хришћана да имитирају паганске обреде. Тако је, почев од Константина, настала потпуно нова религија зато што "ни Исус ни Павле нису били "оснивачи" тог "хришћанства".

Константин је саградио данашњу ватиканску базилику "светог Петра" на древном паганском гробљу на којем је сахрањен чаробњак Симон, стварни оснивач католичке цркве и први римски папа.  Смрт га је претекла да заврши своју намисао у Константинопољу: да му гроб буде у средини цркве.  "Први хришћански цар" је маштао да почива за увек усред Дванаесторице не као један од њих, него као симбол њиховог вође.

Коришћени извори:

[1] Милан Вукомановић, "Рано хришћанство – од Исуса до Христа", Нови Сад: Светови, 1996, 19.

[2] William Steuart McBirnie, "The Search for the Twelve apostles", Carol Stream, Illinois: Tyndale House Publishers Inc., 2004, 18-19.

[3] Алигијеро Тонди, "Ватикан и неофашизам", Сарајево: Свјетлост, 1957, 9.

[4] Јевсевије Поповић, "Опћа црквена историја, књига I. – (до 1054.)", Сремски Карловци: Српска манастирска штампарија, 1912, 458.
The same person also supplied the following in Italian:
7 marzo – Anniversario della legge del "venerabile giorno del sole" di Costantino

Fu in questo giorno che l'imperatore romano Costantino promulgò la sua legge che obbligava tutti i cittadini dell'Impero Romano a osservare il "venerabile giorno del sole" – ("SUNday" in inglese)! Il fatto che alcuni cristiani del III secolo osservavano la domenica, il primo giorno della settimana, diede a questo imperatore romano l'idea di usare una tale usanza per sigillare l'unità all'interno dell'impero tra paganesimo e cristianesimo. Ha mantenuto il vecchio termine pagano nella sua legge domenicale – 'Dies Solis "(in latino "il giorno del sole") – che è entrato in vigore il 7 marzo, 321 dC.

La legge domenicale di Costantino stipulava quanto segue: "Nel venerabile giorno del Sole si riposino i magistrati e gli abitanti delle città, e si lascino chiusi tutti i negozi. Nelle campagne, però, la gente sia libera legalmente di continuare il proprio lavoro, perché spesso capita che non si possa rimandare la mietitura del grano o la semina delle vigne; sia così, per timore che negando il momento giusto per tali lavori, vada perduto il momento opportuno, stabilito dal cielo".

Il Concilio ecclesiastico di Costantino di Nicea nel 325 dC ha abolito la Pasqua del Nuovo Testamento istituita da Gesù Cristo, la notte in cui Egli è stato arrestato e poi crocifisso. Così Costantino descrive le sue motivazioni dietro le decisioni nicene: "In primo luogo parve inopportuno celebrare quella santissima festività [la Pasqua pagana] seguendo la consuetudine dei Giudei: gli scellerati che contaminarono le proprie mani con un empio delitto e di conseguenza resero cieche le loro menti. … Pertanto, che nulla vi sia in comune tra voi e la folla detestabile dei Giudei. Abbiamo ricevuto un'altra strada dal Salvatore". (I fedeli cristiani del Nuovo Testamento non ricevettero alcuna via diversa dal nostro Salvatore, perché Egli è lo stesso ieri, oggi e in eterno!)

Lo storico della Chiesa Mosheim scrive che le superstizioni costantiniane del IV secolo gradualmente soppiantarono la vera pietà. Egli attribuisce la vergognosa trasformazione del cristianesimo in paganesimo a una folle spinta dei cristiani nominali a fondere riti pagani con il cristianesimo. Così, a partire da Costantino, è emersa una nuova religione di cui «né Gesù né Paolo sono stati i padri fondatori». "Come religione completamente nuova nell'Impero Romano, il Cristianesimo venne come risultato di interpretazioni successive delle tradizioni originali sulla vita, gli insegnamenti, la morte e la risurrezione di Cristo". [1]

Costantino morì prima di completare la Chiesa dei Dodici a Costantinopoli, dove progettò la sua tomba circondata dalle tombe dell'apostolo. Il primo "imperatore cristiano" sognava di riposare per sempre tra le spoglie dei Dodici non come uno di loro, ma come simbolo del loro capo. [2]

1 Milan Vukomanovic, Early Christianity – from Jesus to Christ, Novi Sad: Svetovi, 1996, 19.

2 William Steuart McBirnie, The Search for the Twelve apostles, Carol Stream, Illinois: Tyndale House Publishers Inc., 2004, 18-19.
The same person also provided the following in Portuguese:
7 de março – O aniversário da lei do "venerável dia do sol" de Constantino

Foi neste dia que o imperador romano Constantino promulgou sua lei que obrigava todos os cidadãos do Império Romano a guardar o "venerável dia do SOL" – DOMINGO! O fato de alguns cristãos do século III observaram o domingo, o primeiro dia da semana, deu a este imperador romano a ideia de usar tal costume para selar a unidade dentro do império entre o paganismo e o cristianismo. Ele manteve o antigo termo pagão em sua lei dominical – 'Dies Solis "(em latim "o dia do sol") – que entrou em vigor em 7 de março de 321 d.C.

A lei dominical de Constantino estipulava o seguinte: "No venerável Dia do Sol descansem os magistrados e as pessoas que residem nas cidades, e que todas as oficinas sejam fechadas. No campo, porém, as pessoas que se dedicam à agricultura podem livremente e legalmente continuar suas atividades; porque muitas vezes acontece que outro dia não é tão adequado para a semeadura de grãos ou para a plantação de videiras; para que, ao negligenciar o momento adequado para tais operações, a generosidade do céu se perca".

O Concílio eclesiástico de Nicéia de Constantino em 325 d.C. aboliu a Páscoa do Novo Testamento instituída por Jesus Cristo na noite em que Ele foi preso e depois crucificado. É assim que Constantino descreve seus motivos por trás das decisões de Nicéia: "parecia uma coisa indigna que na celebração desta festa santíssima (Páscoa pagã) devêssemos seguir a prática dos judeus, que impiedosamente contaminaram suas mãos com enorme pecado, e são, portanto, merecidamente afligidos com cegueira de alma. … Não tenhamos nada em comum com a detestável multidão judaica; pois recebemos de nosso Salvador de uma maneira diferente". (Os fiéis cristãos do Novo Testamento não receberam nenhuma maneira diferente de nosso Salvador, pois Ele é o mesmo ontem, hoje e sempre!)

O historiador da Igreja Moshaim escreve que as superstições do século IV de Constantino gradualmente suplantaram a verdadeira piedade. Ele atribui a vergonhosa transformação do cristianismo em paganismo a um louco impulso de cristãos nominais para misturar ritos pagãos com cristianismo. Assim, a partir de Constantino, surgiu uma nova religião da qual "nem Jesus nem Paulo foram os pais fundadores". ensinamentos, morte e ressurreição". [1]

Constantino morreu antes de completar a Igreja dos Doze em Constantinopla, onde planejou seu túmulo cercado pelos túmulos do apóstolo. O primeiro "Imperador Cristão" sonhou descansar para sempre entre os restos dos Doze não como um deles, mas como um símbolo de líder deles. [2]

1 Milan Vukomanovic, Early Christianity – from Jesus to Christ, Novi Sad: Svetovi, 1996, 19.

2 William Stewart McBirnie, The Search for the Twelve Apostles, Carol Stream, Illinois: Tyndale House Publishers Inc., 2004, 18-19.
The same one also sent the article in Romanian:
7 martie – Aniversarea legii "venerabilei zile a soarelui" promulgată de Constantin

Aceasta a fost ziua în care împăratul roman Constantin și-a promulgat legea care îi obliga pe toți cetățenii Imperiului Roman să păzească "venerabila zi a soarelui" – duminica (n.tr., în engleză SUNday = ziua SOARELUI)! Faptul că unii creștini din secolul al III-lea țineau duminica, prima zi a săptămânii, i-a dat acestui împărat roman ideea de a folosi un astfel de obicei pentru a pecetlui unitatea dintre păgânism și creștinism din interiorul imperiului. El a păstrat vechiul termen păgân în legea sa duminicală – "Dies Solis "(în latină "ziua soarelui") – care a intrat în vigoare la 7 martie 321 d.Hr.

Legea duminicală a lui Constantin prevedea următoarele: "În venerabila Zi a Soarelui magistrații și oamenii care locuiesc în orașe să se odihnească și să fie închise toate atelierele. La țară, totuși, persoanele angajate în agricultură își pot continua liber și în mod legal activitățile; pentru că se întâmplă adesea ca o altă zi să nu fie atât de potrivită pentru semănatul cerealor sau plantarea viței de vie și ca nu cumva, neglijând momentul potrivit pentru astfel de activități, abundența cerului să se piardă".

Sinodul bisericesc al lui Constantin de la Niceea din 325 d.Hr. a abolit Paștele Noului Testament instituit de Isus Hristos în noaptea în care El a fost arestat și mai târziu răstignit. Iată cum își descrie Constantin motivele din spatele hotărârilor de la Niceea: "s-a părut un lucru nevrednic ca, în sărbătorirea acestei preasfinte sărbători (Paștele păgân), să urmăm practica evreilor care cu impietate și-au pângărit mâinile cu un păcat enorm, și, prin urmare, sunt afectați în mod meritat de orbirea sufletului. … Să nu avem nimic în comun cu detestabila mulţime evreiască; căci noi am primit de la Mântuitorul nostru altfel". (Creștinii credincioși din Noul Testament nu au primit nicio cale diferită de la Mântuitorul nostru, căci El este același ieri, astăzi și în vecii vecilor!)

Istoricul bisericesc Moshaim scrie că superstițiile lui Constantin din secolul al IV-lea au înlocuit treptat adevărata evlavie. El atribuie transformarea rușinoasă a creștinismului în păgânism unui impuls nebun al creștinilor nominali de a amesteca ritualurile păgâne cu creștinismul. Astfel, începând de la Constantin, a apărut o nouă religie ai cărei "părinți fondatori nu au fost nici Iisus, nici Pavel". "Fiind religie complet nouă în Imperiul Roman, creștinismul a apărut ca rezultat al interpretărilor ulterioare ale tradițiilor originale despre viața învățăturile, moartea și învierea lui Hristos," [1]

Constantin a murit înainte de a finaliza Biserica celor Doisprezece din Constantinopol, unde a plănuit ca mormântul să-i fie înconjurat de mormintele apostolilor. Primul "împărat creștin" visa astfel să se odihnească pentru totdeauna în mijlocul rămășițelor celor doisprezece nu ca unul dintre ei, ci ca un simbol al conducătorului lor. [2]1 Milan Vukomanovic, Creștinismul timpuriu – de la Isus la Hristos, Novi Sad: Svetovi, 1996, 19.2 William Steuart McBirnie, Căutarea celor doisprezece apostoli, Carol Stream, Illinois: Tyndale House Publishers Inc., 2004, 18-19.
To conclude in English, let me add that many Protestant groups seem to wish to support the agenda of Constantine when it comes to Sunday.
This is not biblical.
Some items of possibly related interest may include:
Sunday and Christianity Was Sunday observed by the apostolic and true post-apostolic Christians? Who clearly endorsed Sunday? What relevance is the first or the "eighth" day? A related sermon is also available: Sunday: First and Eighth Day?
CG7.ORG This is a website for those interested in the Sabbath and churches that observe the seventh day Sabbath.
The Sabbath in the Early Church and Abroad Was the seventh-day (Saturday) Sabbath observed by the apostolic and post-apostolic Church? Here is a related sermon video The Christian Sabbath and How and Why to Keep It.
How to Observe the Sabbath? How should you keep the Sabbath? This is an old article by Raymond Cole, with updated information for the 21st century.
Can You Keep Your Job, Get Your Degree, and Keep the Sabbath? This article has some information on that. Here is a link to a related video titled: Can you keep the Sabbath and your job? What about college?
The Christian Sabbath. This is a series of articles from the Catholic Mirror essentially proving that the biblical Sabbath was Saturday, that the Lord's day in Revelation 1 is not a reference to Sunday, that the Church of Rome implemented Sunday, and that nearly all Protestants followed Rome. Here is a link to a related sermon: Catholic teachings on the Sabbath, Sunday, and Protestantism.
The Mark of Antichrist What is the mark of Antichrist? What have various ones claimed? Here is a link to a related sermon What is the 'Mark of Antichrist'?
Continuing History of the Church of God This pdf booklet is a historical overview of the true Church of God and some of its main opponents from Acts 2 to the 21st century. Related sermon links include Continuing History of the Church of God: c. 31 to c. 300 A.D. and Continuing History of the Church of God: 4th-16th Centuries and Continuing History of the Church of God: 17th-20th Centuries. The booklet is available in Spanish: Continuación de la Historia de la Iglesia de Dios, German: Kontinuierliche Geschichte der Kirche Gottes, French: L'Histoire Continue de l'Église de Dieu and Ekegusii Omogano Bw'ekanisa Ya Nyasae Egendererete.
Universal OFFER of Salvation, Apokatastasis: Can God save the lost in an age to come? Hundreds of scriptures reveal God's plan of salvation Will all get a fair chance at salvation? This free book is packed with scriptures showing that God does intend to offer salvation to all who ever lived–the elect in this age, and the rest in the age to come. Here is a link to a related sermon series: Universal Offer of Salvation 1: Apocatastasis, Universal Offer of Salvation 2: Jesus Desires All to be Saved, Mysteries of the Great White Throne Judgment (Universal Offer of Salvation part 3), Is God Fair, Will God Pardon the Ignorant?, Can God Save Your Relatives?, Babies, Limbo, Purgatory and God's Plan, and 'By the Mouth of All His Holy Prophets'.
SDA/CCOG Differences: Two Horned Beast of Revelation and 666 The genuine Church of God is NOT part of the Seventh-day Adventists. This article explains two prophetic differences, the trinity, differences in approaching doctrine, including Ellen White. Did Ellen White make prophetic errors? Did Ellen White make false prophecies? Here is a version in the Spanish language: SDA/COG Diferencias: La bestia de dos cuernos de Apocalipsis y 666. Here are two sermons in the English language: Seventh Day Baptists/Adventists/Messianics: Protestant or COG? and CCOG and SDA differences and similarities. Here is a link to an article in the Spanish language: Diferencias: SDA/CCOG: La bestia de dos cuernos de Apocalipsis y 666.
Hope of Salvation: How the Continuing Church of God Differs from Protestantism The CCOG is NOT Protestant. This free online book explains how the real Church of God differs from mainstream/traditional Protestants. Several sermons related to the free book are also available: Protestant, Baptist, and CCOG History; The First Protestant, God's Command, Grace, & Character; The New Testament, Martin Luther, and the Canon; Eucharist, Passover, and Easter; Views of Jews, Lost Tribes, Warfare, & Baptism; Scripture vs. Tradition, Sabbath vs. Sunday; Church Services, Sunday, Heaven, and God's Plan; Seventh Day Baptists/Adventists/Messianics: Protestant or COG?; Millennial Kingdom of God and God's Plan of Salvation; Crosses, Trees, Tithes, and Unclean Meats; The Godhead and the Trinity; Fleeing or Rapture?; and Ecumenism, Rome, and CCOG Differences.
The History of Early Christianity Are you aware that what most people believe is not what truly happened to the true Christian church? Do you know where the early church was based? Do you know what were the doctrines of the early church? Is your faith really based upon the truth or compromise?