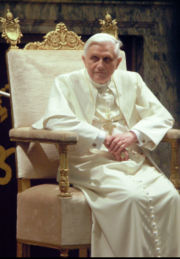 Pope Benedictus XVI
Catholic News Service has a report related to ecumenism:
Church should not accept members who deny Vatican II, official says

CNS – May 5, 2012

The Second Vatican Council's teaching, particularly on Judaism and other religions, is rooted in traditional Christian theology and the Bible, and the Catholic Church should not offer concessions to those who do not accept its teaching, said an Israeli-born Franciscan who serves as a judge on a top Vatican court.

Msgr. David Jaeger, a judge at the Roman Rota, defined as worrying a tendency, "here and there in Catholicism, to look leniently upon stray groups that are marginal but well-publicized who denounce the doctrine of the council, including the declaration 'Nostra Aetate'" on the relationship of the church to non-Christian religions.

Msgr. Jaeger, who grew up in a Jewish family, spoke about "Nostra Aetate" during a conference on the Second Vatican Council at Rome's Opus Dei-run Holy Cross University May 3-4.
Here are some ecumenical Vatican statements related to religions that do not profess Christ that Catholics are supposed to accept according to David Jaeger that came from Pope Paul VI:
Religions, however, that are bound up with an advanced culture have struggled to answer the same questions by means of more refined concepts and a more developed language. Thus in Hinduism, men contemplate the divine mystery and express it through an inexhaustible abundance of myths and through searching philosophical inquiry. They seek freedom from the anguish of our human condition either through ascetical practices or profound meditation or a flight to God with love and trust…

Hinduism, Buddhism: "The Catholic Church rejects nothing that is true and holy in these religions. She regards with sincere reverence those ways of conduct and of life, those precepts and teachings which, though differing in many aspects from the ones she holds and sets forth, nonetheless often reflect a ray of that Truth which enlightens all men."

"The Church regards with esteem also the Moslems." "The Church reproves, as foreign to the mind of Christ, any discrimination against men or harassment of them because of their race, color, condition of life, or religion."
(DECLARATION ON THE RELATION OF THE CHURCH TO NON-CHRISTIAN RELIGIONS NOSTRA AETATE PROCLAIMED BY POPE PAUL VI ON OCTOBER 28, 1965 http://www.vatican.va/archive/hist_councils/ii_vatican_council/documents/vat-ii_decl_19651028_nostra-aetate_en.html)
While many want ecumenical unity, I would suggest that Catholics, Eastern Orthodox, and also Protestants should open up their Bibles and see the warnings about a coming ecumenical religion (cf. Revelation 13:4-8).
Catholic, Byzantine, and biblical prophecy all have warnings about where this will lead. And although some of the Catholic and Byzantine ones have a positive view towards this ecumenism, others are negative, and the Bible clearly is negative.
The Bible supports the idea that Hindus, Muslims, and Buddhists, for a short time at least, will support the coming ecumenical religion (Revelation 13:3-8)–and now Catholics are being reminded that they will need to accept it as well, though currently in a more indirect way.
The Bible is not particularly ecumenical. Notice what it records that the Apostle Peter taught:
8 Then Peter, filled with the Holy Spirit, said to them, "Rulers of the people and elders of Israel: 9 If we this day are judged for a good deed done to a helpless man, by what means he has been made well, 10 let it be known to you all, and to all the people of Israel, that by the name of Jesus Christ of Nazareth, whom you crucified, whom God raised from the dead, by Him this man stands here before you whole. 11 This is the 'stone which was rejected by you builders, which has become the chief cornerstone.'  12 Nor is there salvation in any other, for there is no other name under heaven given among men by which we must be saved."  (Acts 4:8-12)
The Apostle Peter, who the pope claim to have descended from, was not ecumenical.
Islam, Hinduism, and Buddhism do not even pretend that salvation comes through Christ and hence are not faiths that the Bible endorses to the degree that the Church of Rome has for decades.
Vatican II  was a major Catholic ecumenical council that ran from 1962–1965.  Since then, many Catholics have been justifiably concerned that doctrinal compromise for the sake of ecumenical unity with those outside of fellowship of Rome was inevitable.
The ecumenical movement continues to go forward, it is not biblical, and this is not about to bring real Christian unity to the earth.
Those interested in learning more about ecumenical issues as well as early Christianity of the original eastern churches as well as changes that many have adopted may wish to carefully study the following articles:
Why Should American Catholics Should Fear Unity with the Orthodox? Are the current ecumenical meetings a good thing or will they result in disaster?
Orthodox Must Reject Unity with the Roman Catholics Will unification make the Orthodox better? What about end time Babylon? What are the issues? Why should such unity be rejected?
Early Church History: Who Were the Two Major Groups Professed Christ in the Second and Third Centuries? Did you know that many in the second and third centuries felt that there were two major, and separate, professing Christian groups in the second century, but that those in the majority churches tend to now blend the groups together and claim "saints" from both? "Saints" that condemn some of their current beliefs. Who are the two groups?
The History of Early Christianity Are you aware that what most people believe is not what truly happened to the true Christian church? Do you know where the early church was based? Do you know what were the doctrines of the early church? Is your faith really based upon the truth or compromise?
Which Is Faithful: The Roman Catholic Church or the Living Church of God? Do you know that both groups shared a lot of the earliest teachings? Do you know which church changed? Do you know which group is most faithful to the teachings of the apostolic church? Which group best represents true Christianity? This documented article answers those questions. Português: Qual é fiel: A igreja católica romana ou a igreja viva do deus? Tambien Español: Cuál es fiel: ¿La iglesia católica romana o La Iglesia del Dios Viviente? Auch: Deutsch: Welches zuverlässig ist: Die Römisch-katholische Kirche oder die lebende Kirche von Gott?
Some Similarities and Differences Between the Eastern Orthodox Church and the Living Church of God Both groups claim to be the original church, but both groups have differing ways to claim it. Both groups have some amazing similarities and some major differences. Do you know what they are?
The Churches of Revelation 2 & 3 from 31 A.D. to present: information on all of the seven churches of Revelation 2 & 3.