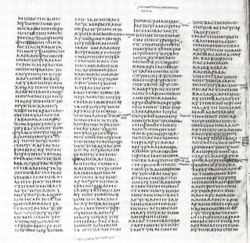 Portion of the Codex Sinaiticus
The following news item was on interest:
Australian Broadcasting Corporation – July 22, 2008
More than 1,600 years after it was written in Greek, one of the oldest copies of the Bible will become globally accessible online for the first time this week.
From Thursday, sections of the Codex Sinaiticus, which contains the oldest complete New Testament, will be available on the Internet, said the University of Leipzig, one of the four curators of the ancient text worldwide.
High resolution images of the Gospel of Mark, several Old Testament books, and notes on the work made over centuries will appear on www.codex-sinaiticus.net as a first step towards publishing the entire manuscript online by next July.
Ulrich Johannes Schneider, director of Leipzig University Library, which holds part of the manuscript, said the publication of the Codex online would allow anyone to study a work of "fundamental" importance to Christians.
"A manuscript is going onto the net which is like nothing else online to date," Mr Schneider said.
"It's also an enrichment of the virtual world – and a bit of a change from YouTube."
Selected translations will be available in English and German for those not conversant in ancient Greek, he added.
Dating from around 350, the document is believed by experts to be the oldest known copy of the Bible, along with the Codex Vaticanus, another ancient version of the Bible. http://www.abc.net.au/news/stories/2008/07/22/2310351.htm
There are other older manuscripts, but this is perhaps one of the two oldest complete works.
Several articles of possibly related interest may include:
The Bible: Fact or Fiction? This is a booklet written by Douglas Winnail that answers if the Bible is just a collection of myths and legends or the inspired word of God.
Read the Bible Christians should read the Bible. This article gives some rationale for regular bible reading.
What is the Appropriate Form of Biblical Interpretation? Should the Bible be literally understood? What do the writings of the Bible, Origen, Herbert W. Armstrong, and Augustine show?
Bible and Historical Resources on the Internet Electronic bibles, Two Babylons, early Christian literature, photos, and even links to old Herbert W. Armstrong materials.
The Ten Commandments in Hebrew This is a photo of a Hebrew document from the 2nd century, B.C.
The Old Testament Canon This article shows from Catholic accepted writings, that the Old Testament used by non-Roman Catholics and non-Orthodox churches is the correct version.
The New Testament Canon – From the Bible Itself This article, shows from the Bible and supporting sources, why the early Church knew which books were part of the Bible and which ones were not.