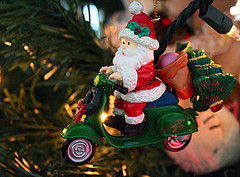 In Germany, there is a celebration of Nicholas each year on this date (other European countries tend to use other dates):
Though they have similar outfits, Nikolaus is not to be confused with Santa Claus, who Germans call the Weihnachtsmann, or Father Christmas…

Each year on December 6, Germans remember the death of Nicholas of Myra (now the Anatolia region of modern Turkey), who died on that day in 346. He was a Greek Christian bishop known for miracles and giving gifts secretly, and is now the patron saint of little children, sailors, merchants and students. Known as Nicholas the Wonderworker for his miracles, he is also identified with Santa Claus. Beliefs and traditions about Nikolaus were probably combined with German mythology, particularly regarding stories about the bearded pagan god Odin, who also had a beard and a bag to capture naughty children…
Children were often quite frightened of being questioned about their behaviour because they've been told that St. Nicholas will hurt them with his rod or even put them in a sack and take them away.  http://www.thelocal.de/society/20111206-15915.html
Here is some of what the Eastern Orthodox have claimed about him:
As a faithful bishop/shepherd, St. Nicholas was revered as a saint even before his death because of his great holiness and tender care of his flock. After the Blessed Mother and St. John the Forerunner (Baptist), Nicholas was the most revered saint in the early church. He is most honored in the East, especially in Russia. Throughout the world many churches are named for him—more than for any other saint. His ministry continues to this day as a powerful intercessor for the protection and advancement of the Church. (Orthodox America and St. Therese Byzantine Catholic Church, St. Petersburg, Florida.  http://www.stnicholascenter.org/pages/wonderworker/)
Of course, according to the Holy Bible, the only intercessor listed in the Bible is Christ (Romans 8:34; Hebrews 7:25)–and He is specifically called the "one mediator" (1 Timothy 2:5, Douay-Rheims).
There is a commonly reported tradition that claims that "saint" Nicholas, Bishop of Myra (near Constantinople, to the south), the same man now supposedly known as "Santa Claus" in the USA and Nicholas in Germany, attended the Council of Nicea and assaulted Arius by hitting him in the face (Butler A, Thurston H, Attwater D. Butler's lives of the saints, Volume 4. 2nd edition,     Christian Classics. 1956.Original from the University of Virginia, Digitized Jul 29, 2008, p. 504).
Not a particularly scriptural way for a church leader to communicate.  Actually, prior to Nicholas' time, even Greco-Roman professors of Christ would not even watch violent sports nor participate in the military.  Thus, punching opponents should give people cause to consider that Nicholas was not a saint based upon biblical criteria.
Christmas itself is not a biblical holiday, but a compromise with pagan festive and religious practices. It was not observed by early Christians, and even the Church of Rome did not observe it on December 25th until some time in the fourth century.
This is something that those who claim that Christmas really honors Christ may wish to think about.
Some articles of possibly related interest may include:
What Does the Catholic Church Teach About Christmas and the Holy Days? Do you know what the Catholic Church says were the original Christian holy days? Was Christmas among them?
Is January 1st a Date for Christians Celebrate? Historical and biblical answers to this question about the world's New Year's day.
Did Early Christians Celebrate Birthdays? Did biblical era Jews celebrate birthdays? Who originally celebrated birthdays? When did many that profess Christ begin birthday celebrations?
Is There "An Annual Worship Calendar" In the Bible? This paper provides a biblical and historical critique of several articles, including one by WCG which states that this should be a local decision. What do the Holy Days mean? Also you can click here for the calendar of Holy Days.
Military Service and the Churches of God: Do Real Christians Participate in Carnal Warfare? Here are current and historical perspectives on a matter which show the beliefs of the true church on military participation. Is war proper for Christians?
Is American Football Evil? Is the most popular spectator sport in the USA something that Christians should watch? What do the Bible and early writings show?