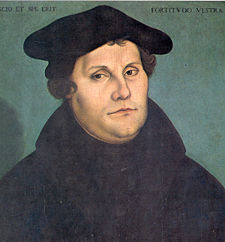 Martin Luther
Regular readers of this page are aware that I do not consider that Martin Luther was a true or faithful Christian.  November 10th is observed by some as his birthday.
In addition to the fact that he did not truly believe the Bible (see Sola Scriptura or Prima Luther? What Did Martin Luther Really Believe About the Bible?), he hated Jews.
Martin Luther wrote:
My heart is fuller of these thoughts than my tongue can tell. I have come to the conclusion that the Jews will always curse and blaspheme God as all the prophets have predicted. He who neither reads nor understands this, as yet knows no theology, in my opinion. And so I presume the men of Cologne cannot understand the Scripture, because it is necessary that such things take place to fulfill prophecy. If they are trying to stop the Jews blaspheming, they are working to prove the Bible and God liars ("Martin Luther's to George Spalatin," from Luther's Correspondence and Other Contemporan, Letters, trans. by P. Smith (1913), Vol. 1, pp. 28-29).
Furthermore he wrote:
I had made up my mind to write no more either about the Jews or against them. But since I learned that those miserable and accursed people do not cease to lure to themselves even us, that is, the Christians, I have published this little book, so that I might be found among those who opposed such poisonous activities of the Jews and who warned the Christians to be on their guard against them…They are so blind and stupid that they see neither the words found in Genesis 17 nor the whole of Scripture, which mightily and explicitly condemns this lie…They are real liars and bloodhounds who have not only continually perverted and falsified all of Scripture with their mendacious glosses from the beginning until the present day. Their heart's most ardent sighing and yearning and hoping is set on the day on which they can deal with us Gentiles as they did with the Gentiles in Persia at the time of Esther…The worse a Jew is, the more arrogant he is, solely because he is a Jew — that is, a person descended from Abraham's seed, circumcised, and under the law of Moses. David and other pious Jews were not as conceited as the present-day, incorrigible Jews…I wanted to present this to us Germans so that we might see what rascals the blind Jews are and how powerfully the truth of God in our midst stands with us and against them (Medieval Sourcebook: Martin Luther (1483-1546): On the Jews and Their Lies, 1543)
Martin Luther advised his followers,
…to burn down Jewish schools and synagogues, and to throw pitch and sulphur into the flames; to destroy their homes; to confiscate their ready money in gold and silver; to take from them their sacred books, even the whole Bible; and if that did not help matters, to hunt them of the country like mad dogs (Luther's Works, vol. Xx, pp. 2230-2632 as quoted in Stoddard JL. Rebuilding a Lost Faith, 1922, p.99).

Accordingly, it must and dare not be considered a trifling matter but a most serious one to seek counsel against this and to save our souls from the Jews, that is, from the devil and from eternal death. My advice, as I said earlier, is: First, that their synagogues be burned down, and that all who are able toss in sulphur and pitch (Martin Luther (1483-1546): On the Jews and Their Lies, 1543 as quoted from Luther's Works, Volume 47: The Christian in Society IV, (Philadelphia: Fortress Press, 1971). pp 268­293).
Wikipedia has the following:
Bishop Martin Sasse, a leading Protestant churchman, published a compendium of Martin Luther's writings shortly after the Kristallnacht; Sasse "applauded the burning of the synagogues" and the coincidence of the day, writing in the introduction, "On November 10, 1938, on Luther's birthday, the synagogues are burning in Germany." The German people, he urged, ought to heed these words "of the greatest anti-Semite of his time, the warner of his people against the Jews." Diarmaid MacCulloch argued that Luther's 1543 pamphlet On the Jews and Their Lies was a "blueprint" for the Kristallnacht.
The only celebration of birthdays in the New Testament resulted in the beheading of John the Baptist (Matthew 14:6-11).  The burning of synagogues on Martin Luther's is consistent with the fact that there is no evidence that any early faithful Christian ever celebrated birthdays (see Did Early Christians Celebrate Birthdays?).
As many as 600 Jews sailed to California because of this to flee the results of Kristallnacht–and some ended up in Southern California.  Others died and/or suffered other losses.  Should practices of faithful Christians result in such persecution?
The reality is Martin Luther was an example for those who used religion to justify killing and persecution.  That is a horrible legacy to have.
The other horrible part of his legacy is to claim to be for sola Scriptura (the rallying cry of his reformation efforts), while primarily believing in prima Luther.  This has resulted in a Protestant world that cannot agree on very much about the Bible or morality or end time prophecy.  Furthermore, it has given the Catholics real ammunition against Protestantism.
Yet, if Martin Luther would have truly been converted and truly did believe in sola Scriptura, things perhaps could have been different.  He would not have written the terrible things he did about the Jews, nor would we have been responsible the murder of so many people.  He caused unneeded confusion in the religious world (though there were some benefits).
His legacy, however, fits somewhat into these Laodicean times as most modern Christians do not understand church governance and decide on their own how a church should be governed (and many do not even attend services of the same group on a weekly basis).
Martin Luther was not a true Christian leader and no one should follow him or the religion he tried to establish.
Those interested in learning more should consider studying the following articles:
The History of Early Christianity Are you aware that what most people believe is not what truly happened to the true Christian church? Do you know where the early church was based? Do you know what were the doctrines of the early church? Is your faith really based upon the truth or compromise?
The Similarities and Dissimilarities between Martin Luther and Herbert W. Armstrong This article clearly shows some of the doctrinal differences between in the two. At this time of doctrinal variety and a tendency by many to accept certain aspects of Protestantism, the article should help clarify why the Living Church of God is NOT Protestant. Do you really know what the Protestant Reformer Martin Luther taught and should you follow his doctrinal example?
Sola Scriptura or Prima Luther? What Did Martin Luther Really Believe About the Bible? Though he is known for his public sola Scriptura teaching, did Martin Luther's writings about the Bible suggest he felt that prima Luther was his ultimate authority? Statements from him changing and/or discounting 18 books of the Bible are included. Do you really want to know the truth?
Hope of Salvation: How the Living Church of God differ from most Protestants How the Living Church of God differs from mainstream/traditional Protestants, is perhaps the question I am asked most by those without a Church of God background.