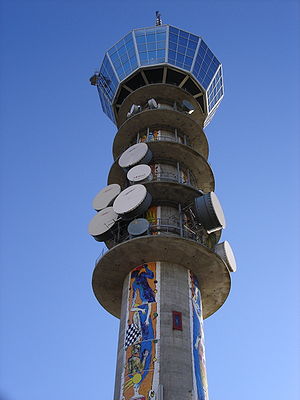 As long-term readers are aware, I, Dr. Bob Thiel, AKA COGwriter have frequently been a radio guest.
But I am not the only one involved in radio in the Continuing Church of God.
CCOG Elder Aleksandar Veljic from Serbia has been as well–and in English. Additionally, we have helped sponsor a radio program in Ghana that Overseer Samuel Ofosu hosted.
In New Zealand, Shirley Gestro continues to handle our Bible News Prophecy online radio channel. Various men in CCOG have been on it. This is another way we reach people.
This week, CCOG deacon Ondigo Ochieng sent the following pictures and long report about our radio program in the Kenay/Tanzania area:
OCTOBER-NOVEMBER RADIO REPORT

We really thank God for giving us the grand opportunity to fulfill Matthew 24:14 and 28:19-20.

Amid barricades that Satan lay on our paths as we do God's Work, We have seen God's Mighty hand in supporting His Work!

The following is the report for one month radio program:

SUNDAY 24TH,OCTOBER 2021

DISCOURSE:WERE THE PHARISEES CONDEMNED FOR KEEPING THE LAW?

This discourse emerged to answer the questions of some Pentecostals who are really against our messages on radio. They,together with their organization called Kehancha Pentecostal One Accord (KEPOA),raised complains when I taught about three days and three nights. Some were sending negative  messages that we are like Pharisees who only peg their beliefs on obeying the ten commandments especially the Sabbath.

The discourse attracted 17 calls and 5 sms. It was so good because many were able to appreciate that they could be able to understand the scope of the Pharisees view on the ten commandments. They realized that most of the people have the attitude of the Pharisees by not keeping God's Royal Law of liberty. I was given an extra 20 minutes to answer questions. I also directed listeners to the CCOG website. I used the article that Dr.Thiel wrote concerning the above discourse.

SUNDAY OCTOBER 31ST, 2021

DISCOURSE:PRAYER:WHAT DOES THE BIBLE TEACH part 1

Prayer being one of the most vital ingredients of  true Christianity, I discussed it with the help of the prayer booklet.

It attracted 24 phone calls. Some 7 people called from Tanzania. All calls were very positive and encouraging.Most of the listeners requested a repeat of the discourse.

SUNDAY NOVEMBER 7TH,2021

DISCOURSE:PRAYER:WHAT DOES THE BIBLE TEACH part 2

It attracted 19 phone calls and 4 sms. All were positive and encouraging. Some two guys enquired to know where we can be found. Our neighbours at home (in Migori) also send some sms thanking us for the message.

SUNDAY NOVEMBER 14TH,2021

DISCOURSE:THE SECOND HORSEMAN OF REVELATION 6

The message attracted 18 phone calls.Most of the callers were church leaders who were surprised to know about the second horseman of Revelation 6.

We received 12 sms and most were positive except some who wrote messages complaining that our messages are not giving people hope.

I used the article from the BNP April-June 2021.

RADIO MILAMBO 103.8 FM.

This is a local radio station in Migori which airs out its program in both Kiswahili and Dholuo. Its coverage is not such big but it reaches lots of people within the lower part of Migori and some parts of the border region including Nyatike Sub-County and Suna East DSub-County,i.e Muhuru and Giribe regions.

Deacon Grantone Otieno and I got a one  hour opportunity on Friday 19th,2021 to present the Gospel of the Kingdom of God.We started from 6pm to 7pm.It was so very wonderful. We received a lot of positive messages.

We will again be there on Friday 26th,2021 and will again present the same discourse. The one hour program enables us to answer the questions asked and we also had enough time to introduce ourselves and the Continuing Church of God.

We really thank God for the prayers and support from Evangelist Dr.Bob Thiel and the precious brethren who have shown love and concern for God's people to be reached by the truth through radio.

May the Almighty God bless you abundantly in Jesus Mighty Name.
The above program has been sponsored by a COG congregation in France which has long maintained a cooperative relationship with the CCOG.
As far as problems with Pentecostals go, the late Herbert W. Armstrong faced that relatively early in his ministry. Sadly, many who claim to believe the Bible get offended when many of its teachings are publicized. More opposition to what we in the CCOG teach is expected in the future.
That being said, in CCOG's Letter to the Brethren: November 25, 2021, there is a report about Pentecostals in Kenya interested in the CCOG, and a report of a Protestant congregation in that country that says it agrees with our message and wants to be part of CCOG.
As far as radio goes, it is a door that has been used by the true Christian church since the 1930s. It is a media that still bears fruit and we are grateful for the opportunity to utilize it.
Radio gives us an opportunity to reach people who otherwise would not be as open to hearing the Church of God message (Matthew 24:14; 28:19-20).
Of course, being on radio is something that COG leaders have done since no later than the 1930s. Radio was used so much to proclaim the gospel of the kingdom and other biblical messages, that after he left CG7, the late Herbert W. Armstrong initially named his group the Radio Church of God.
Here is a photograph that my wife Joyce took in 1994 of a building in Eugene, Oregon that had been used decades before by the old Radio Church of God (I believe it was their headquarters' building in the 1940s):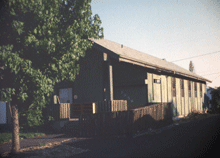 One-time Radio Church of God building, Eugene, Oregon
(To see other buildings later used by the old Radio and Worldwide Church of God, check out Joyce's Pictures of the Pasadena Campus of Ambassador College and the former Headquarters of the old Worldwide Church of God.)
Notice something published by the old Radio Church of God:
Revelation 3:7-13: "And to the angel of the Church in Philadelphia write these things saith he that is holy, he that is true, he that hath the key of David, he that OPENETH, and no man SHUTTETH; and SHUTTETH and no man openeth." The great door that God has opened to this work is the facility to go into all the world and preach the gospel; the door of radio, the door of the printing press, plus many other such doors. God has set before us an open door and no MAN can shut it. God can shut it, and He will when the work is finished and the Philadelphia Church goes to a place of safety. "I know thy works: Behold, I have set before thee an open door, and no man can shut it: for thou hast a little strength, and hast kept my word, and hast not denied my name" (verse 8).

Notice that this Church has works. It has works of ZEAL and of REPENTANCE. This Church has only a little strength. But, by contrast, the Church of Laodicea believes that IT is increased with goods and has a great deal of strength. Philadelphia has little strength to do this great work that God has given it to do. God has opened the door, and yet look how insignificant, how weak, how little strength we as a Church have to do that work. How much we lack in every way, and yet God has opened the door and has given us certain vital, supernatural, spiritual gifts. Very often we lack enough money to pay the radio bills and other expenses. WE ARE FEW IN NUMBER, while many other eras of the Church of God numbered in the hundreds of thousands. We indeed have little strength. And yet, look at the great power that God has placed before us. (Neff L. What Is the LAODICEAN CHURCH? Good News, August 1959)
The 'open door' to the Philadelphians does have to do with gospel proclamation. Consider the following scriptures:
12 Furthermore, when I came to Troas to preach Christ's gospel, and a door was opened to me by the Lord (2 Corinthians 2:12).

8 But I will tarry in Ephesus until Pentecost. 9 For a great and effective door has opened to me (1 Corinthians 16:8-9).

27 Now when they had come and gathered the church together, they reported all that God had done with them, and that He had opened the door of faith to the Gentiles (Acts 14:27).
We in the Continuing Church of God are going through the open doors in radio as well as with the printing press, the internet, travel, and personal contact. This includes to areas, like Africa, with Gentiles.
Radio is one of the forms of mass media that we in the Continuing Church of God use to teach people about Jesus' Gospel of the Kingdom of God (Matthew 24:14) and other teachings (Matthew 28:19-20).
Some items of possibly related interest may include:
Preparing for the 'Short Work' and The Famine of the Word What is the 'short work' of Romans 9:28? Who is preparing for it? Here is a link to a related video sermon titled: The Short Work.
What About Romans 11:25 and the Full Number of the Gentiles? Some in the West discount God's calling of Gentiles, but the Apostle Paul wrote about the need for them to come to the truth before Jesus returns. Two somewhat related videos are available: Gentiles and When Will Jesus Return? and Puerto Rico, Trials, and Triumphs.
What is the Ezekiel Warning? Should the end-time descendants of Israel and Joseph be warned? What should the watchman warn about? Regarding a watchman, you can watch the following video: Go, Set a Watchman.
Joyce's Pictures of the Pasadena Campus of Ambassador College and the former Headquarters of the old Worldwide Church of God Here is some pictures of the old campus taken in 2016 for those interested in what it did look like and what remains.
The Final Phase of the Work What is the final phase of the work? Who will lead it? Do you have the courage to support it? Here is a related YouTube video titled The Final Phase of the Work. The written article has been translated into Spanish La Fase Final de la Obra.