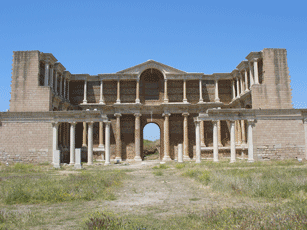 Rebuilt Gymnasium in Sardis.
This is one of the most impressive buildings in the area of any of the seven churches of Revelation 2 & 3. However, it has been recently and massively rebuilt as its original condition was in ruin. And while it and its size are impressive, it no longer functions as it once did.

Having reviewed many of its publications in the past year, it seems to me that CG7-Denver continues to have problems recognizing the relevance and importance of Bible prophecy.
Now, while I do feel that those in COGs other than the Living Church of God are going to be caught "unawares", at least in most of them, they at least look more at prophecy than CG7-Denver historically has.
Recall that the Bible teaches:
1 And to the angel of the church in Sardis write…3 Remember therefore how you have received and heard; hold fast and repent. Therefore if you will not watch, I will come upon you as a thief, and you will not know what hour I will come upon you (Revelation 3:1,3).
Historically, those in groups with origins in the old Worldwide Church of God (which is no longer a real COG) have believed that CG7-Denver fits the description Christ gave of the Sardis church in the latter days.
Jesus told us repeatedly to "watch" (Matthew 24:42; 25:13; Mark 13:33-37; Luke 21:36), and He meant world prophetically-related events as part of that watch:
34 "But take heed to yourselves, lest your hearts be weighed down with carousing, drunkenness, and cares of this life, and that Day come on you unexpectedly. 35 For it will come as a snare on all those who dwell on the face of the whole earth. 36 Watch therefore, and pray always that you may be counted worthy to escape all these things that will come to pass, and to stand before the Son of Man." (Luke 21:34-36, NKJV).
The Apostle Peter wrote:
We have also a more sure word of prophecy; whereunto ye do well that ye take heed (2 Peter 1:19, KJV).
Part of the reason to watch events and understand Bible prophecy is so that we will not affected by those who promote false doctrines or claim that the end can come before the Bible allows it (cf. Ephesians 4:14).  Prophecy is SURE.
The sad fact is that CG7-Denver not only does not properly understand prophecy, it doesn't really tend to follow Jesus' commands to watch.  CG7-Denver is no place of safety, even though a number once affiliated with the old WCG seem to think it is.
Articles of related interest may include:
Anglo – America in Prophecy & the Lost Tribes of Israel Are the Americans, Canadians, British, Scottish, Welsh, Australians, Anglo-Southern Africans, and New Zealanders descendants of Joseph? Where are the lost ten-tribes of Israel? Who are the lost tribes of Israel? Will God punish the U.S.A., Canada, United Kingdom, and other Anglo nations? Why might God allow them to be punished first?
There is a Place of Safety for the Philadelphians. Why it May Be Petra This article discusses a biblical 'place of safety' and includes quotes from the Bible and Herbert W. Armstrong on this subject–thus, there is a biblically supported alternative to the rapture theory.
Is There A Secret Rapture for the Church? When and Where is the Church Protected? What does the Bible really teach? Who really is left behind?
5. The Sardis Church Era was predominant circa 1600 A.D. to circa 1933 A.D. Discusses early history of the Seventh Day Baptists, Seventh-day Adventists, and COG-7th Day.
6. The Philadelphia Church Era was predominant circa 1933 A.D. to 1986 A.D. The old Radio Church of God and old Worldwide Church of God, now basically the Living Church of God.
7. The Laodicean Church Era was predominant circa 1986 A.D. to present. Non-Philadelphians who mainly descended from the old WCG.
There are Many COGs: Why Support the Living Church of God? This is an article for those who wish to more easily sort out the different COGs. It really should be a MUST READ for current and former WCG members or any interested in supporting the faithful church. It also explains a lot of what the COGs are all about.
Church of God, Seventh Day: History and Teachings Nearly all COG's I am aware of trace their history through this group. Whaid Rose is the president of the largest CG7 group (Denver). Do you know much about them?