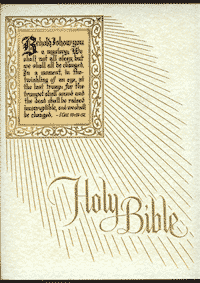 VS.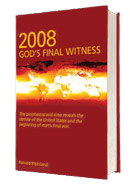 A few hours ago, CGPFK/CGPKG's Ronald Weinland once again contradicted himself by giving another sermon.  Notice that on 5/23/12 at his ronaldweinland.com website, Ron Weinland posted the following:
At this point, our job is done. Our work has come to an end as God's witnesses. This is the final posting for this site and it is the final admonition to God's scattered people. The Church is about to be reunited—just not in a manner that anyone scattered can conceive. The end-time is nearly over and the long awaited millennial reign of Jesus Christ is now nearly here.

Final Sermon
As a final posting I am also informing all readers that a final prerecorded sermon will be posted on the Church site that can be used this Sabbath.
But he broke at least two promises related to that within days.
First, despite stating the 5/23/12 post would be "the final posting for this site and it is the final admonition to God's scattered people," he made another post at the site on 5/26/12 and on 5/30/12 (and that is enough to show he failed to keep his promise). And yes, he had various admonitions that he wanted to direct to "God's scattered people," as he used the term "scattered" five times in his 5/30/12 post referring to them.
Second, despite claiming that his sermon for 5/26/12 was the "Final Sermon," he produced apparently three others since (he claimed he would do 2 for 5/27/12)–with the latest being 6/2/12.  His words are unreliable.
Notice that the Bible teaches:
21 "And if you say in your heart, 'How shall we know the word which the LORD has not spoken?'– 22 when a prophet speaks in the name of the LORD, if the thing does not happen or come to pass, that is the thing which the LORD has not spoken; the prophet has spoken it presumptuously; you shall not be afraid of him (Deuteronomy 18:21-22).

1 But there were also false prophets among the people, even as there will be false teachers among you, who will secretly bring in destructive heresies, even denying the Lord who bought them, and bring on themselves swift destruction. 2 And many will follow their destructive ways, because of whom the way of truth will be blasphemed. 3 By covetousness they will exploit you with deceptive words; for a long time their judgment has not been idle, and their destruction does not slumber. (2 Peter 2:1-3).
How many times does Ronald Weinland have to be wrong for his followers to open their eyes and believe the Bible over him?
And in addition to the 5/23/12 post.  He claimed he would stop preaching by now.  Notice what he claimed:
Those who are listening to him now need to realize that this is the same Ron Weinland who previously declared all of the following:
If we come to the point in time where what I've said doesn't come to pass, the reality is that I'm just a false prophet. That's the bottom line…The reality is if it doesn't happen, then you're just false…I'll acknowledge my error, my wrong, if I'm wrong (The Edge Radio, December 15, 2007)

You know, one of the things as well, what if Ron Weinland, what he says doesn't come to pass in April, what if these things don't happen in 2008. I think about, you know, what have I said in interviews? There's really a simple answer. False prophet. You know, I get tons of email, I get email every day from people saying, "Well I guess in 2009," a lot of sarcasm comes out, "I guess you're gonna be saying this or saying that or trying to explain to people", No, I'm done. (Sermon, Stay the Course, Part 1, December 2007)

If by Pentecost I'm just going to make this real clear to everyone. If by Pentecost it is not powerfully and abundantly clear that there has been a great deal of destruction that will clearly encompass a third of all plant life in the US and at least the clear results of this mingled with blood the death of very much animal life and the beginning of large numbers of human life then I will stop preaching. Just so all the critics and everyone out there will understand. I am true to my word in these things. OK? And for all the critics if by the end of July and for most likely around Pentecost if nothing has clearly caused great destruction and death I will make it very clear that I was a false prophet. I will do exactly what I said I would do on all of those interviews that I have held; to do less, aah well, would be quite insane. (Weinland R. Three More Weeks–quote from near the 1 hour 28 minute point from the CGPFK website version. Sermon given March 29, 2008).

If it doesn't pan out the only thing I would do is uh . So if I responded to anything at all was to explain to people I was a false prophet that's the only answer. That I'm no longer a minister. (Mike McConnell Show.  April 7, 2008)

If things do not by mid-June very clearly so, I will make it clear that I was a false prophet and I will never preach again (James Whale Show. April 10, 2010)

So, if I'm not a prophet I'll reason with you accordingly and be open with you about it…So often for those who do not believe that I'm a prophet, the question is asked, "What will you do if these things do not come to pass?" And I'm going to answer that more fully in this particular sermon today…So again, some cannot wait for me to say that I am not a prophet, or to say that I am a false prophet. Indeed, no one has long to wait do they? Isn't that amazing? May 27, 2012 is not too far away and if Europe hasn't risen by early 2012 and if China does not begin destroying the earth before that date, then the reality would be manifest much sooner, obviously. You don't have to wait until 2012.  As far as the question they ask; what would I do? Well, first I'd repent before God and the Church. I'd acknowledge my sin and pray that God have mercy upon me for being so horribly presumptuous. Candidly (and some are going to really hate hearing this), I'd deeply repent of all those things that concern prophecies that I have given in the office of a prophet…I'd go back through all 57 Truths and eliminate those that are shown to be untrue, repenting as I did so; but I would hold fast to all that I believed to be true. (Weinland R. A Final Plea, With Judgment – Pt. 1. March 12, 2011)
I have listened to him preach since being wrong and did not resign nor sound repentant to me– he clearly is still preaching and claiming to be God's prophet, despite stating that he would stop if he was wrong.
Now, some have questioned why I bother to report about him.  Others have suggested that my reporting about him perhaps helps his ego or boosts his popularity.  So, although I do intend to report less about him as he becomes less relevant again in the future, a couple of points should be made here that many seem not to understand.
Despite how wrong Ron Weinland is and has been, currently (at least for the month of May 2012) he seems to have had the most popular COG-related website (the-end.com) in the entire world.  My reporting on him is mainly because thousands have come to COGwriter.com in order to learn why he is wrong.  Whether or not reporting on him at COGwriter gives him a personal ego boost is somewhat irrelevant as he is not more important than the thousands he has influenced.
The main point of COGwriter posts about him is to warn all not to let false prophets and false apostles like Ron Weinland turn people away from the God of the Bible. Deception is a powerful thing, and as long as Ron Weinland continues, deception from him has sadly been too effective.  But, despite my own limitations, I try to counter his deception by pointing out in a documented fashion why he cannot possibly be what he claims to be.
Some articles of possible interest related to prophecy may include:
Concerns About Ronald Weinland's Church of God-Preparing for the Kingdom of God Ronald Weinland falsely claims to be one of the two witnesses God is raising up, that the Great Tribulation began on December 14, 2008, and that Jesus will return on May 27, 2012. Why does the Bible show that Ron Weinland is a false prophet? Why do Ronald Weinland's own statements prove that he is a false prophet? Additionally, he has other views which show he is not truly part of the Church of God?
Who Are The Two Witnesses? What is their job? What does the Bible reveal? What has the Church of God taught on this subject? Might even Roman Catholic prophecies give some clues here?
Did The Early Church Teach Millenarianism? Was the millennium (sometimes called chiliasm) taught by early Christians? Who condemned it? Will Jesus literally reign for 1000 years on the earth? Is this time near?
Does God Have a 6,000 Year Plan? What Year Does the 6,000 Years End? Was a 6000 year time allowed for humans to rule followed by a literal thousand year reign of Christ on Earth taught by the early Christians? Does God have 7,000 year plan? What year may the six thousand years of human rule end? When will Jesus return? 2019 or 202x?
When Will the Great Tribulation Begin? 2012, 2013, or 2014? Can the Great Tribulation begin today? What happens before the Great Tribulation in the "beginning of sorrows"? What happens in the Great Tribulation and the Day of the Lord? Is this the time of the Gentiles? When is the earliest that the Great Tribulation can begin? What is the Day of the Lord? Who are the 144,000?
Why Be Concerned About False and Heretical Leaders? There have been many false leaders–here is some of why you should be concerned about them.
Two Horned Beast of Revelation and 666 Who is 666? This article explains how the LCG views this, and compares this to Ellen White.
Harold Camping's Teachings About the End of the World Do Not Agree with the Bible Harold Camping taught that the rapture will be on May 21, 2011 and the world would end on October 21, 2011. What does the Bible show?
The Gospel of the Kingdom of God was the Emphasis of Jesus and the Early Church Did you know that? Do you even know what the gospel of the kingdom is all about? True religion should be based upon the true gospel.
End of Mayan Calendar 2012–Might 2012 Mean Something? Are there Mayan calendar predictions for change in 2012? Changes were centuries ago predicted by the Hopi Native Americans. Do Mayan/Hindu/Hopi/Buddhist/New Age/Nostradamus prophecies have any value here? Why might Satan have inspired this date? Does the Dresden codex show destruction of the earth by flood? Can the great tribulation start before 2012? How might Barack Obama and Julia Gillard be involved in 2012?
There are Many COGs: Why Support the Living Church of God? This is an article for those who wish to more easily sort out the different COGs. It really should be a MUST READ for current and former WCG/GCI members or any interested in supporting the faithful church. It also explains a lot of what the COGs are all about.