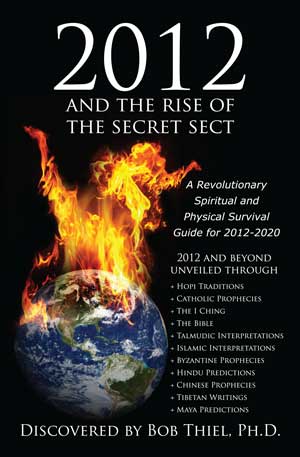 On January 4, 2010, I reported on five world events that aligned with the predictions in my book 2012 and the Rise of the Secret Sect,.
Today, I would like to report about five more (and will start numbering them with 6).
6. 2012 and the Rise of the Secret Sect explains that once the U.S. dollar is worthless, the European replacement currency will find it useful to greatly increase gold reserves to restore confidence in paper currencies (see Appendix B).
After the India bought 200 metric tons of gold bullion from the IMF, financial traders and others reported that gold is now being considered to be part of the world's reserve currency (India, China and Gold.  Seeking Alpha, November 5, 2009.  http://seekingalpha.com/article/171537-india-china-and-gold; Krishnan R. There's a long-term case for non-dollar assets.  Live Mint, November 6, 2009.  http://www.livemint.com/2009/11/06224817/There8217s-a-longterm-case.html).
According to a November 14, 2009 story at the Center for Research on Globalization, it appears that a new currency with gold backing may be what will replace the U.S. dollar.  Specifically the story states that "the new currency will have gold backing" (Chapman B. A financial system which has almost exclusively benefited the wealthy.  CGR, November 14, 2009.  http://www.globalresearch.ca/index.php?context=va&aid=16048).  Others have noticed that gold is becoming a reserve for currency for various nations (Picerno J.  Should You Buy Gold Now? CBS,  December 9, 2009. http://moneywatch.bnet.com/investing/article/gold-prices-soaring-should-you-buy-gold-now/371892/).
7. 2012 and the Rise of the Secret Sect warns that there will likely be gaps in the U.S. G.P.S. system and this may require the U.S. to rely on the upcoming European Galileo system (essentially an upgraded and independent European version of G.P.S) to meet that gap (see Chapter 5).
The U.S. Air Force disputed the idea of gaps in military satellite communications (Source: Air Force Official Disputes GAO Report on Projected GPS Failure.  Satellite Today, May 26, 2009. http://www.viasatellite.com/military/headlines/Air-Force-Official-Disputes-GAO-Report-on-Projected-GPS-Failure_31100.html), when that portion of the book was written.
But, on November 10, 2009, Aviation Week reported that the leader of U.S. Strategic Command, Air Force Gen. Kevin Chilton, "says so few satellites are in queue now for launch for critical missions–such as weather observation satcom or ballistic missile warning–that there is a risk of service gaps that could impede the military's ability to do its job" (Butler A.  U.S. Satellite Coverage Gaps Loom.  Aviation Week,  November 10, 2009.  http://www.aviationweek.com/aw/generic/story_channel.jsp?channel=defense&id=news/RISK111009.xml&headline=U.S.%20Satellite%20Coverage%20Gaps%20Loom).
8. 2012 and the Rise of the Secret Sect warns that the Large Hadron Collider, which was not even functional when the book came out, would likely develop technologies to be used militarily by the coming European power.
On November 22, 2009, it was reported by the BBC that the Large Hadron Collider was now functional and was now providing useful technology for the Europeans (Rincon P. Large Hadron Collider progress delights researchers.  BBC, November 22, 2009.  http://news.bbc.co.uk/2/hi/science/nature/8372737.stm)
On November 30, 2009, the Large Hadron Collider set a new world record, "the $8-billion collider located on the Franco-Swiss border successfully accelerated the machine's twin beams of protons to 1.18 trillion electron volts Monday. That surpasses the previous collider record of 0.98 trillion electron volts, set in 2001 by America's Tevatron collider, located at Fermilab outside Chicago…The collider isn't even at full power yet." (Johnson J.  Large Hadron Collider roars to life.  Los Angeles Times, December 1, 2009. http://www.latimes.com/news/nation-and-world/la-sci-hadron1-2009dec01,0,7338976.story).  The New York Times reported that with its November and December  2009 results that its "spinoffs will invigorate the careers and labs in Europe, not the United States (Overbye D. Collider Sets Record, and Europe Takes U.S.'s Lead.  New York Times, December 9, 2009.  http://www.nytimes.com/2009/12/10/science/10collide.html).
And even though it will run into technical problems sometimes, it is highly likely that the Large Hadron Collider will spin off significant military technology as 2012 and the Rise of the Secret Sect suggests.
9. 2012 and the Rise of the Secret Sect warns that the USA will continue to greatly increase its debt (see Chapter 8).
While the USA national debt clock registered 9.2 trillion dollars in April 2008, was 11 trillion in July 2009, it is expected to be around 14 trillion in 2010 (Republicans Try to Put a Freeze on Debt Limit, as Democrats Call for $1.8T Hike.  FOX, December 11, 2009. http://www.foxnews.com/politics/2009/12/11/republicans-try-freeze-national-debt-limit/).
This debt may impact defense spending (Debt Ceiling Issue Complicates Action on Defense Spending Bill.  CQ Politics, December 10, 2009.  http://www.cqpolitics.com/wmspage.cfm?parm1=5&docID=cqmidday-000003264025) as warned in Chapter 8 of 2012 and the Rise of the Secret Sect.
10. 2012 and the Rise of the Secret Sect warns that "for the daily sacrifices to stop, they will have had to start" (Appendix B).
And for the sacrifices to start, while a temple is not biblically required for that (Ezra 3:6), a sacrificial altar is (Ezra 3:2-3).  Such an altar somewhat now exists (Lev Kay, Y. Temple Institute to Build Sacrificial Altar on Tisha B'av.  Israeli National News, December 15, 2009. http://www.israelnationalnews.com/News/News.aspx/132664).
Concluding Comments
Major world sources reported (though have often not emphasized) many of these significant events.  Most of the public has NOT learned how these events align with end time prophecies and predictions.  But none of these events should have been a surprise for those who have read and understood 2012 and the Rise of the Secret Sect.  Even President Obama's recent troop increases to Afghanistan are mentioned as expected in chapters 3 and 8 of 2012 and the Rise of the Secret Sect.
Prophecies are coming to pass and the groundwork is being shown in significant world events.  Those who consider themselves Christians should heed Jesus' and the Apostle Paul's admonitions to watch world events.  Christians and non-Christians should ponder that since some predicted events are coming to pass, that it is highly likely that others will as well.
If world prophecies over the past 3,000 years are coming to pass, perhaps all may wish to understand them and the aligning world events.  Those who know can help themselves and their loved ones.
People today need to realize that we are rapidly heading towards the end and that world events are aligning themselves with the predictions in the Bible (or that can be deduced from careful comparisons of world events and biblical prophecy).
Those who wish to learn more about end-time prophecies may wish to check out the following book and compare what it teaches with Bible prophecy and world events–"For the testimony of Jesus is the spirit of prophecy (Revelation 19:10):
2012 and the Rise of the Secret Sect This contains some concepts related to 2012 and a book. This also has YouTube videos related to prophecies.